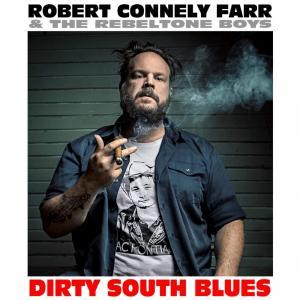 Robert Connely Farr is no stranger to blues music. He grew up in the small, Southern town of Bolton, Mississippi, the hometown of Charley Patton and the Mississippi Sheiks. Although Farr currently resides in Vancouver, British Columbia, when he is home you can most likely find him at the Blue Front Cafe in the company of his mentor Jimmy "Duck" Holmes.
Holmes is regarded as the last of the Bentonia, Mississippi bluesmen, and has been mentoring Farr in this all-but-lost art form for the last couple of years. Holmes himself learned the Bentonia style of blues by Henry Stuckey, the man who taught Skip James and Jack Owens.
Farr has learned the lessons well, and on September 15th, will release the album Dirty South Blues. Teaming up with Canadian producer/songwriter Leeroy Stagger in May 2018, they recorded this collection of songs influenced largely by Connely's mentorship with Holmes.
Having spent a decade with the band Mississippi Live & The Dirty Dirty has added some touches of Southern Rock and alt-country to Farr's sound. Regardless, the unmistakable droning sound and odd tuning of Bentonia shines through.
Dirty South Blues begins with "Ode to the Lonesome." Sonically simplistic, the song is a great opener. Some nice guitar licks overlay the basic beat with wistful keyboards. Farr's vocals fade in and out in spots, which only adds to the haunting sound that is Bentonia.
Recorded and produced by Stagger at The Rebeltone Ranch in Lethbridge, Alberta, Dirty South Blues had us feeling like we were on the porch at the historic Blue Front Cafe. Farr handles vocals and guitar. His band, The Rebeltone Boys, is made up of Evan Uschenko (lead guitar), Tyson Maiko (bass), Kyle Harmon (drums), and Michael Ayotte (keyboards).
That's about four more people than would normally record in this genre, but Dirty South Blues is not a typical Bentonia style record. With that in mind Jimmy told Farr, "You got to go play this. You ain't gonna play it like Skip, not like Jack and not like me – you got to go play it your own way."
Farr wrote 8 of the 10 tracks. "Just Jive," a song that Holmes wrote in '81 and was almost lost forever is a co-write with Farr. Farr also pays homage to the roots of this album by covering Skip James' "Hard Time Killin' Floor Blues." "Just Jive" is upbeat and funky, while Robert's re-imaging of "Hard Time Killin' Floor Blues," has a touch of those other influences we mentioned.
The title track comes across rocking and takes aim at some of the more controversial elements of today's South. Burning crosses are still seen in Mississippi, where pockets of racism still exist. The attitude of "if you ain't right, you're wrong," is prevalent in some areas, and Farr calls it out. Similarly, "Magnolia" talks about his home county where Confederate flags still fly from front porches of folks who are "filled with hate and rebel pride." "Magnolia" has more of the standard Bentonia drone but adds some psychedelic organ and guitar beginning about halfway through.
As a lyricist, Farr has a John Prine approach. Keeping it simple enough for even the common man to understand. As a singer, suggestions of another Southern vocalist, Gregg Allman, come across. Some songs such as "Lady Heroin," and "Hey Mr. Devil" bring it out more than others.
"Yes Ma'am" is the most alt-country flavored song on the release, but our personal favorite is a toss-up between the two most standard Bentonia flavored tunes. "Cypress Tree Blues," has deep echoing vocals with a 12-bar makeup and "Blue Front Cafe" couldn't be a more fitting tribute to the last surviving original juke joint in the Delta. This is blues that originated in Mississippi.
If you have the opportunity, either in the deep South or the Great White North, to catch Robert Connely Farr and the Rebeltone Boys, don't miss it. In the meantime, do yourself a favor and pre-order Dirty South Blues today.
*Feature image from 'Dirty South Blues' album cover