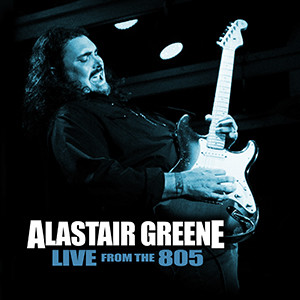 Alastair Greene's 2017 release Dream Train was well received by fans and critics alike, and why not? It was smoking! Guess what? Alastair Greene is back with an even more powerful new album, Live From The 805 on Rip Cat Records. Just released, this double CD set is chock-filled with some intense, bone-shaking music celebrating 20 years of Greene's blues-rock power trio!
"Live From The 805 is a milestone live celebration of twenty years of rocking the blues for Alastair Greene and his cohorts. It's also another installment in his re-commitment to his own music after stepping down from seven years of adding a blues tinge to the Alan Parsons Live Project, continuing the story told in his most recent studio outing, Dream Train. While Alastair and the band have strong, obvious and impressive roots in the rock world, the twenty songs here, mostly bluesified updates and reprises from Alastair's accumulated discography, reflect Alastair's love and affinity for the blues and its offshoots with equal vigor and authority. Shadows of Albert Collins, Albert King, Howlin' Wolf and many other blues icons run through the music.
"Alastair's mastery of traditional blues tunings, slide, string bending and grooves are as much a part of the foundation as the hard-driving, rocking energy. As numerous greats have shown, blues and rock don't always have to be "either/or." Blues has always reflected the other musics of its time. Happily for we listeners, Alastair is a master of rocking blues (or is it the other way around?), and it will be joyous finding out over the coming decades where the blend takes him – and us."  – Dick Shurman – Blues producer and historian
"The majority of the lyrics to 'Down To Memphis' were written in a taxi cab on the way to the Memphis airport a couple years ago. The cab driver started telling me parts of his life story so I started taking notes on my phone as fast as I could. I realized he was gifting me a song. I never got his name and haven't seen him since. I'd like to thank him for the inspiration.
"The music came from a couple of slide guitar riffs I had been throwing around for some time. I wanted the music to reflect the lyrics as much as possible. For the live version, I came up with an intro and left the solo section open to jam on. I'm really happy
with how this song has developed on stage."  -Alastair Greene
Join us now for the World Premiere of "Down To Memphis" from the upcoming double album Live From The 805.