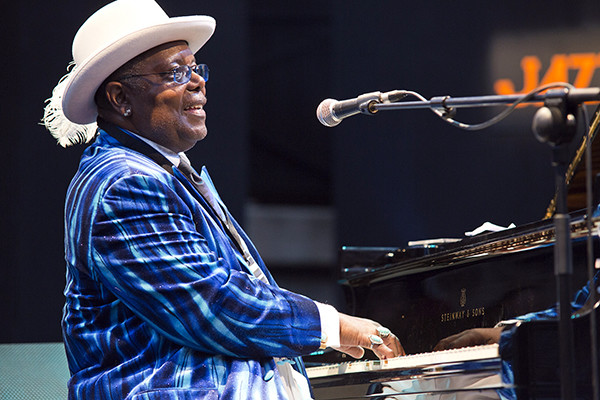 Sarah French begins her biography of Kenny "Blues Boss" Wayne for Stony Plain Records by saying he is hailed as "an artist bringing the piano back to the front ranks of contemporary blues…" and that he "is called 'Blues Boss' for a reason." Beginning as a child prodigy, Wayne's career has spanned over 60 years and he is considered a pianist's pianist.
When Wayne brings the boogie-woogie blues to those 88 keys he is rockin' 'em, squeezing every drop of goodness he can out of every one of them.
Join us as we premiere "Start Rockin'" from the upcoming album Inspired by the Blues, out September 28th on the Stony Plain label. The album showcases 11 Wayne originals (and one bonus track) and guests include harmonica virtuoso Billy Branch, guitarist extraordinaire Duke Robillard, and B.B. King's bass player Russell Jackson.
"I remember when I was young, playing gospel music and rocking that uptempo song and adding some boogie to it, and I'd get carried away for hours while I was alone at home. I was having so much fun that I didn't even hear the neighbors knocking on the door. However, they weren't annoyed, they just wanted to come in and listen to me rock that piano. That memory inspired me to write the song, "Start Rockin'." – Kenny "Blues Boss" Wayne
*Feature Image by Dee Lippingwell