Award-winning singer, Shemekia Copeland has an instantly recognizable voice. She's been unleashing her powerful instrument since the days of opening for her father while still in her teens. For the most part, her genres of choice have been blues and soul music. Her latest release, America's Child, however delves into the realm of Americana, and she sings it like she stole it.
We wondered, like many others, why she chose to probe a different style at this juncture in her career. What caught Copeland's attention enough to change horses as it were? We were fortunate enough to catch her while traveling between gigs, and she enlightened us about America's Child.
"I'm working with Will Kimbrough who is all Americana," she began. "I think the album has a more Americana feel because of the people I'm working with on it. I'm a blues singer. That's my flavor, and I work with others at that flavor. That's all I've done."
Bringing her powerhouse, bluesy vocals to a decidedly Americana album may seem like a stretch until you push play. The intertwining of two distinctive roots genres was more "flavorful" than we would have imagined.
"Will is an incredible artist," Copeland continued. "And he's such a sweetie pie too."
We wondered if perhaps Kimbrough's influence was responsible for the gathering of Americana artists who guested on the new release. It turns out this was not necessarily the case.
"It happened organically," Shemekia replied. "John (Hahn) and I had met John Prine and had established a relationship with him. Being able to ask him to come and sing on it was the icing on the top.
"Another artist is Rhiannon Giddens. She's so extremely talented. I was so grateful to get her on the record. She's an amazing banjo player, and now I want to get her on another record so she can sing. I would love to work with her at any time. She's just a brilliant artist."
John Hahn, who is the Executive Producer of America's Child had other motives as well. "Consciously, John is a big, huge fan of Mary Gauthier, and wanted to write with her," Copeland confided. "She's never really written with anyone, so he was so honored that she was willing to do that, and they wrote together for this project."
Making a hit album is more than the collective performances. It's also about having great songs to perform. Copeland wholeheartedly agrees. "I'm such a blessed artist," she said. "I have songs that are tailor-made for me. Not too many artists can say that. Aretha Franklin could say that."
In the earlier days of Americana and folk music, making social and political statements was the very backbone of the genre. Woodie Guthrie was an absolute master of the craft. His son Arlo's iconic, anti-war "Alice's Restaurant" continued in that tradition. Over the years however, Americana has become less and less political. That is until now. Copeland brings it back, shining a light on social injustice, racism, today's political climate and more, all without beating the listener over the head with it.
"John and I discussed it," Copeland shared. "I had just had my baby and I was concerned about the world I had brought him into. What things would he have to endure? Would things be better for him than for me, or worse? It's not looking great right now, and that's really sad. I didn't want that, but obviously I remain hopeful for him."
Some of the more political and social type songs we're discussing include "Ain't Got Time For Hate," "In the Blood of the Blues," and the stirring, "Would You Take My Blood." Social injustice and blatant racism are handled with the impact of a velvet hammer.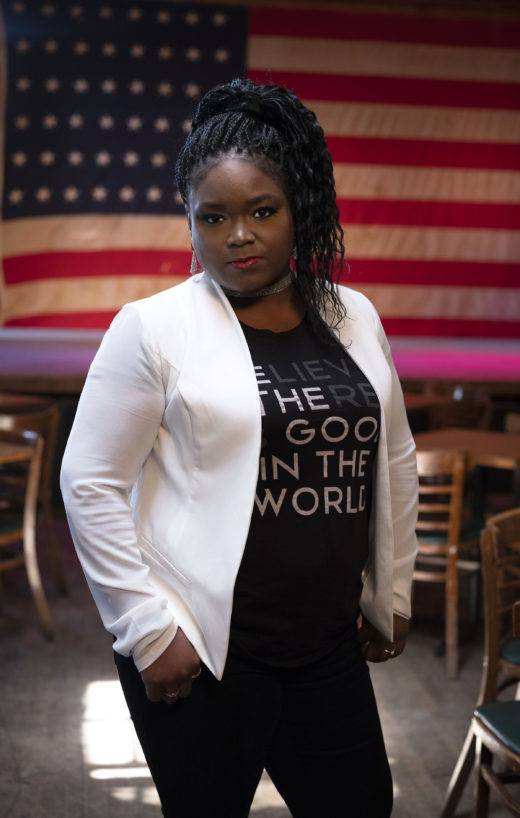 "It's hard to choose a favorite," Shemekia told us. "The song that's really standing out for me right now is 'Would You Take My Blood'. I'm getting a lot of great response from that song as well as 'Ain't Got Time For Hate'.
Even though Copeland doesn't have producer credit for America's Child, she still had a hand in making it all happen. "Look, we do it all together," she said. "I love it when things happen organically, when it's natural and not forced. That's what it was like. That was the experience."
From beginning to end, one can feel the influence of Shemekia's son on America's Child. It truly is a love story. Each song, each performance was done with him in mind. Did that happen organically as well we wondered? For example, does she really sing the traditional "Go to Sleep Little Baby," from the album to him?
"All the time," she replied. "Most every night. For the album, we're always looking to do something different. On this one, I start with him and I end with him. 'Where's your wings little angel/my sweet baby child/how you gonna live in world gone wild?' That's how I started it. I end it with 'Go to Sleep Little Baby'."
America's Child is available now, via Alligator Records.
*Feature image Mike White courtesy of Alligator Records