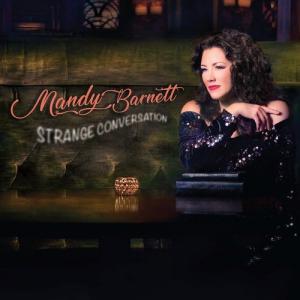 Mandy Barnett has been steeped in country music her entire life. Singing since the age of five, she portrayed Patsy Cline on stage while in her teen years. Barnett has released six albums, and has performed with everyone from Asleep at the Wheel to SpongeBob SquarePants.
Now poised to release her first album in five years, Barnett brings some Southern soul to Strange Conversation. Scheduled for release on September 21st, via the Thirty Tigers label, Strange Conversation places the vocalist between obscure vintage pop and modern progressive songwriting.
"I'm a torch singer, somebody who can do a little bit of everything," says Barnett. "Pop, blues, gospel, country, soul — songs with emotion are what I do. The truth is every album I've made has been Americana, even that first Asylum album with the Jim Lauderdale songs, but the arrangements were more timeless, more to the classic songbook. And Americana's a broad genre that has elements of pop and retro, soul music. So this time, I leaned away from what people expect from me — and into things that made me reach, and stretch."
Backing Barnett's sultry vocals on the title track are co-producer Doug Lancio (guitar), Rudy Copeland (organ), Tom West (Wurlitzer electric piano), Victor Krauss (bass), producer Marco Giovino (drums), and a horn section made up Neal Pawley (trombone), and John Isley (saxophone).
Strange Conversation was recorded in Muscle Shoals where soul still seeps from the very walls. The title track was penned by the criminally under-appreciated country soul  artist Ted Hawkins, and is decidedly soul blues tinged.
"Marco Giovino had a great idea to reimagine Ted Hawkins' 'Strange Conversation' with a different kind of feel, sort of like an Al Green approach," Barnett told us. "It was the first song we recorded at the Muscle Shoals studio and got us off to a really good and solid start. The song and Marco's approach clicked instantly with all of us. That track is basically live on the floor with the rhythm section. It was just one of those things that magically happened."
Turn up the volume and settle in for a "Strange Conversation" with Mandy Barnett.
*Feature image Cyndi Hornsby