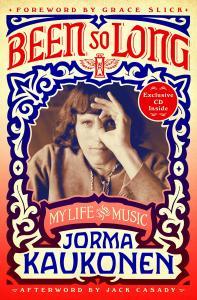 (USA) – Jorma Kaukonen and Jack Casady, Hot Tuna, head out on tour celebrating the release of Jorma's memoirs, Been So Long: My Life and Music on St. Martin's Press. The autobiography will be on sale August 28 and is available to pre-order online from Barnes & Noble and Amazon.
With a foreword by Grace Slick and an afterword by Jack Casady, the book is an account with Jorma writing naturally what was in his heart and mind. It is a wonderful combination of personal and cultural history.
Publisher's Weekly describes it as "A mesmerizing storyteller, Kaukonen delivers a memoir as intricate and dazzling as his music."
As a founding member of two legendary bands, Jefferson Airplane and the still-touring Hot Tuna, Jorma Kaukonen has achieved incredible success. A member of the Rock & Roll Hall of Fame and a Grammy recipient, Kaukonen has played with many well-known and historic musicians, including his contemporaries Jerry Garcia and Janis Joplin. For the first time, he is sharing his story in Been So Long: My Life and Music. The book will also include an exclusive five track companion album. The tracks include live recordings of "Been So Long," "Song for the High Mountain," "Broken Highway," "River of Time," and "In My Dreams."
With a foreword by Grace Slick and an afterword by bandmate Jack Casady, BEEN SO LONG is an intimate portrait of an artist who was at the forefront of Psychedelic Rock and has since become one of the most highly respected interpreters of American roots music, blues, and Americana. Kaukonen's memoir reveals the stories behind the songs, lessons from a life in the music industry, and his reflections on a remarkable decades-long career.
"Music is the reward for being alive," writes Jorma Kaukonen in this candid and emotional account of his life and work. "It stirs memory in a singular way that is unmatched." BEEN SO LONG is the story of how Jorma found his place in the world of music and beyond. The grandson of Finnish and Russian-Jewish immigrants whose formative years were spent abroad with his American-born diplomat father, Jorma channeled his life experiences—from his coming-of-age in Pakistan and the Phillipines to his early gigs with Jack Casady in D.C. to his jam sessions in San Francisco with Jerry Garcia, Janis Joplin, Bob Dylan, and other contemporaries—into his art in unique and revelatory ways.
BEEN SO LONG charts not only Jorma's career in music but goes into never-before-told details about his addiction and recovery, his troubled first marriage and still-thriving second, the creation of the Fur Peace Ranch Guitar Camp, which he operates with his wife, Vanessa, and more. Interspersed with diary entries, personal correspondence, and song lyrics, this memoir is as unforgettable and inspiring as Jorma's music itself.
Kaukonen is constantly looking to take his musical horizons further still, always moving forward, always infusing his classic sound with fresh insights and the depth that comes with a lifetime as a performer. His memoir, BEEN SO LONG, is a continuation of that artistic exploration.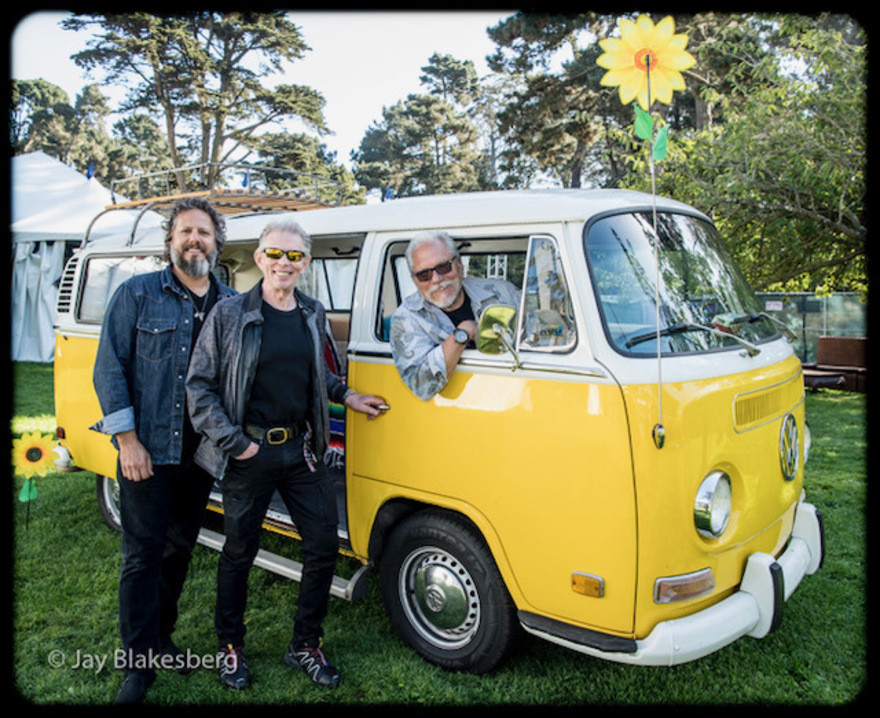 Aug 25  NedFest, Nederland, CO  Electric Hot Tuna w/Steve Kimock
Aug 26  NedFest, Nederland, CO  Jorma Kaukonen
Aug 28  Center for the Arts, Jackson, WY   Electric Hot Tuna w/Steve Kimock
Aug 30  Neptune Theatre, Seattle, WA   Electric Hot Tuna w/Steve Kimock
Aug 31  Revolution Hall, Portland, OR  Electric Hot Tuna w/Steve Kimock
Sept 01  McDonald Theatre, Eugene, OR  Electric Hot Tuna w/Steve Kimock
Sept 02  Mt Winery, Saratoga, CA  Electric Hot Tuna w/Steve Kimock
Sept 04  Crest Theatre, Sacramento, CA  Electric Hot Tuna w/Steve Kimock
Sept 06  El Rey Theatre, Los Angeles, CA  Electric Hot Tuna w/Steve Kimock
Sept 07  Brooklyn Bowl, Las Vegas, NV  Electric Hot Tuna w/Steve Kimock
Sept 08  Scottsdale Ctr for the Arts, Phoenix, AZ  Electric Hot Tuna w/Steve Kimock
Sept 10  The Rialto Theatre, Tucson, AZ  Electric Hot Tuna w/Steve Kimock
Sept 11  KiMo Theatre, Albuquerque, NM  Electric Hot Tuna w/Steve Kimock
Sept 21-24 Pick-N_Putt, Fur Peach Ranch, Pomeroy, OH  Jorma Kaukonen
Sept 27  State Theatre, Ithaca, NY  Acoustic Hot Tuna
Sept 28  Academy of Music, Northampton, MA  Acoustic Hot Tuna
Sept 29  Caramoor, Katonah, NY  Acoustic Hot Tuna SOLD OUT
Sept 30  Bethel Woods Center for the Arts, Bethel, NY Acoustic Hot Tuna
Oct 04  Greenwich Odeum, East Greenwich, RI  Jorma Kaukonen
Oct 07  Lost Weekend Records, Columbus, OH Jorma Kaukonen (signing & performance)
Oct 11  Chandler Center for the Arts, Randolph, VT  Acoustic Hot Tuna
Oct 12  The Cabot Theater, Beverly, MA  Acoustic Hot Tuna
Oct 13  Payomet Perf. Arts Ctr, North Truro, MA  Acoustic Hot Tuna
Oct 14  The Egg, Swyer Theatre, Albany, NY  Acoustic Hot Tuna
Oct 19  Rev. Gary Davis Weekend, Fur Peace Ranch Jorma Kaukonen
Oct 26  Fur Peace Ranch, Pomeroy, OH Jorma Kaukonen
Nov 09 – 12 Fur Peace Ranch, Pomeroy, OH Jorma and Jack
Nov 10  Fur Peace Ranch, Pomeroy, OH Acoustic Hot Tuna
Nov 15  Gramercy Books, Bexley, Ohio Jorma Kaukonen (book signing)
Nov 16-19 Fur Peace Ranch, Pomeroy, OH Jorma Kaukonen
Nov 17  Fur Peace Ranch, Pomeroy, OH Electric Hot Tuna
Nov 21  Beacon Theatre, New York, NY  Electric Hot Tuna
Nov 23  Waterville Opera House, Waterville, ME  Acoustic Hot Tuna
Nov 24  Tupelo Music Hall, Derry, NH  Acoustic Hot Tuna
Nov 25  Ridgefield Playhouse, Ridgefield, CT Acoustic Hot Tuna
Nov 27  City Winery, Washington DC Acoustic Hot Tuna
Nov 29  The Gordon Ctr Perf Arts, Owings Mills, MD Acoustic Hot Tuna
Nov 30  People's Bank Theatre, Marietta, OH Acoustic Hot Tuna
Dec 01  The Ark, Ann Arbor, MI  Acoustic Hot Tuna
Dec 03  Music Box, Cleveland, OH  Acoustic Hot Tuna
Dec 05  Clyde Theatre, Fort Wayne, IN  Acoustic Hot Tuna
Dec 07  Old Town School of Folk Music, Chicago, IL  Acoustic Hot Tuna
Dec 08  Hopkins Center for the Arts, Hopkins, MN  Acoustic Hot Tuna
Dec 09  Barrymore Theatre, Madison, WI  Acoustic Hot Tuna
Dec 11  Delmar Hall, St. Louis, MO  Acoustic Hot Tuna SOLD OUT
Dec 12  Liberty Hall, Lawrence, KS  Acoustic Hot Tuna
2019
Jan 21  Jam Cruise 17, departing Miami, FL  Electric Hot Tuna
Jan 22  Key West Theatre, Key West, FL  Acoustic Hot Tuna
Jan 24  Plaza Theatre, Orlando, FL  Acoustic Hot Tuna
Jan 25  Capital Theatre, Clearwater, FL  Acoustic Hot Tuna
Jan 26  Southwest Florida Events Center, Bonita Springs, FL  Acoustic Hot Tuna
Jan 28- Feb 1 Fur Peace Ranch On the Road, Sanibel Island, FL  Jorma Kaukonen
Follow Hot Tuna's Escapades: