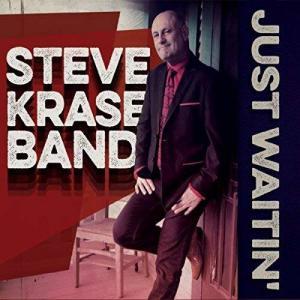 Everything you need to know about the Steve Krase Band's wonderful Just Waitin' is in "The Ballad of Jed Clampett," the album's fifth track. To those of you less tapped into high culture, it's the theme of the sitcom, The Beverly Hillbillies, which ran from 1962-1971 (with some reunions and an inevitable reboot film, of course, coming later). That 1960s sensibility is pure Krase. His music, while contemporary in many ways, also is wedded to a specific time period. It makes complete sense he'd cover the theme of a popular sitcom from that era.
Krase is a Houston-based singer/harmonica player. Just Waitin', his fourth album, is a fun tour through blues, rockabilly, and zydeco. Every song on the album has a timeless, post-1960s rock/blues sound. The only tell this album was recorded in the past decade is the crisp production. But other than that, Just Waitin' could very well have been sold, via mail order, between Beverly Hillbillies commercials, during its original run.
Getting back to "The Ballad of Jed Clampett," Krase takes a well-known bluegrass number and reinvents it as Louisana-style zydeco with a blues twist. That means accordion and harmonica existing peacefully in similar sonic space while Krase and his backup singers cry "Oh Jed." Krase truly elevates the original, although, to be fair, he mostly does it by obliterating it and replacing it with something much better.
Krase keeps the Cajun sound going with "All in the Mood," which sounds like ZZ Top spending a weekend in New Orleans. It's got a blues-rock beat, but one that's danceable. And the guitar work, courtesy of David Carter and Kenan Ozdemir, is impeccable, as it is throughout the entire album. They support the rhythm, but also come up with creative solos and fills that bridge the various parts of the song. Both guitarists aren't scene-stealing so much as scene-setting.
Krase, similarly, uses his harmonica skills to drive songs, but not to dominate them. His blues work is excellent, but he also has nice moments of sax-like execution. He sells the heck out of all of his vocals, injecting every line with passion and intensity. One gets the sense he's working incredibly hard to give the listeners what they want and what the song needs.
There's something very happy about Just Waitin'. It's not something one often says about blues albums. But listening to it, it's hard not to imagine Krase with a huge smile on his face. One of the peppiest tracks on the album is his cover of Howlin' Wolf's "My Baby Walked Off," which is performed as an upbeat rave-up. Sure, you can wonder why Krase is so happy his baby walked off. But you're just as likely to wonder how Krase's baby could leave someone so great.
Steve Krase Band – Just Waitin'
Tracks:       10
Label:         Connor Ray Music
Released:    June 15th, 2018
Run Time:   40:35
*Feature Image Courtesy of Artist's Website