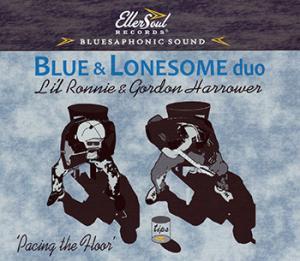 So much contemporary blues can feel like a veritable arms race, with who can outplay whom more of a concern than the songs themselves. Blue & Lonesome Duo's Pacing the Floor avoids this problem with a wonderfully, low-key blues album.
Blue & Lonesome Duo is made up of singer/harmonica player Ronnie Owens, of Li'l Ronnie & the Grand Dukes, and singer/guitarist Gordon Harrower, he too of the Grand Dukes, but also of Rattlesnake Shake. The album is just the two of them singing, plus guitar and harmonica, as well as some foot drums from Owens. The sparse instrumentation gives the album a classic blues sound.
Making a record with so little can be tough on the listener. Every song can start to sound the same. Owens and Harrower work heroically to give each song a different sound and energy. One way they do this is song variety. Songs range from country blues, like their cover of Muddy Waters' "Mean Red Spider," to pseudo-rock, like "Wine Headed Woman," which features clean electric guitar and distorted vocals. The two manage to cover a lot of stylistic ground in a generous 14 songs.
And it's not just about the variety of songs, but their song choices. One surprise is James Browns' "Try Me," an early doo-wop hit for the Godfather of Soul. Owens and Harrower are faithful to the original, using some gentle electric guitar, a light drum, and lots of harmonicas. The duo also performs two co-written songs, including the instant-standard, "Pacing the Floor," a 12-bar blues about someone waiting at home for a loved one to return from a long night out.
They also divide up the singing duties, which helps to introduce variety into the album. Harrower has a sweet, bluesy voice that perfectly captures sadness. It also sounds like country. When he sings Jimmy Rogers' "Out on the Road," it just makes sense. Owens has more of a rock voice that's also a bit more jazzy and urbane. His take on Jimmy Rogers, "Act Like You Love Me," renders it more like an uptown blues.
It's always impressive to hear what great musicians can do with as little as voice, guitar, and harmonica. The only part of the album that struggles a bit creatively are the foot drums, which sound mostly like a high hat. It's a similar sound running through all of the songs and is so perfectly on-beat, that it often sounds robotic. The album might be looser without it. But it's a small note on an otherwise impressive, interesting album showing that the key ingredient of a good blues album is always going to be talent, and not notes-per-second.
Blue & Lonesome Duo – Pacing the Floor
Tracks:      14
Label:        EllerSoul Records
Released:   June 15th, 2018
Runtime:    47 Minutes