In what promises to be one of the most exciting, creative music events of the year, the Allman Goldflies Band "Goes Pops" when they perform in concert with the Panama City Pops Orchestra. The concert will take place on Saturday, October 13th at the SweetBay Master-Planned Community Founders Pavilion in Panama City, Florida beginning at 6:00 PM and is open and free to the public.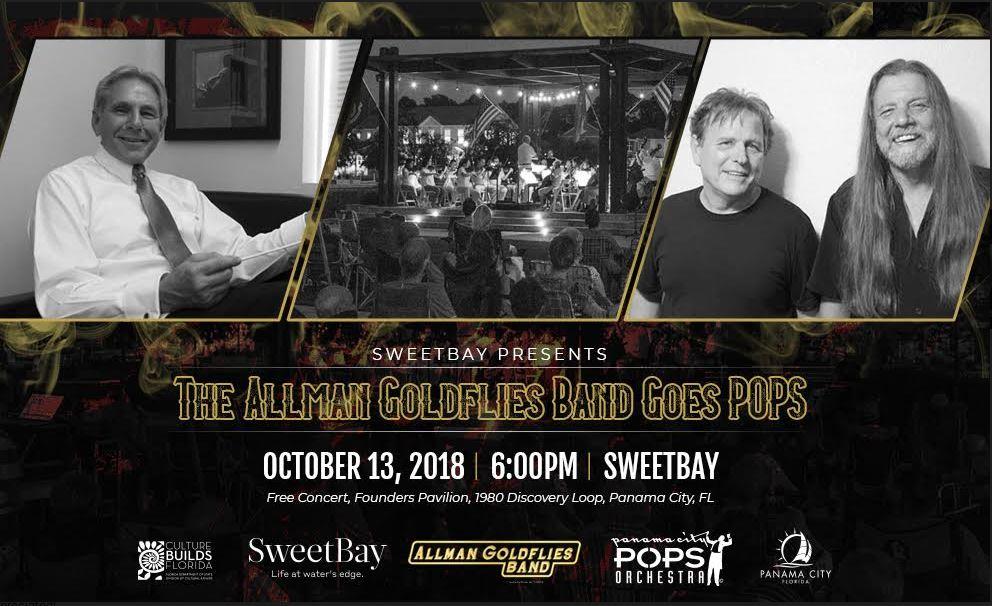 Dr. David Ott, renowned Panama City Pops Orchestra conductor and widely acknowledged as one of the greatest living composers in the U.S. has written orchestral scores for much of the Allman Goldflies Band's acclaimed debut album, Second Chance. The concert will also feature some classic Allman Brothers Band selections including "Midnight Rider" and "Whipping Post."
Allman Goldflies Band vocalist/keyboardist Gary Allman continues to carry the blues and rock heritage of his famous cousins Duane and Gregg Allman, while David "Rook" Goldflies, is a former member of the Allman Brothers Band.
During the second incarnation of the Allman Brothers Band, Goldflies was an essential member, anchoring their rhythm section with drummer Butch Trucks from 1979 to 1984. David's work on ABB releases Enlightened Rogues, Reach For The Sky, and Brothers of the Road were critically lauded. Goldflies has also been a member of the Panama City Pops Orchestra for over twelve years, serving as its principal bassist.
Allman Goldflies Band's winning sound is a mix of Southern rock and modern blues. The band is bringing new energy to Southern music with hard-driving, inspired performances of original material and is on track to become a major contender in the emerging breed of jam bands and Southern rock music.
In an age of genre-bending recordings, this live concert performance mixing Southern rock and blues with orchestral movements promises to be a breath of fresh Gulf air.
In case of rain, the date will be Saturday, October 27th at the same time.
*Feature image (L-R Dr. David Ott, Gary Allman, David Goldflies) courtesy of Doug Deutsch Publicity Services