COLUMBIA, MO — When it comes to music, food, arts and festivals, no place does it quite like Columbia. The 2018 Roots N Blues N BBQ Festival is the quintessential end-of-summertime celebration combining some of the hottest names in music with delicious regional fare, local craft brews, intriguing art displays and a lot more throughout the weekend of September 28-30 in Stephens Lake Park.
Roots N Blues showcases a diverse crop of 30 musical acts from around the country spanning nearly every music genre — blues, bluegrass, rock and roll, country, folk, gospel and soul — all performing on two main stages in picturesque Stephens Lake Park, the festival's home for the last six years.
In addition to the main stages, there will be a fully-equipped walk-up "Front Porch Stage" where festival-goers are invited to show off their musical skills. There also will be nearly 20 food trucks and vendors, numerous beverage tents selling ice-cold locally crafted beers and other refreshments, vendor villages, a large ferris wheel as well as interactive art installations decorating the park.
Richard King, president of Thumper Entertainment and the festival organizer, has more than 35 years of experience bringing the biggest names in music to Columbia. King and the talented Thumper team, along with hundreds of volunteers, work tirelessly throughout the year to make Roots N Blues one of the most popular music festivals in the Midwest.
"2018 has been a banner year for us so far," says King.
"The festival continues to grow and enjoys a great partnership with the city of Columbia. We've also named Tracy Lane as our new festival director. I've known and worked with Tracy for years and she has an incredible passion for music and a lot of knowledge about the industry. She also has a ton of invaluable experience planning and organizing an internationally-acclaimed festival, so we're really excited about what the future holds for Roots N Blues," King continues. "And, this year's lineup is one of the strongest in the festival's history. I'm proud to welcome back some festival favorites along with acts who have never appeared in Columbia before. All of our festival-goers are in for a real treat."
The headlining acts for 2018 include the returning festival-favorites the Avett Brothers, Grammy-winning country music alchemist Sturgill Simpson, the vintage rhythm and blues sounds of Nathaniel Rateliff and the Night Sweats, alt-country stalwarts Son Volt, country music traditionalist Dale Watson, the funky and soulful grooves of Trombone Shorty and Orleans Avenue, underground country music darling Margo Price, the rock-and-roll-meets-bluegrass amalgamation that is Greensky Bluegrass, blues veterans Keb' Mo' and Taj Mahal, Tex-Mex rock-and-rollers Los Lobos, the Latin-tinged rock-country music of The Mavericks and many others.
Now in its 12th year, Roots N Blues has become one of the fastest growing musical festivals in the nation and has earned the reputation of being one of "the most prominent festivals in the country" by American Blues Scene Magazine. In addition, Roots N Blues garners rave reviews year after year from both festival-goers and festival musicians.
Jay Farrar, frontman for one the 2018 headlining alt-country outfits, Son Volt, and one of the founding members of the groundbreaking band Uncle Tupelo, has played in Columbia on multiple occasions throughout his illustrious career and also played a solo set at Roots N Blues in 2014.
"Columbia has always been a great place for music and musicians," Farrar says, "and Richard King has been there all along making it happen — both then and now."
Country music troubadour Dale Watson, who will be playing his fifth Roots N Blues this year, has always thoroughly enjoyed the festival atmosphere.
"Roots N Blues N BBQ Festival is appropriately named," says Watson. "Between the barbecue and the lineup of entertainment, it's impossible not to have a great time. I'm very honored to be returning to partake of the food and the music myself."
In addition to the music and festivities, Roots N Blues hosts the Betsy Farris Memorial Run. The run honors one of the festival's founders and greatest proponents of fitness and health. There are three races to choose from: half-marathon, 10k or 5k. All races take place on the morning of Saturday, Sept. 29. The half-marathon begins at 7 a.m. while the 5K and 10K begin at 7:30 a.m. The half-marathon and 10k courses wind through Columbia's urban trails, its historic downtown, the beautiful University of Missouri campus and conclude at Stephens Lake Park. The 5k consists of two laps along the perimeter the trail along Stephens Lake Park. Racers will enjoy live music along the routes and will receive a commemorative medal, a collector's t-shirt, free barbecue and beer (or a non-alcoholic beverage) and a discount voucher to use when purchasing festival tickets. For additional details about the races, or to sign up, visit the "Run" page on the festival's website.
As in 2017, Roots N Blues 2018 will be a cashless festival. Attendees' festival wristband will double as their ticket for admission and "digital wallet," making for faster transaction times, shorter lines and less risk of loosing wallets. More details on the cashless system, including how it works and how to "top-up" your account, are available on the festival's website.
There are a variety of passes and tickets available for the three-day festival weekend. Tickets and passes purchased on or before September 7 begin at $75 for a single-day ticket, $160 for a general admission weekend pass and $350 for a Whole Hog VIP weekend pass. Tickets and passes purchased between September 8 and September 27 run from $85 for a single day, $185 for a weekend pass and $399 for a Whole Hog VIP weekend pass. Once the festival begins, tickets purchased from September 28-30 start at $95 for a single day ticket and $195 for a general admission weekend pass. Children 12 and under get in free with a general admission ticket/pass-holding adult.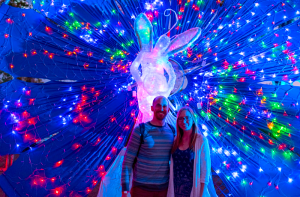 Since general parking at the festival grounds is extremely limited, there will be free off-site parking in the downtown garages Friday evening through Sunday. Several transportation options will be available throughout the weekend for the convenience of attendees. Roots N Blues provides free shuttle service to and from downtown parking lots and garages to the festival entrance for all attendees. Columbia's city buses (GoCOMO) also run for free all over Columbia during the festival weekend. All GoCOMO buses are ADA accessible. There's also a dedicated Lyft and Uber drop-off/pick-up location in the "sprayground" parking lot off of Old Highway 63 on the eastern perimeter of the Stephens Lake Park. Additionally, there is free bicycle parking and ADA accessible parking at the entrance.
To check out the full lineup of performers, the stage schedule and to order passes for the 2018 festival, please visit www.RootsNBluesNBBQ.com.