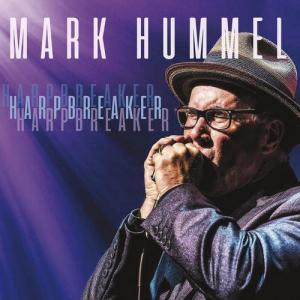 Mark Hummel says on his website that he has "done over two million miles or more in my seven vans with over 250-350k on each one!!!" He started the Blues Survivors in 1977 with Mississippi Johnny Waters and over the years he's worked with stellar players including the likes of Sue Foley, Rusty Zinn, Mike Judge, Jim Overton, and many, many more. Some of the acts they've backed include Snooky Pryor, Sonny Rhodes, Barbara Dane, John Mayall, Brownie McGhee, Lowell Folsom, and more.
2014 proved to be a breakout year for Hummel as he was nominated for a Grammy Award for his self-produced Remembering Little Walter album, and won Blues Music Awards for Best Blues Album and Best Traditional Blues Album. He is beloved by fans and peers alike.
Hummel's latest album Harpbreaker, out on the Electro-Fi label drops on September 21st. Recorded, mixed and mastered at Chris "Kid" Anderson's becoming-legendary Greaseland Studio California and also Joyride Studio in Chicago, the album showcases newly recorded, live, previously released and unreleased material.
This is an instrumental album, and just like other such albums of quality (think Freddie King's Let's Hide Away and Dance Away with Freddy King), Harpbreaker is destined to become a classic! Little Walter would be pleased to see where Hummel takes his harp. He is joined by a bevy of deft and expressive players including Rusty Zinn, Chris 'Kid' Andersen, Billy Flynn and Little Charlie Baty.
Harpbreaker is varied and interesting. Best of all, it makes a great companion to share some time with.
The first song, "Harpoventilatin'" is a juggernaut and full of energy. "The Creeper Returns" has the band knee deep in a mighty groove and they squeeze every drop they can from it. Hummel's magic on the harp is a joy to take in, as are the guitar lines of Charles Wheal. Buddy Rich's "Rotten Kid" swings indeed, and guitarist Billy Flynn nails it down on "Billy's Boogaloo."
Other standout cuts are "Walkin' with Mr. Lee," perfect for strollin' across the floor, and the bouncy "Crazy Legs" where Hummel pushes the harp to new levels of expressive pizzazz. "Senor Blues" is exciting and brilliantly played with its almost hothouse jazz vibe, woven with a Havana flavor.
"Glide On," is a perfect dose of nostalgia and Hummel's playing is a revelation here. Rusty Zinn and Chris Burns rock the guitar and piano (respectively) as well. The album closes with a mesmeric "See See Rider" that draws listeners in with its simple charm.
This is an album that you'll come back to again and again. Do yourself a good turn and pick this up soon. Hit play, and it won't be long before a smile breaks out.
Mark Hummel – Harpbreaker
Tracks:             13
Label:               Electro-Fi
Release Date:   09.21.18
Runtime:          61 Minutes
*Feature Image by Bob Hakins. Courtesy of artist's website.