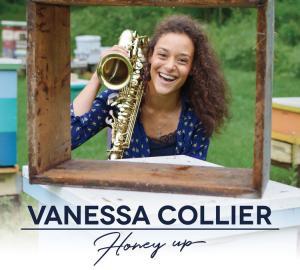 You'd have to be in a capsule far above the world with Major Tom not to know who Vanessa Collier is. Talk about being on a roll! She's already been nominated for three BMAs along with a Blues Blast nomination as well. Additionally, she has earned the Jammingest Pro Award from the Legendary Rhythm & Blues Cruise, First Place for lyrics in the International Songwriting Competition, Best of 2014 Blues Breaker on Dan Aykroyd's BluesMobile
Collier has been playing since she took up sax when she was 9 years old. Along the way, she has become proficient at guitar as well. She is a graduate of the Berkley School of Music where she went above and beyond earning two degrees: one in Performance and another in Music Production & Engineering. Collier has already accomplished so much in such a relatively short time. And when Buddy Guy takes notice of you, you are definitely doing something right!
Honey Up, out on Phenix Fire Records is Collier's third album. 2014 saw the release of her debut, Heart, Soul and Saxophone. First released to radio before the actual release date, 2017's Meeting My Shadow on Ruf Records secured Collier a BMA nomination for Horn Player of The Year.
Honey Up is a monster! The album showcases Collier's gritty playing, fiery singing, and her burgeoning song-writing prowess. She is footloose, fancy-free and perfectly at ease as she moves deftly from one song to the next. The band is stellar as well. On guitar are Laura Chavez and/or Sparky Parker, while Nick Trautmann thumps the bass and Nick Stevens caresses the skins. Working the keys is William Gorman, and Quinn Carso brings it on Trombone with Doug Woolverton rocking the trumpet.
Kudos to Collier for choosing to tap the talent of her former professors Mark Wessel and Rich Mendelson who delivered solid engineering and an audacious mix respectively. Then there's the music. It's probably a good idea to take a breath before you hit the play button on this because it will leave you breathless indeed.
The band wastes no time letting listeners know that they mean business as they slide into "Sweatin' Like a Pig, Singing Like an Angel," with its honky-tonk flavored piano, fierce sax, and Laura Chavez blessing the proceedings with one of her always on-the-money solos. "Don't Nobody Got Time To Waste" steps up the pace a bit, invoking a big tent revival feeling as it rolls along. The title track "Honey Up," is deliciously refined and funky, reminding us of the best of the '70s soulful funk movement as Collier lets her man know that she won't be on demand nor will she "kiss your behind."
Excitement continues with "Percolatin'," another funky albeit slower delight that allows listeners an opportunity to wallow in all that funky goodness, with Collier laying down a rich, spunky solo. "Icarus" is a revelation with Collier's glorious vocal, sweet sax solo, and backing vocals that make the street corner a cappella fellas outside the Carter in New Jack City sound sad.
Other winning moments include the rockin' "The Fault Line," and the interesting, catchy "Bless Your Heart." Collier & company closes the album with a slow burn version of the Bonnie Raitt classic "Love Me Like a Man," replete with Sparky Parker lighting up his fretboard while Collier woos us with a sultry sax solo that is sexy indeed.
This is a choice gathering of musicians, and listeners should not miss out on the talent, the feeling, and the music captured and performed here.
Vanessa Collier – Honey Up
Tracks:     10
Label:       Phenix Fire Records
Released:  July 6th, 2018
Runtime:   45 minutes