Otis Rush, one of the founding fathers of Chicago's West Side sound died Saturday, September 29th, 2018. The announcement of his passing came via his wife Masaki on Rush' website. His death was due to complications from a stroke suffered in 2003.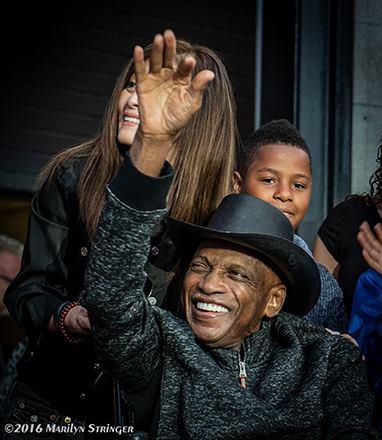 Otis Rush, Jr. was born April 29th, 1934 near Philadelphia, Mississippi. Around the age of 14, he moved to Chicago met Muddy Waters, and began playing blues clubs on both the West Side and South Side of the Windy City.
In 1956, his first single on the Cobra label "I Can't Quit You Baby," reached #6 on the Billboard R&B chart. Written by Willie Dixon as a vehicle to launch both Rush and Cobra, the song featured Big Walter Horton on harmonica, Red Holloway on sax, LaFayette Leake on piano, Wayne Bennett on second guitar, Al Duncan on drums and Dixon on bass.
The star of the song however, was Rush' powerhouse tenor vocal delivery combined with his guitar riffs. Eventually becoming a blues standard, "I Can't Quit You Baby," was covered by Led Zeppelin on their debut album, as well as artists John Lee Hooker, Little Milton, Gary Moore, and the Rolling Stones to name but a few.
Rush was a left handed player, with a guitar driven, urban sound, usually backed by a full horn section. His style of play influenced artists such as Mike Bloomfield and Peter Green. During his career he recorded for famed labels such as Cobra, Chess, and Delmark. In the 1960s he was part of the storied American Folk Blues Festival in Europe, but by the end of the 1970s, he had all but retired from recording and performing. The five year delay in releasing Right Place, Wrong Time probably had a lot to do with that, leaving Rush disgruntled with record labels.
Rush began a comeback in the mid-1980s with the release of the live album Tops. It would take another decade however for him to release his next studio album, Ain't Enough Comin' In in 1994. Any Place I'm Goin' followed in 1998, winning him the Grammy® for Best Traditional Blues Album. It would also be the last studio album he recorded.
He continued to tour until suffering a stroke in 2003, from which he never fully recovered. In June, 2016 he made a rare appearance at the Chicago Blues Festival. While unable to perform, his appearance prompted Mayor Rahm Emmanuel to declare June 12th as Otis Rush Day in Chicago.
Otis Rush was inducted into the Blues Hall of Fame in 1984, and earlier this year the Jazz Foundation of America honored him with a Lifetime Achievement Award. The brawny guitar and absolute soul-wrenching vocals of Otis Rush will forever fill the halls of blues titans past, as well as Earth-bound fans for generations.
Rush' website reads:
The family requests privacy at this difficult time and will announce more details at a future date. Cards and condolences may be sent to the Rush family to the address below.

Rush Family
c/o Bates Meyer, Inc.
PO Box 2821
Big Bear Lake,
California USA 92315
*Feature image Masahiro Sumori