Boscoe France is an award-winning, barefoot, slide blues guitar playing native of Madisonville, Kentucky. He's shared the stage with artists that include Sonny Landreth, Keb' Mo' and Mr. B.B. King himself. France also made it to the semi-finals at the International Blues Challenge two years in a row, and PBS aired a special on his life.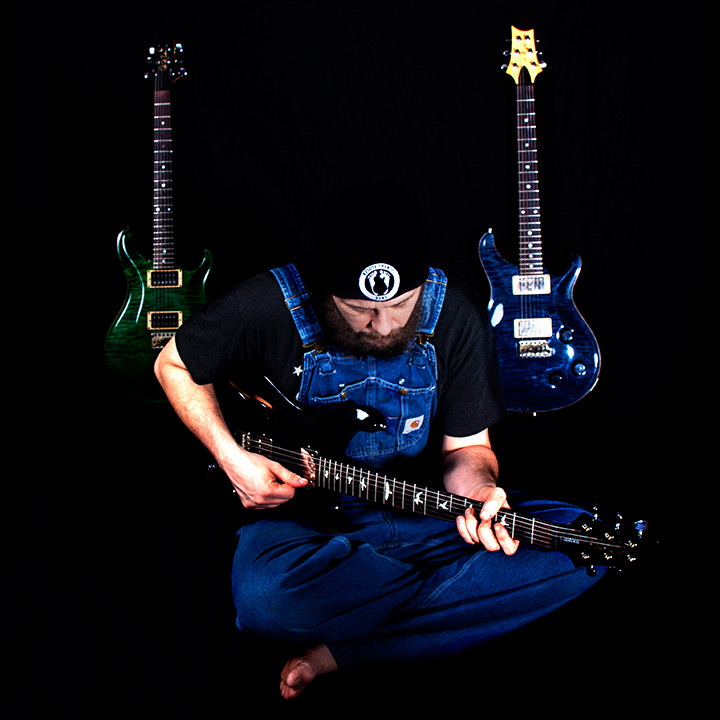 October 20th, France will be on stage, quite literally in his own backyard. Playing at the first ever Bacon, Blues & Big Stories Festival is another feather in this hometown hero's cap. We got the chance to speak with Boscoe about his town, his career, and what this festival means to Madisonville.
We caught up with Boscoe on a Wednesday afternoon as he was spending time with his family. After apologies from us for interrupting, he assured us it's a daily thing. "I'm always hanging out with my family. I've got four kids," he said laughing. "My wife is a therapist, so during the week I hang out with the kids. I'm pretty blessed in that regard.
"I mean, you want to get out and play music as much as you can, but at some point it becomes a vanity thing. I did that for a while, but it's so much more rewarding for me this way. The gigs I do, I want them to count. In the summer we hit a good lick and try to hit as many festivals as we can, and take the kids with us. What good is it to go out and turn on a bunch of people to music if you're neglecting someone who really needs and loves you?"
We began talking about the Bacon, Blues and Big Stories Festival coming to Madisonville on the 19th and 20th of this month. With regard to this event, France is seriously amped. "I cannot believe there's a blues festival coming to my home town," he said. "I am so excited about it. There's never been a blues festival here. We've always had to go to the Handy, or to other places. Madisonville is kind of a small community, but there's really a great lineup coming for this."
We wondered what it's going to be like for France to play for his hometown friends and neighbors. "That festival is happening literally two blocks from where I went to elementary school," he told us. "It's going to be super cool. We're going to be playing on Saturday night, right before Jonny Lang."
That's a pretty sweet spot to be in just before the Saturday night headliner. Was that spot selected just because he's local? "Actually, I won that King of the Blues Challenge that Guitar Center had back in 2012. After that I picked up some dates with B.B. before he passed."
41 year-old France has been playing in clubs since the age of 13. He's traveled with blues artists, and on huge tours with country stars such as Brooks & Dunn and Kenny Chesney, so he's no stranger to the road. But family is the most important thing to him. So much so, that he even brought his oldest son into the musical mix.
"The first concert my son went to was B.B. King," France shared. "Two years later we were opening for him, and I thought it would be kind of cool if my son was my guitar tech. So there he was, an eight year old kid running my guitars. At the end of the night B.B. stopped him and asked, 'Young man, is this your fist concert?' My son looked right at him and said 'No Mr. King, I saw you a couple years ago and I think you're great'. B.B. looked at him and said, 'Son, you have impeccable taste'."
Talking about some of the other acts appearing at Bacon, Blues, & Big Stories, France brought up some Texas youngsters. "There's a band playing there called Salvation From Sundown, who Lance Lopez mentored," France told us. "Reece is a beast, and Kelsi is just awesome too. I told the event staff here about them, since I'd played with them and Lance in Texas."
We wanted to know what else was going on in Boscoe's life. "I've been doing a lot of guitar clinics for this company Paul Reed Smith (PRS) Guitars," he said. "Paul produced my last EP and later this fall we go back into the studio. We should be done with a new album in December and ready to release it in January. If you don't do anything for a while, people think you're either dormant or dead, or both. We also have a residency in Evansville, Indiana so we're still out there playing."
What kind of musical heroes did France have coming up? He makes some far-stretching yet nail-on-the-head comparisons. "Ronnie Van Zant from Lynyrd Skynyrd is no doubt the number one hero of mine," he says. "He and Merle Haggard. Even though I'm a blues dude, to me Johnny Cash and Muddy Waters had so much in common. I grew up poor man. I grew up with black folks and white folks, and the common denominator was that we were poor folks. Ronnie Van Zant was calling that out. 'Things Goin' On' is going on all over again. Plus, four guitar players in that band – holy shit!"
For a fun-filled, family oriented, great blues time, make plans to attend the inaugural Bacon, Blues & Big Stores Festival October 19th and 20th in Madisonville, Kentucky. Click here for a complete festival lineup.
*Feature image Mark McCoy