Delmark Recording artist Dave Specter has earned an international reputation as one of the premier talents on the Chicago blues scene. A blues guitarist, bandleader, and producer, Specter has performed regularly at top Chicago blues and jazz clubs, in addition to festivals and concert halls throughout the country since 1985.
Before forming his own band in 1989, Specter toured extensively throughout the U.S. and Europe behind Son Seals, The Legendary Blues Band, Hubert Sumlin, Sam Lay, and Steve Freund. Specter has also performed and recorded with such blues greats as Buddy Guy, Junior Wells, Otis Rush, Jimmy Rogers, Robert Lockwood Jr., and Jimmy Johnson. He co-owns Evanston SPACE (Venue/Recording Studio north of Chicago) and has his own Podcast, Blues From The Inside Out.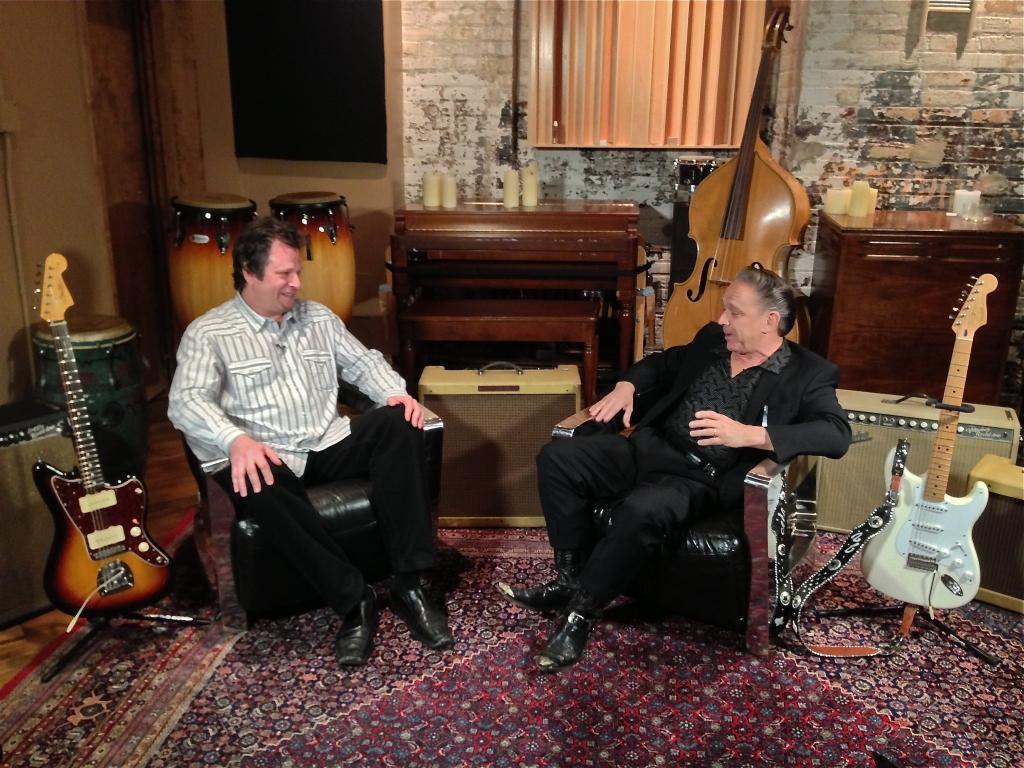 Brant Buckley:
Could you talk about your new album coming out on Delmark Records? What's it going to be called? What's it about? When is it coming out?
Dave Specter:
It's going to be called 'Blues From The Inside Out' and we are going into the studio in mid-February. It's my 11th album on Delmark. My first album came out in 1991 and the last album I released on Delmark was in 2014. It's been five years so I think I am due. It's all original material. This is the first album with all original material. It will consist of four instrumentals and eight tunes with vocals. It's going to mark my singing debut. I have always been a guitarist and a bandleader. I have done a couple instrumental records and most of my recordings consist of backing other singers. I am finally going to break out and sing. I will be singing on three tunes.
You have been on Delmark for over 28 years: What has your Delmark journey been like?
I started out working for the label as a shipping clerk. I worked for them in 1985 when the Bears won the Superbowl. I went to college at the University of Illinois Champaign-Urbana and that's when I started playing guitar at the age of 18 as a freshman. The blues got me and I decided I wanted to become a professional blues guitar player. I moved back to Chicago and wanted to immerse myself in the music as much as I could.

One of my first jobs was working for Delmark Records and The Jazz Record Mart. Bob Koester owned both until very recently. He sold both. I was working a few days a week for the label and one or two days a week at the store. That's how I got to know everyone at Delmark. I worked for them for about a year. I was also a doorman at B.L.U.E.S. on Halsted. I worked there for a few years. That was great because I was working and listening to live blues every night. I met so many great musicians from all over the world. I met Jimmy Page, John Fogerty, Robert Plant, and Willie Dixon there. I heard Hubert Sumlin, Robert Lockwood Jr., Otis Rush, Lonnie Brooks, and Louis Myers. The list goes on and on. All of that happened in my early 20's and that's when I started to play and meet musicians. That was all part of my early journey and experience.
You are a real blues promoter and preserver. Please talk about your new podcast, also called Blues from the Inside Out.
I launched the podcast very recently in December. There's one album I did for another label in 2010. I signed to a Chicago guitar based label called Fret 12. I did a record called Spectified for them. It's one of my instrumental records. David Hidalgo from Los Lobos guests on it. They were interested in creating content for their website which is a worldwide guitar community. I was their first blues artist. They wanted me to start doing video interviews with other guitar players to include that as content on their website. They are all up on YouTube. Some are under Dave Specter's Blues From The Inside Out and others are under Fret 12. I interviewed Warren Haynes, John Hammond, Hubert Sumlin, and Jimmy Johnson to name a few. There are about 20 interviews online. A couple years ago some forward thinking friends of mine recommended I create a podcast.

For the last 11 years I've been a partner and co-owner at Evanston Space. We have a recording studio right behind the club. I have amazing access to a wide range of local musicians and national touring musicians. The idea was to interview artists while they were at Space. We have a great sounding studio and that was the impetus for the podcast. The podcast is also called Blues From The Inside Out and it's up on Itunes and Spotify. The most recent interview is with Albert Lee. There is a really cool joint interview with Sam Lay and Corky Siegel that includes a live jam session with myself. There are podcasts up with Billy Branch, Toronzo Cannon, and Kermit Ruffins who's from New Orleans. I recently recorded podcasts with Billy Boy Arnold and Mud Morganfield. It's going to be a monthly podcast and I am really enjoying it. It creates a unique musician to musician perspective.
What was it like being inducted into the Chicago blues hall of fame?
It was a nice surprise and I felt honored. It's an interesting organization and it's not to be confused with the National Blues Hall of Fame in Memphis. It gives well deserved recognition to a lot of people in the Chicago Blues Scene. I am glad to be a part of it. There was a ceremony back in November at Buddy Guy Legends. Fred Below a great blues drummer and I were inducted.
What else do you want to accomplish?
One of the things that keeps me going is my growth and development as a guitarist and musician. It's a life long journey. I am still learning and improving things. Writing new music is very fulfilling. It is something that I hope to get better at. I am really happy that I've been involved in so many facets of the music business for close to 35 years. I still tour. I am going to Switzerland in March. Recently, I just played in France. I enjoy touring internationally. I played the New Orleans Jazz and Heritage Festival and The Chicago Blues Festival in 2018 which was great. I still play five to ten gigs a month in Chicago. I like the balance that comes from performing and managing Evanston Space. At Space we have a monthly Blue Monday series that I am really excited about. The podcast is more on the musicology and intellectual side. I am pretty content and want to keep growing and developing. I want to reach a wider audience. That is something that I always strive for. I want my music to be heard by more and more people. My new album and Delmark being under new ownership will help me reach more people.
Anything else you want to share?
I am also a producer. I taught for many years at the Old Town School of Folk Music. I currently give private lessons. I am helping one of my former students produce his band's first album. There are a couple projects that I have recently done that I would like to mention. Billy Seward who is based down in Florida hired me to produce a full album with my band at Delmark Studios. Jimmy Johnson guested on it. It's a great record that I highly recommend called 'South Shore'. I just produced an album for a group that's based in France and Ohio. It's a husband wife team. They are called Lil' Red and The Rooster. Jennifer Milligan is the singer and she also plays washboard. Her husband Pascal is a great French guitar player. They did a full album in Chicago that I produced. It came out 2 years ago and is getting a good response. They were finalists as a duo at the International Blues Challenge in Memphis last week. I play on three songs on the record. We played at the Bay Car Blues Festival in France. I really enjoy producing and hope to do a lot more of it.
*Feature image Harvey Tillis