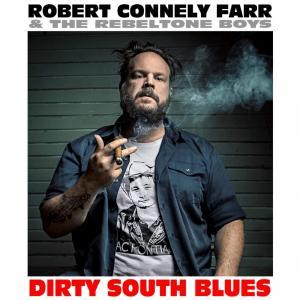 Robert Connely Farr is a songwriter from Bolton, Mississippi (the home of Charley Patton & the Mississippi Sheiks) currently residing in Vancouver, BC.
Since 2017, cherished Mississippi bluesman Jimmy "Duck" Holmes has been mentoring Farr in the Bentonia Style of the Delta Blues, an obscure style that Holmes learned directly from Henry Stuckey (who taught Skip James among others). In early 2018, Connely teamed up with Canadian producer & acclaimed songwriter Leeroy Stagger to record the album Dirty South Blues; a collection of songs written during this mentorship.
Released in September of last year, Dirty South Blues received immediate critical acclaim. "Hey Mr. Devil," is the album's closing track, courtesy of Blue Front Records, and the boys thought it time to release it on video.
"This song was one of the first songs I wrote after sobering up a few years ago," Farr told us. "My struggles had taken their toll in a lot of areas of my life; especially with my wife (bless her heart). The song, I guess like many blues songs, came as a sort of playful yet morbid reflection on the whole experience – and this is exactly what filming this video was – a guy reflecting on that – how close he came to losing it all. "
Authentically haunting with a touch of Allman-esque twang the video was produced by Tyler McLeod. This song and video are the real deal, as most of us have been right where Farr is. We're proud to premiere the video for "Hey Mr. Devil," by Robert Connely Farr & the Rebeltone Boys.
*Feature image Tyler McLeod