MEMPHIS, Tenn.—It will be quite the regal evening when The Blues Foundation salutes its milestone 40th class of Blues Hall of Fame inductees with a special ceremony at the Halloran Centre for the Performing Arts and Education in Memphis on May 8th. This year's lucky 13 honorees represent all five of the Blues Hall of Fame's categories: Performers, Non-Performing Individuals, Classics of Blues Literature, Classics of Blues Recording (Song), and Classics of Blues Recording (Album).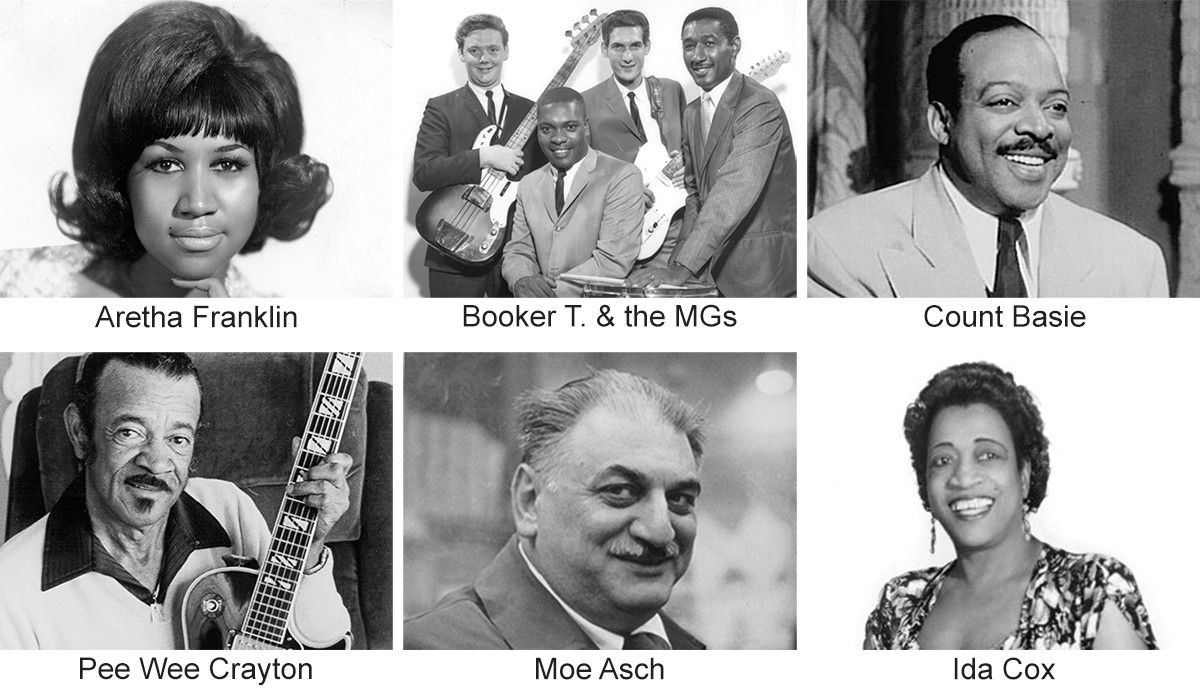 The five performers entering the Blues Hall of Fame this year reflect the breadth of the blues' influence throughout the music world. The legendary singer Aretha Franklin has been hailed as the Queen of Soul, but the blues is very much a foundation of her music, as albums like Aretha Sings the Blues and her Dinah Washington tribute stand as a testament to. Count Basie busted out of the blues-rich Kansas City music world to become the King of Swing, and the blues certainly has proven integral to his sound. Ida Cox rose to fame in the 1920s during the classic vaudeville blues era. Dubbed "The Uncrowned Queen of Blues," Cox might not be as well-known as her peers Ma Rainey and Bessie Smith, but she has achieved a lasting influence, particularly with her song "Wild Women Don't Have the Blues," which has become a feminist anthem.
Texas-born guitarist Pee Wee Crayton found his greatest success after moving to California, where he became a kingpin of the West Coast blues scene of the late '40s. From 1948, his tune "Blues After House" represents the first and only instrumental by a guitarist to top Billboard's R&B (then still called "Race Records) charts. Booker T. & the MG's, a band synonymous with Memphis and Stax Records, played on a galaxy of great soul and blues albums, including all of Albert King's Stax studio records in the 1960s. Entering the Blues Hall of Fame in its Business, Academic, Media & Production category this year is Moses "Moe" Asch. While leading Folkways Records and other labels, Asch helped to document and disseminate a remarkable range of roots music. Acoustic blues was prominent among his releases, with Lead Belly, Sonny Terry & Brownie McGhee, Elizabeth Cotten, Reverend Gary Davis, and Big Bill Broonzy among the artists whose records he released.
This year's selections for landmark recordings spotlight works by several long-time Blues Hall of Famers. Elmore James' 1965 album The Sky Is Crying and his song "Shake Your Moneymaker" both are entering the Blues Hall of Fame. Last year, the Blues Hall inducted B.B. King's album Blues Is King, and this year it is recognizing King's 1954 classic tune "Everyday I Have the Blues." Muddy Waters adds to his Blues Hall of Fame honors with the induction of his influential 1950 tune "Rollin' Stone." Ray Charles' iconic "I Got a Woman" and Bessie Smith's signature version of "The St. Louis Blues" round out 2019's recording honorees. Additionally, the Blues Hall's choice for the Classic of Blues Literature is the revelatory historical work Lost Delta Found: Rediscovering the Fisk University-Library of Congress Coahoma County Study, 1941-1942, which was compiled by John W. Work, Lewis Wade Jones, and Samuel C. Adams, Jr.
Taking place during Blues Music Week, the Blues Hall of Fame Induction Ceremony will be held May 8th, at the Halloran Centre (225 South Main Street, Memphis). A cocktail reception kicks off the festivities at 5:30 p.m. before the Ceremony begins at 6:30 p.m. Tickets are $75 per person. The celebrating continues the next night (May 9th) when The Blues Foundation presents the 40th Annual Blues Music Awards at Memphis' Cook Convention Center (7 p.m. start time). Individual BMA tickets are $150 per person with Tables for 10 at $1,500 each. Both events are open to the public and tickets can be purchased now at this link: https://secure.blues.org/np/clients/blues/eventRegistration.jsp?event=36& Reservations can be made for The Blues Foundation's block of rooms at the Sheraton Memphis Downtown and the reservation link can be found at www.blues.org.
As part of the Induction Ceremony, the Blues Hall of Fame Museum is securing special items representing each of the new inductees, and those artifacts will be installed and available for viewing beginning May 8th. The Museum has been a treasure for both serious blues fans and casual visitors since opening in May 2015. Through intriguing exhibits (including traveling exhibits that rotate every six months) and individualized galleries, it offers an entertaining and educating exploration into all that is blues culture. The Museum features interactive touchscreen displays along with three master databases where visitors can hear the music, watch videos, and read the stories about each of the Blues Hall of Fame's over 400 inductees. Each gallery also displays a fascinating array of album covers, photographs, historic awards, unique art, musical instruments, costumes, and other one-of-a-kind memorabilia.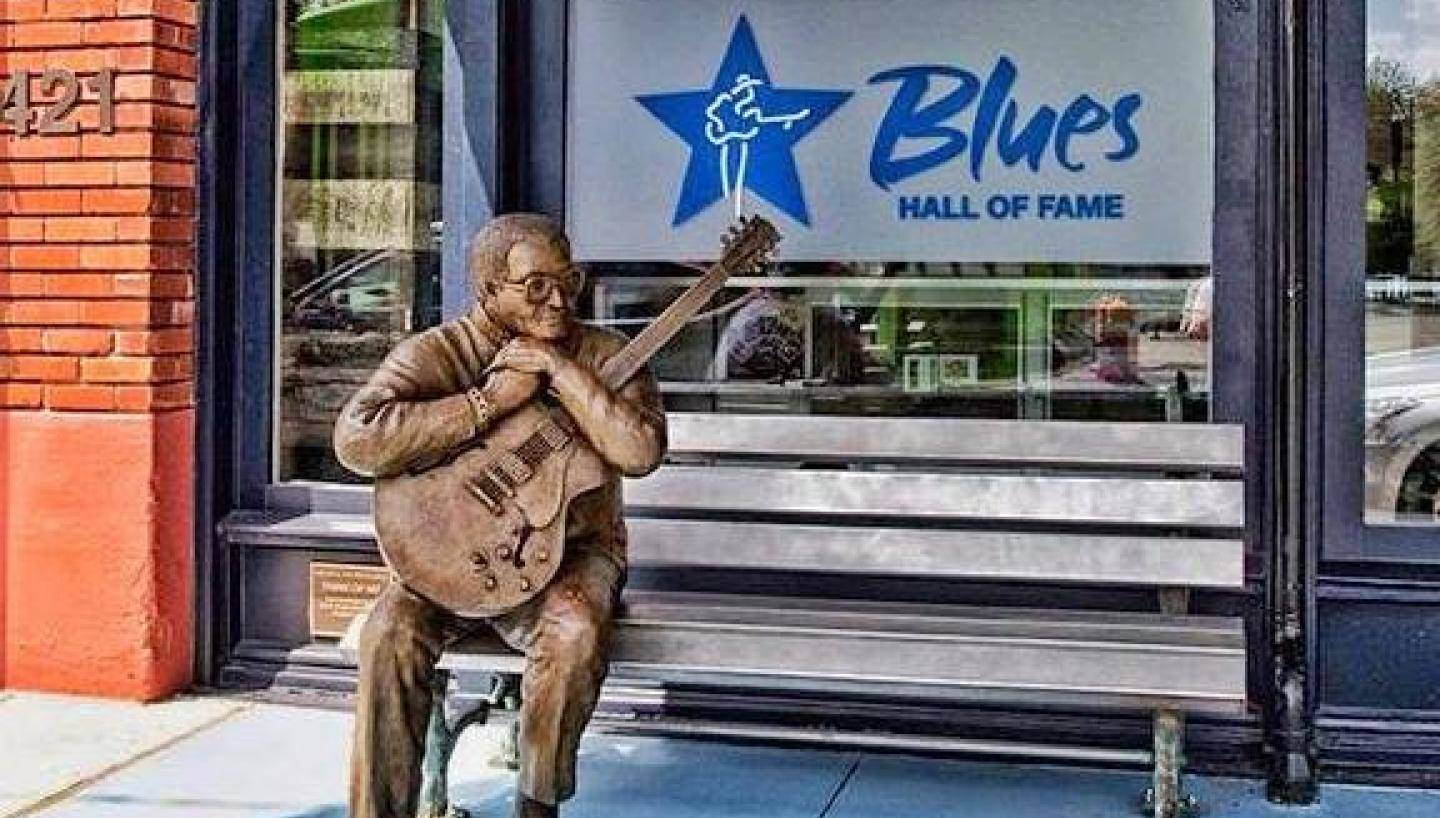 The Blues Hall of Fame Museum (421 S. Main St., Memphis) was built through the generosity and support of blues fans so that it would serve all four components of the Blues Foundation's mission: preserving blues heritage, celebrating blues recording and performance, expanding awareness of the blues genre, and ensuring the future of the music. Its hours are 10 a.m.–5 p.m. Monday-Saturday and 1–5 p.m. on Sundays. Admission is $10 for adults and $8 for students with ID; entry is free for children 12 and younger and Blues Foundation members. You can become a member for a little as $25 per person; find out how by visiting www.blues.org and clicking on Join Now.
ABOUT THE INDUCTEES:
Performers:
Aretha Franklin was long recognized as the Queen of Soul; however, she also was viewed as the Queen of the Blues as well as gospel royalty. Regardless of the genre, her powerful vocal range, striking intimacy, and impeccable timing made her one of the greatest singers ever. Her father, the famous preacher Reverend C.L. Franklin, was from the Mississippi Delta. He moved the family to Memphis (where Aretha was born) before settling in Detroit. He also guided Aretha to sign with John Hammond at Columbia, where her first release was "Today I Sing the Blues. At Atlantic Records she scored hits with "Respect," "Chain of Fools," and many others which entered the repertoires of blues and soul bands, including the flip side of "Respect," "Dr. Feelgood." Franklin, who died in 2018, garnered more than 20 Grammys (including the Lifetime Achievement Award), along with receiving the prestigious Kennedy Center Honors, the NAACP Vanguard and Hall of Fame awards, and induction into the Rock and Roll Hall of Fame.
William James "Count" Basie, who was born in Red Bank, New Jersey, began his career on the East Coast but his sound was forever linked to Kansas City, a freewheeling crossroads that was a hotbed for both jazz and blues. Dubbed "The King of Swing," Basie created music rooted in the blues. He played blues piano with an easy, economical touch; wrote or revamped an impressive cache of blues and jump tunes; and employed acclaimed vocalists who could sing the blues with a mastery that matched Basie band's musicianship such as Jimmy Rushing, Billie Holiday, and Joe Williams. While he has been honored with too many awards to mention, it is only appropriate that the Blues Hall of Fame recognize Count Basie both for the debt he owed to the blues and for what he gave back in return.
Connie Curtis"Pee Wee" Crayton grew up in Austin, Texas and migrated to California in the mid-1930s, living first in Los Angeles and then Oakland. With tutelage from T-Bone Walker and jazz guitarist John Collins, Crayton developed his own guitar style, incorporating their sophistication but picking with a harder edge. One of West Coast blues' brightest stars, Crayton reached No. 1 in 1948 on Billboard's "Race Records" chart (renamed "Rhythm & Blues" in 1949) with "Blues After Hours," which remains the only instrumental credited to a guitarist ever to top the R&B charts. After his chart success ran out in 1950, Crayton continued to display a dynamic flair on later records and delivered many memorable live performances. His periodic guitar battles with longtime friend T-Bone Walker always made headlines. Crayton, who died in 1985, also has been cited as an influence on both Elvis Presley and Chuck Berry.
Booker T. & the MG's delineated the soulful sound of Memphis playing behind a cavalcade of stars at Stax Records, all the while making instrumental hits of their own. Their first record, 1962's "Green Onions," was followed by 14 more chart hits, including "Hip-Hug-Her" and "Time Is Tight."The original group — consisting of Booker T. Jones (organ), Steve Cropper (guitar), Lewie Steinberg (bass), and Al Jackson, Jr. (drums) — came together in 1962, with Donald "Duck" Dunn taking over on bass a few years later. They also were an integrated band, which was rare then, particularly in the South. Their Stax, Volt and Atlantic sessions included recordings with Albert King, Otis Redding, Wilson Pickett, The Staple Singers, Rufus Thomas, and Carla Thomas. The group entered the Rock and Roll Hall of Fame in 1992 and received a Recording Academy Lifetime Achievement award in 2007, while "Green Onions" was inducted into the Blues Hall of Fame in 2018.
Ida Cox was touted as the "Uncrowned Queen of the Blues" from the start of her recording career in 1923. Although Ma Rainey and Bessie Smith typically are mentioned as the top stars of the classic vaudeville blues era, Cox was every bit their rival. A high-class entertainer who dressed in the finest gowns, Cox also was a composer of note. Her tune "Wild Women Don't Have the Blues" has become a feminist anthem, while other titles and verses of hers have resurfaced in the work of legendary bluesmen — for example, "How Long, Daddy, How Long" (Leroy Carr), "Death Letter Blues" (Son House), "Mojo Hand" (Lightnin' Hopkins) and "I Am So Glad" (Skip James). Cox retired in 1945 following a stroke; however, she was coaxed into recording again during the 1960s blues revival and cut an LP with the Coleman Hawkins Quintet in 1961. Cox passed away in 1967.
Individual (Business, Academic, Media & Production):
Moses "Moe" Asch ranks as one of the preeminent figures in the history of folk music, thanks to his tireless work in releasing more than 2000 albums on Folkways Records along with records on Asch, Disc and his other labels. The extraordinary scope of his catalog encompasses ethnic music from around the globe in addition to spoken word, sounds of nature, and other esoteric audio documentation. Folkway's blues roster contained such luminaries as Lead Belly, Elizabeth Cotten, Reverend Gary Davis, Champion Jack Dupree, Honeyboy Edwards, Memphis Slim, and Big Joe Williams. Important too were Folkways' field recordings that documented traditional African-American music from the American South. The educational value of the Folkways albums was further enhanced by detailed liner note inserts, another example of Asch's pioneering vision. He also made sure that every Folkways record stayed in print, a policy that continued after the Smithsonian acquired his catalog following Asch's death in 1986.
Classics of Blues Literature:
Lost Delta Found: Rediscovering the Fisk University-Library of Congress Coahoma County Study, 1941-1942 presents a unique and valuable perspective on the pioneering Coahoma County study that also was recounted in Alan Lomax's Land Where the Blues Began, a prior Classics of Blues Literature honoree. Written by African-American scholars from Fisk University, Lost Delta Found documents their crucial but often overlooked work on the project. First planned for publication back in the '40s, the original manuscript, written by John W. Work with an introduction by Lewis Wade Jones, was submitted to the Library of Congress but was reported missing or misplaced for years. This 2005 Vanderbilt University Press publication, edited by Robert Gordon and Bruce Nemerov, also includes the 1947 master's thesis by Samuel Adams, who was part of the Fisk crew, along with additional information on the county's black music that was documented by others during their trips there.

Classics of Blues Recording: Singles:
"Rollin' Stone" by Muddy Waters stands as a landmark recording for several reasons. Cut in February of 1950, it was the first blues record that Chess ever issued (and the second overall, following a Gene Ammons instrumental). It also is the only classic Chess track Muddy sang and played by himself, demonstrating that he didn't always need his stellar band in order to deliver a stirring performance. And then, of course, there was that English rock group that took its name from this song as well as a San Francisco-born music magazine whose name drew inspiration from the song title.
"Shake Your Moneymaker" by Elmore James was recorded in New Orleans in 1961, and marked an exuberant, up-tempo departure from the slide guitar master's deep blues recordings. First issued as a 45 on Bobby Robinson's Fire label, the single reveals a more hard-driving musical approach than that of its predecessor, "Roll Your Moneymaker," by Shakey Jake. "Shake Your Moneymaker" has remained popular with rock bands — Black Crowes, George Thorogood, Fleetwood Mac, and Rod Stewart have all recorded it.
"I Got a Woman" by Ray Charles perfectly illustrates the way Charles transformed the sacred into the secular. He heard the Southern Tones' gospel tune "It Must Be Jesus" (a 1954 Duke Records release) on a car radio, and when he went into the studio in Atlanta on November 18th, 1954, he kept the music but changed the words, exemplifying a common assertion that the thin musical line between gospel and blues often lies only in the lyrics. "I Got a Woman" became his first No. 1 R&B hit and remains one of the iconic works in the annals of rhythm & blues.
"Everyday I Have the Blues" rates as one of the most ubiquitous blues tunes. Its late entry into the Blues Hall of Fame reflects the fact that no strong consensus emerged on which of the hundreds of recorded versions was most deserving. B.B. King is most associated with the tune, and so the first of his own many versions gets the honor. Issued as a single on the RPM label, it was recorded on March 2nd, 1954, and hit Billboard's R&B charts in January 1955, just weeks before another hit rendition by Joe Williams and the Count Basie band.
"The St. Louis Blues" is one of the most recorded songs of all time, in any genre. Few versions of the W.C. Handy tune, however, can compare with Bessie Smith's. Part of the magic of this 1925 Columbia single is its spare arrangement. "The Empress of the Blues" was accompanied by only Louis Armstrong on cornet, and Fred Longshaw on pump organ (a rare instrument on recordings during that era). The only surviving film footage of Bessie Smith is a 1929 short film St. Louis Blues, which features her singing the song again; this time backed by a larger group.
Classic of Blues Recording: Album
Elmore James: The Sky is Crying is the other James recording being honored with a Blues Hall of Fame induction this year. James, who died in 1963, did not live to see the release of this 1965 compilation, which was the first U.S. album to collect sides he recorded for Bobby Robinson from 1959-1961. Seven of the 12 tracks on this classic collection were first issued as singles on Robinson's Fire label, with the other tunes, including a remake of his signature song, "Dust My Broom," came out on other Robinson imprints, Sphere Sound and Enjoy.
Blues Hall of Fame Ceremony and BMA tickets are available here: https://secure.blues.org/np/clients/blues/eventRegistration.jsp?event=36&
Membership has its benefits! Become a member of the Blues Foundation: https://secure.blues.org/np/clients/blues/login.jsp