Like any subculture, the guitar world has its secret heroes. Players who aren't household names, but who are beloved by other guitarists. Within this subculture are American-influenced players, not all of whom are born in the United States, who specialize in a uniquely American sound that combines country, jazz, bluegrass, and blues. Arlen Roth is one of these revered players, and TeleMasters is his tribute to these less well-known guitar heroes and the Fender Telecaster, the guitar favored by so many of them.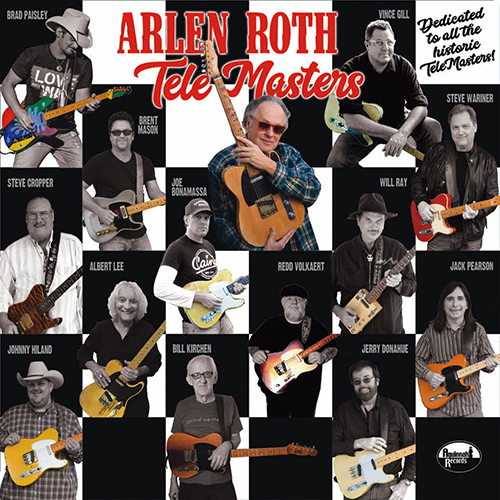 Of course, the obvious question is if this kind of music is so great, why isn't it more popular? It's a fair, if somewhat aggressive, question. This kind of music is old-fashioned in a way that hasn't come back around. The country influences take a lot from pedal steel, which is certainly heard on contemporary country tracks, but is rarely featured for more than a few bars. Jazz always seems a tough sell. Bluegrass played on electric guitar is sacrilege for many. The music is, while not exclusively instrumental, dominated by long instrumental passages that are really only still heard in rock and metal. Yet the music isn't rock or metal. But it pulsates with a rock energy. Interestingly, for many, these are the very same reasons these guitarists' guitarists are held in such high esteem.
Roth is a legendary sideman, having played with everyone from Simon and
Garfunkel to the Bee Gees. He came up with Hot Licks videos, which were guitar instruction videos back before everything was on YouTube. He's also cut some impressive solo records. Like many of those previous releases, on TeleMasters he works with a variety of colleagues.
Roth starts the album strong with "Remington Ride," a bluegrass classic. Roth goes toe-to-toe with singer/guitarist Steve Wariner and lap steel player Cindy Cashdollar. It's an instrumental tour de force, with everyone playing impossibly fast. Recalcitrant lyrical licks come faster than you can process them, let alone execute them. It's tough to pick out who's who, but it doesn't matter. It's just beautiful playing over a relentless country beat. The playing is so expressive, you don't miss the vocals.
TeleMasters features quite a few moments where one might expect vocals. Roth, along with fellow guitar legend Albert Lee, a British guitarist with the soul and fingers of a Southerner, take on Simon and Garfunkel's "Mrs. Robinson" as an instrumental. The two hit every nuanced vocal inflection with their guitars and once again, you barely notice the singers aren't there.
The album isn't all instrumentals, though. Guitarist Steve Cropper, famous for his work with Booker T. and the MGs and backing tons of Stax Records artists, sings and plays on "White Lightning," written by Cropper and producer Tom Hambridge, who also plays drums on the album. It's a standard country song, and the playing is straight-up perfect, recalling a time when country music built in lots of instrumental breaks for band members to show off their considerable talents. It's also neat hearing Cropper sing.
Roth's daughter, Lexie Roth, sings the country classic "Tennessee Waltz." Lexie has a beautiful voice and Roth gives it a jazzy depth. On "Promised Land," a Chuck Berry tune, Roth plays with guitarist Jerry Donahue (part of the legendary instrumental, Telecaster-driven band, The Hellecasters; Will Ray another Hellecaster also plays on the album), with Sweet Mikey C. handling the vocals. It's country with some Berry licks thrown in, because that's what civilized people do when playing Berry's music.
TeleMasters features plenty of other guests, including Joe Bonamassa, Vince Gill, and Brad Paisley. And there are also tributes to great guitarists, like Danny Gatton and Albert Collins. Guitar players will love this album because it's chock full of impressive playing. Not just the number of notes everyone can fit in, but the choice of notes, and perhaps most importantly, the feeling and emotion behind them. And that's what also might draw open-minded non-guitarists to this album. It's the chance to hear some incredibly talented musicians go to town, while also keeping things delightfully listenable for guitarists and non-guitarists alike.
*Feature image of Arlen Roth and Steve Cropper courtesy of Roth