The sweet spot of Josh Hyde's Into the Soul is found in the perfectly imperfect yet entirely compelling approach to songs that range from the joyous blues-funk of the opening cut, "Rocking Chair," to the dusky melancholy of the closing track, "Reasons Why." Tying everything together is album producer Joe V. McMahan (Kevin Gordon, Mike Farris), with whom the Louisiana native recorded his previous album, 2017's The Call of the Night.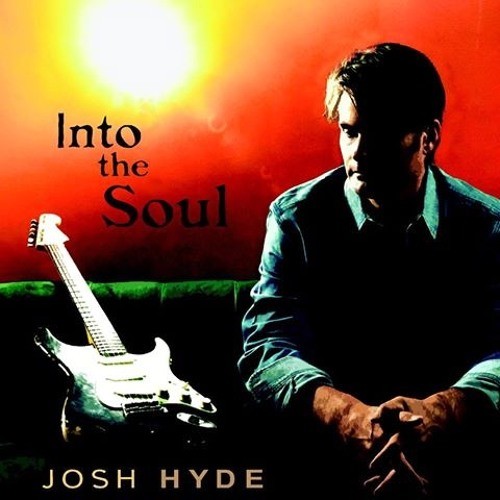 While The Call of the Night found much of its musical character in Cajun Country, more specifically the Dockside Studio on the banks of the Vermillion Bayou in Maurice, LA, Into the Soul could just as easily be emanating from an AM/FM radio in the 1970s, with influences spread across several genres but still distinguishing Hyde as a singular artist with a unique musical vision. Part of that vision rests in the organic recording technique employed on the record.
"I always wanted to do an analog recording, work on reel-to-reel," says Hyde. "The producer, just by chance, knew of a machine that was being sold by Robert Plant's producer. So we ended up buying this 24-track analog machine that Robert Plant had done a few records on. It kind of gave the album a different sound. There's nothing really like analog."

That sound, which Hyde acknowledges as "human and imperfect" eschews the modern digital technique of recording, even dispensing with Pro Tools, the ubiquitous recording software that allows for myriad options in editing and otherwise manipulating recordings.

"Ninety percent of all albums are probably recorded with Pro Tools, and there's almost too many options," Hyde explains. "There's just something to walking in and recording with a band, and committing to that take that you did right there and then. It's just like this spot in time, cemented on the analog tape. I just think it sounds better, too."

The band Hyde uses on the album includes drummer Derrek Phillips who contributes invaluably to the overall urgency of the album, backing Hyde's infectious grooves on such standouts as "Call My Name," which the singer-songwriter refers to as "Nashville funk." The rollicking "Rocking Chair" benefits from a distinctive hook contributed by piano player Jimmy Wallace.
 
"He's actually from Shreveport, so there was a little bit of a Shreveport connection, being that Joe also spent some time in Shreveport," says Hyde. "Jimmy plays keys for Joe Walsh. So he's a very experienced player. Being from Louisiana, he's got that feel."

That "feel," which calls to mind a sturdy, intoxicating blend of Delbert McClinton blues and Lyle Lovett lyricism – and touches of the sharp vocal qualities of both – leaps off the grooves with the rousing "Smile," an exuberant tune inspired by Hyde's trips to Nashville.

Born in Baton Rouge, Josh Hyde was barely seven years old when his family moved to New Orleans for a time. "I only lived there for three or four years but even though I was that young, it left an imprint on me," he acknowledges. By that time, he had also already written his first song. In the late '70s, at just barely 11 years old, Hyde penned "Mississippi Bridge," a deeply personal highlight on his previous album. During a family trip to Mexico, Hyde witnessed a band playing and approached the drummer, asking him if he could get up and perform with them. He had started playing guitar at just 10 years old and began writing songs not long after, immersing himself in the blues at one of Baton Rouge's most renowned nightspots.

"They had a place called Tabby's Blues Box, where a lot of real-deal blues guys played. Tabby Thomas owned the place. As soon as I could drive, when I turned 15, I would head down to Tabby's Blues Box. I started to play there on jam night."

Playing at private parties by the time he was in his 20s, Hyde would become a popular fixture on the festival circuit throughout Louisiana, while at the same time began honing his songwriting. Hyde fell in love with slide guitar after hearing Sonny Landreth, who played on "Offshore" from his debut LP, calling Hyde one of his favorite artists from Louisiana, and branding The Call of the Night, "funky, atmospheric and soulful."

"With music, I'm always drawn to something that's soulful and has some kind of blues element to it," says Hyde, although he acknowledges the wider net cast by material on this new album. "That's just kind of where I started as a guitarist, and that's probably something that's always going to bleed through. There's a song on Into the Soul called 'Can't Let Go' that could be considered an FM-mainstream, Tom Petty-ish kind of vibe. It's kind of just a fun, almost a radio song, which is kind of a departure from the rest of the record."

Mixed in with more recent songs he has written are compositions Hyde has held onto since writing them in years past. "About half the album is songs that I've kind of had in my trick bag, so to speak," he notes. "Over that year or two after the last album, I had also been writing some newer songs. I was thinking in terms of continuity so I picked a few songs from my backlog, and then newer songs, and I kind of tried to make them all behave together, like a family. I think that's what happened with this record, although going in you never really know how it's going to go down. That's one of the beauties of music."

Additional musicians on the new project include bassist Ron Eoff and pedal-steel guitar player Chris Lippincott, but at the forefront is Hyde, whose expressive vocals and wholly passionate nature come shining through track after track. If his role, as he suggests, is to get the songs on an album to behave together like a family, with Into the Soul he's less a strict disciplinarian and more an affable big brother, capable of showcasing his impressive musical aptitude but laid-back enough to let the songs speak for themselves. As a result, the 11 gems on Into the Soul take a direct route through the listener right to where the album title suggests they are ultimately headed, Into the Soul.