Joseph "Mojo" Morganfield is a blues singer and the youngest son of Muddy Waters. He's been inducted into the Chicago Blues Hall Of Fame twice and manages his father's estate. He'll also be headlining the Spring Out to Sunset Festival at Sunset Hill Farm County Park Amphitheater in Valparaiso on May 18th.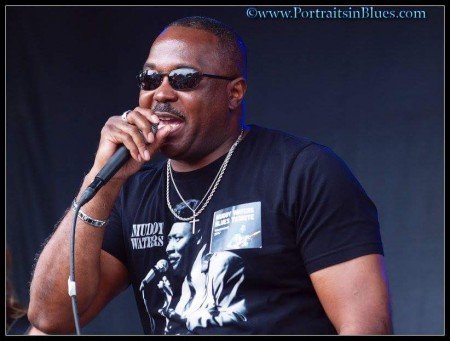 Brant Buckley: What music projects are you currently working on?
I released a 4 song E.P. earlier last year called Mojo Risin. It came out last August. I am going to be recording a new full cd later this year. I am going to start it in June or July.

I am going to be singing on the record. I am just going to be doing vocals until my guitar playing is ready. I am working really hard and trying to get my guitar playing back.
Who are your biggest influences? How would you describe your style?
Besides my father, I like John Lee Hooker and Howlin' Wolf. I mostly like the old cats. I really like Keb' Mo'. I have been around blues all my life but I started singing about three years ago. My life went a different route and I ended up getting a basketball scholarship.

I pursued it and put the guitar down. When I married and had kids, music was still at a distance, but the desire has always remained in my heart. As my children grew up, I decided to pursue music. I know it's a late jump. I would rather try it and fail than have regrets. This is why I am here.
You've been inducted into the Chicago Blues Hall Of Fame twice. Could you talk about this? What are the nomination titles?
The first nomination was under Blues Ambassador and the second was under Blues Promoter Supporter. My next goal is to get in as a vocalist. I am an ambassador for my father's estate. I also get invited to Q and As from different universities.
You are writing a book on your father. How is the writing going? When will it come out?
It's definitely in progress. I have another writer who is helping me. I do not have a date yet. I spent 10 years with my father before he passed away. It's more about Muddy the man at home and father. It's about what we did, the places we visited, and the vacations we took when he was off the road. I was the only boy he raised. I had hands-on experience. Eric Clapton and Johnny Winter would visit our house. I traveled with his band and listened in on dressing room conversations. It's everyday McKinley Morganfield.
What's going on with Muddy's old home in Chicago (4339 S. Lake Park Ave.)? Who owns it? Do you think it will ever be restored so his spirit remains?
I lived there for one year before we moved to Westmont. The house is owned by my father's great granddaughter Chandra Cooper. To make a long story short, she bought the house from the estate and neglected it. We are trying to get her to sell the house back to the estate so we can get it out of foreclosure and make the necessary repairs before it's demolished. We are currently negotiating with her. The plan is to get the house back and restore it.
What else do you want to accomplish?
Right now I am trying to get established and get gigs. Being Muddy's son doesn't mean anything. I am trying to fine tune my craft and work on my vocals. I take vocal lessons and rehearse with my band. I know it's not going to happen overnight. My ultimate goal is to win a Grammy. Also, I perform all over the United States.

My siblings and I are trying to keep my father's legacy alive. Big Bill and Mud Morganfield are keeping his legacy alive. We don't want his legacy to die. We are doing our part. You have different families that are keeping the blues alive. Willie Dixon's family and Buddy Guy's family are keeping it alive. Everyone is playing their part for younger generations.
*Feature image courtesy of Orman Music & Media