Stony Plain Records announces a May 17 release date for Ear Worms, the new album from two-time Grammy nominee and multi-Blues Music Award winning guitarist Duke Robillard, which will be available in both CD and vinyl formats.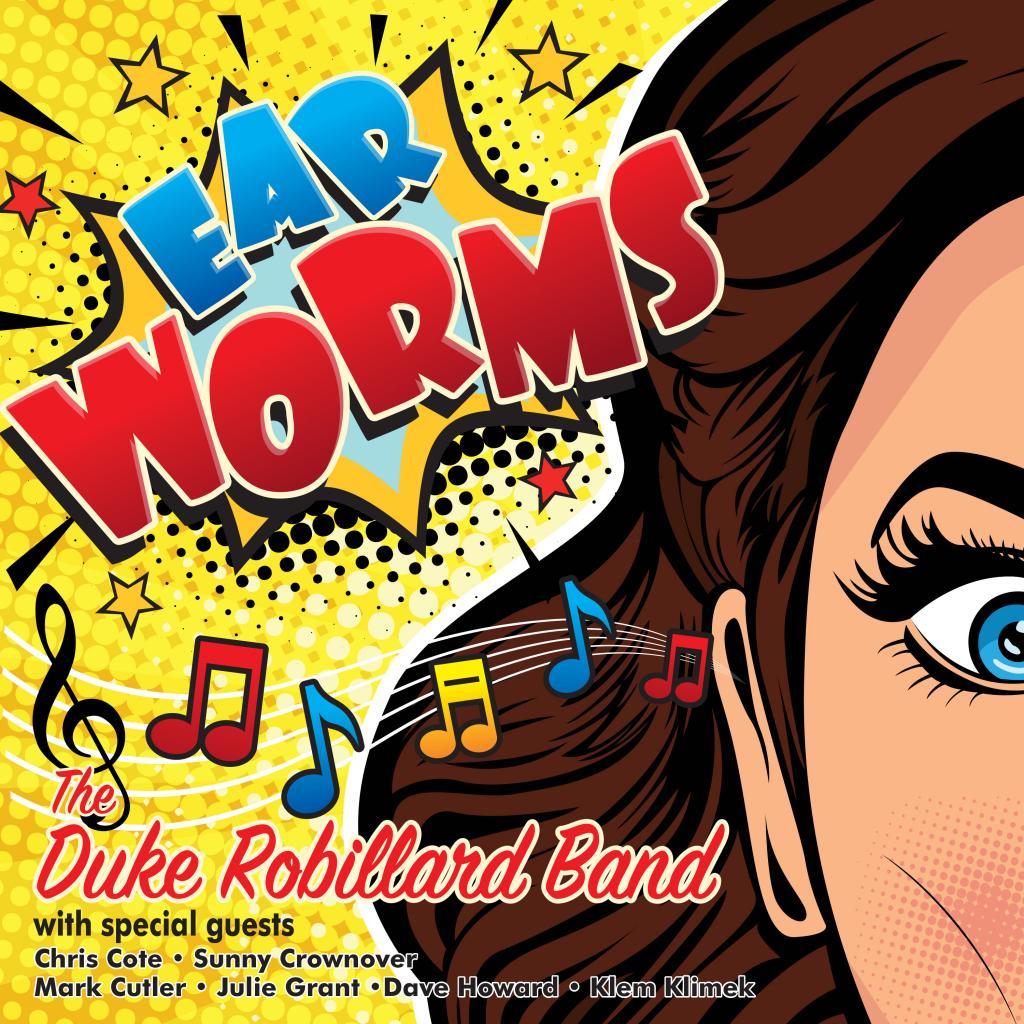 "Ear Worms was conceived as an album of songs that I heard and was attracted to growing up," says Duke Robillard about the new disc's genesis. "They are not of one particular genre or style, but rather songs I heard in my pre-teens to my later teens, with the exception of a few songs which I threw into the mix to round out the overall album vibe; sounds that stuck in my head, in many cases before I knew what the blues was. I guess you could call them 'ear worms.' It can be a song you can't get out of your head because you love it so much, or it can also be a mundane piece of drivel that haunts you like a bad dream. Hopefully, if these songs become ear worms for you, they will be good ones!"
Produced by Robillard and recorded at Lakewest Recording and Duke's Mood Room, Ear Worms features Duke (guitars, vocal) and his long-time band: Bruce Bears (piano, Hammond organ); Brad Hallen (acoustic and electric bass); and Mark Teixeira (drums). Both Bears and Teixeira also sing lead vocal on one track each. Joining them on the sessions, besides some stellar additional musicians are several special guest vocalists: Chris Cote, Sunny Crownover, Mark Cutler, Julie Grant, Dave Howard and Klem Klimek.
The track listing for Ear Worms features a Duke-penned original, the rollicking "Don't Bother Trying to Steal Her Love," that kicks off the album in grand style, followed by a dozen songs – some well-known, others not so much – including "Living with the Animals," "I Am a Lonesome Hobo," "Sweet Nothin's," "Dear Dad," "Yellow Moon," and "Yes We Can." The repertoire demonstrates the breadth of Robillard's skill and knowledge of so many styles of music.
Robillard tells a particularly interesting story about one of the tracks on the new album. "'Everyday I Have to Cry Some' is a song written by Arthur Alexander that was additionally recorded by Steve Alaimo and Dusty Springfield," he says. "There was another great young pop singer creating hits in England in the '60s named Julie Grant who also recorded it. She had many wonderful and successful records at a very young age. It so happens that for quite a few years Julie worked as a booking agent for one of the nearby casinos in Connecticut. One day we were talking, and she revealed that she was a British pop singer, so I googled her and was blown away by what a great singer she was, with a long list of hit records! So, this wonderful British lady that I had known for several years was a star and a fabulous vocalist! 'Everyday I Have to Cry Some' was a song I always loved and Julie's version of it is my favorite. I took a chance and asked her if she would record it for this album. We recorded a few takes and spent the rest of the afternoon sipping wine and listening to stories of her teenage years in London: double dates with Paul McCartney and Jane Asher; stories about the Rolling Stones opening a tour for her; and so many other memories. I had wanted to put Julie and Sunny Crownover together for this and it worked out wonderfully. It was a ball to make the guitar arrangement for this song. We really worked at capturing the '60s vibe of Julie's record while making it ours at the same time. I do hope everyone enjoys the '60s 'wall of sound' vibe here."
Robillard cites several reasons for the inclusion of certain songs on the new album. "First of all, a large part of my musical make-up is from the production side," he volunteers. "Since I was as young as 10 years old, the sounds on recordings always captured my imagination. 'Why did they fade out at the time they did? How did they get that sound? Why does the reverb come up as the song fades out?' Production was a mystical thing to me. Even though I had no idea what producers and engineers did, my ear was tuned in to a recording's sound and the way the music and sound made me feel.
"When I was a young boy at the age of 10 to 12, my brother's collection of the latest rock and roll singles of Chuck Berry, Fats Domino, Little Richard, Elvis, Buddy Holly, Bill Haley, etc. were my strongest influence, along with Hank Williams. We are talking about the late '50s/early'60s, and AM radio was still the way you heard music on the airwaves. I find it amazing what was played on the air in those days. I remember hearing Slim Harpo's 'Scratch My Back' on AM radio in Rhode Island. I can still recall where I was, who I was with, and how that sound just went through me like a bolt of lightning! I am a believer that all music that you hear affects you in some way, so by about 1970 I started steering away from pop/rock music for a long period, preferring not to be influenced by anything but the blues and jazz from the '30s, '40s and '50s. That part of my life created the purist part of me."
Peppered in with all the vocal-track songs are several instrumentals, showcasing Duke's unique takes on "Careless Love," "Soldier of Love," "Rawhide" and "You Belong to Me," with "Rawhide" having a special affection from Robillard. "'Rawhide' is my tribute to one of my heroes, Mr. Link Wray! Just pure unadulterated Rock and Roll here friends; nothing more, nothing less. I played this song in many early bands and even in Roomful of Blues on a few occasions. It never fails to rock!"
Since starting his musical career in 1967 by founding and fronting Roomful of Blues, Duke Robillard has been at the forefront of Blues, Swing and classic R&B/Jump blues for over 40 years, earning him his legendary status while influencing and inspiring countless legions of musicians and fans worldwide. Leading his own group, Duke has toured non-stop for the past 30-some years, recording more than 30 critically acclaimed CDs under his own name. He has toured as a guitarist with Tom Waits and the Fabulous Thunderbirds and recorded with the likes of Bob Dylan, Ruth Brown, Jay McShann, Pinetop Perkins, Kim Wilson, Jimmy Witherspoon, Rosco Gordon, Maria Muldaur and many more.
Here's a link to pre-order the album, which also includes a special advance listen to "Don't Bother to Steal Her Love:" http://smarturl.it/earworms.