14 year old Toby Lee is a self-taught guitarist from England who has fallen head over heels for the blues. Beginning at age 4 on a ukulele, his love for music has continued to blossom until now he stands poised to release his first full-length album. He'll also be making his debut US festival appearance at the Wedbush Garden Jam Music Festival in Indian Wells, California on April 5th and 6th.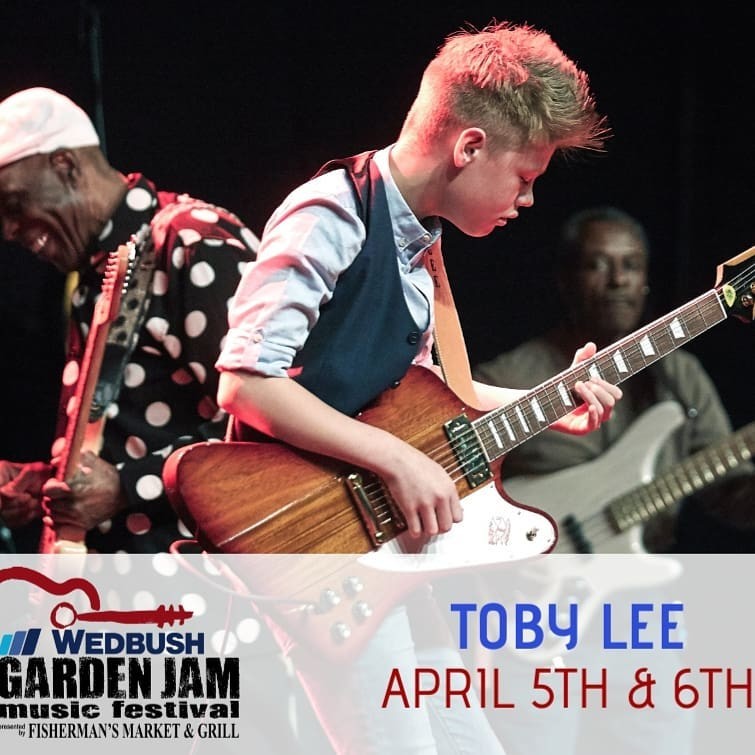 Don't for one second think this is his first stint in the limelight however. Lee has been performing publicly since around age 8, and in a very short time this slinger has made a name for himself on both sides of the pond and beyond.
Trying hard to remember my days as a 14 year old, I can conjure memories of trepidation about school, curious anxiety about girls, and teenage angst before I even knew what that word meant. Toby speaks now with the presence of someone thrice his age, without hesitation, and knows exactly what he wants and how to go about it.
At this point in his life, he's already been on stage with some of the absolute greatest guitarists of our time; Walter Trout, Ronnie Baker Brooks, and the legendary Buddy Guy among them. Toby's videos have been viewed over 300 million times. He's been touted as a "future superstar of the blues," by Joe Bonamassa and has received early and continuous advice from Mick Box of Uriah Heep. Lee is also an Olivier Award (similar to Broadway's Tony Awards) winner for his depiction of Zack Mooneyhan in Andrew Lloyd Webber's School of Rock. He's also unshakably performed for royalty, and to crowds numbering up to 40,000, all while maintaining his school work, family time, and various hobbies. A pretty impressive resume for someone not even old enough to legally drive yet.
JD Nash for American Blues Scene:
So, you'll be coming back to the States in a week and playing the Wedbush Garden Jam Music Festival. This will actually be your US debut so to speak?
Toby Lee:
It is. I'm really, really excited. It's definitely something to look forward to. I show all the promo videos to my friends at school because they don't really get involved with music and that kind of stuff. But they're still like 'Oh my gosh, that is so cool.' Even though they're not really interested in that kind of stuff they still think it's such a cool place. It's amazing for me and I'm really looking forward to it.
It's a two-day festival and you'll be playing both days on the second stage is that correct?
I think that's the way it works yeah. The line-up for this show is amazing.
You've played with some pretty high rollers in the blues world already.
Yeah, and I've played with Buddy (Guy) before and he'll be there as well. He is quite a character. He's so funny and so cool. He doesn't care about anything once he's on stage. He just goes out and has fun, and is just the ruler of the stage.
On the second stage in Indian Wells you'll be on stage with Mic Dangerously, John Carey, and Kal David. These gentlemen will be actually joining you on stage right?
Yes. I don't think it will a proper set. I think it'll be more like a rehearsed jam session. We'll all be taking turns, and having great fun really, while we put on a show.
I really wish I could be there. It sounds like a great time and Garden Jam is at such a beautiful venue. You're 14 years old now so basically you've been playing for about 10 years?
Yes, pretty much. Properly performing for about six or seven, but playing guitar for about nine or ten, I'd say.
Do you remember the very first song you learned to play?
I think it was the same as most people. I think it was 'Smoke on the Water.' That seems to be the default first song that everyone learns and it was mine too.
And what steered you toward the blues?
I'm not sure really. When I picked up a guitar it was the first thing I could gravitate to and enjoy. I started off with a little ukulele, just strumming on that. Then I literally have videos of me with my first electric guitar. I look at them now and I would stand there and strum the strings, but I really look like I'm enjoying it, because I was. But it obviously wasn't making very good sound. Then I started to get notes involved, and more and more, then day by day I would just play and play and play. It was just for fun and having a bit of a laugh. But from my first full size guitar it's gone from then until now.
Are your parents blues fans themselves? I mean is that music that available for you to listen to at home?
It's always been available because my dad loves music, my mum loves music. It's quite a musical household. I don't really think they thought I'd be playing the blues though. That's not something that a normal kid goes to. But, I went to it, and I absolutely love it. It's just brilliant.
You've played the Prince's Trust, and I can't even imagine playing for royalty. You're an Olivier Award winner. You've played with some of the greats, all in a relatively short amount of time. Do you have other hobbies outside music?
I've got all sorts of different hobbies. I'll be completely honest. I don't play guitar 24 hours a day. I'm not the kind of kid that will come home and do just that. If I feel like playing, I'll play all evening. There are times when I might feel like maybe I'll learn something or try something different on the guitar. But there are some days when I'll have a quick like five minutes on it and then go on to something else, and some days when I won't play at all. I only really play when I feel like it because if you're in a really good mood and you want to play, you'll hear that in the playing. If you don't want to play, you'll always hear that as well.

But, I've got all different little hobbies. I restore old toy cars. I take them all apart, take the paint off, fix them up, repaint them and put them back together. I'm building a skateboard at school which for me is pretty fun. Actually our whole house, purely because of me, is covered in unfinished projects, half-built guitars, half-built Lego models. I'm literally standing in front of a half-built Lego model as I said that.

With the guitar, it's something you have to feel like doing to do it. It'll easily show if you don't.
Do you attend what you would consider a regular school or do you go to a music school?
No, I go to a regular school, but one of the lessons each week just happens to be a music lesson. I find this quite good most of the time, but sometimes they'll be like 'why don't you not play the guitar and play something else.' So I normally go over and play drums because I'm obsessed with the drums. I remember I took one drum lesson just to try and get through a grade. So he said, 'we'll put you in at grade seven and see how you go.' I didn't enjoy the whole grade scheme because I felt like I was copying someone else's music constantly. I feel the whole point of music is to learn from those kind of things, but then make your own version of them or put something from that in your own music. I didn't even finish the grade. I just learned from the pieces. I prefer not to be a graded musician. Maybe if I were graded on making my own music instead of copying someone else's, but that's just me.
If everyone just played covers there would be nothing new in the world.
Exactly. There are bands that play covers, but put their own twist on it. There's a band we've been listening to lately called the Blues Beatles. They do all the Beatles songs but with a proper, driving, blues background beat to it. I like it when people can take a cover and switch it into something it never used to be.
You did release an EP called TEN. Is that your only release so far?
At the moment I've just got the one EP out, but we've got a Kickstarter campaign underway for the new album, '14,' which will be a full album. We've got some cool people lined up and it should be great.
Will this be original music?
I'm hoping to get a few originals on, but this will also be my take on some covers, then with some different bits slotted in.
Do you see yourself doing anything other than music as a career?
I don't really think so. What I'd love to do is play music but then have loads of hobbies as well, as long as they don't get in the way. I don't think it has to be either music or something else. I think it can be music, and if you want to do something else as well, you can. I love woodwork and I find old woods to be awesome, but I don't think I'd ever do it as a career. Not because I wouldn't want to, but it's just that I prefer music more.
Toby, is there one stand out moment in your career thus far?
I don't know that I've got a favorite. There are so many amazing things that I've been fortunate enough to be involved with. There is one moment that I'll definitely remember, and that's when I played with Buddy Guy. He put his guitar on me, and with the strap on it was literally resting on my toes. Now excuse my language but he said to me, 'Bring your own shit next time, and if you fuck this up, it's on you.' There I was, this little ginger kid in the middle of the stage, trying to hold this massive, low-down Strat.

He plugged me in to all his pedals and stuff, and he asked me to do the opening of "Voodoo Child." I did it on my own guitar in the end, because his was just slung too low. I hadn't played "Voodoo Child" in a year and a half easily. I don't think I'd ever played it with a wah before. It was his personal, signature, Buddy Guy wah pedal, and I'm thinking, 'Oh my God.' Somehow I remembered it, and it was just so much fun. That was a moment that I'll never forget.
Since this will be your first festival appearance in the US, I'd like to know what you may want concert goers to know about you, who maybe are unfamiliar with your work.
Well, I'm a self-taught, 14 year old guitar player. I've never had an actual lesson. I one day recorded a video of myself, just wearing a onesie, because I'd never seen myself with a guitar in my hands before. I just recorded this 3-minute jam thing. I gave it to my dad and we put it up on Facebook, and it went absolutely mad. From then I made a routine of it. I did a get well soon one for BB King just before he died, and that video went absolutely mental, with about 150 to 200 million views. It just kept getting shared, and shared, and shared. All of the things that have happened, I don't think I can take in just yet.

At the end of the day, I'm just doing what I love. I don't want to be that person who is shielded away from everyone. I see quite a lot of videos on celebrities who kind of shield themselves away from everyone. I feel like if they (the fans) have taken the time to listen to your music, and be interested in what you're doing, I think they deserve a handshake, or a hello, or talk for a bit.

Everything that's happened to me so far, I just can't believe, and I appreciate more than I can say.
*Feature image Graham Whittington