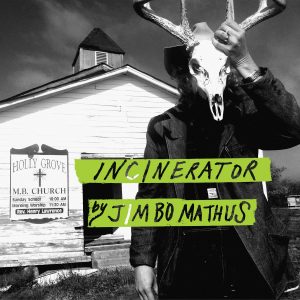 Jimbo Mathus has blazed a singular path as a singer, songwriter, guitarist, producer and shaman for 40 years, recording and releasing more than 300 songs that are a testament to his hoodoo craftsmanship and to the sounds, sights and spirits of his inspirations in the deep South. His new album, Incinerator, which debuts on April 5 via Mississippi's Big Legal Mess Records, is the epitome of that art — an incendiary reflection of his world in music.
Mathus describes the 11 songs on Incinerator as "a huge tapestry of my experiences, hard work and dedication to living a creative life. I really took stock of what I do and why I do it … why I weave stories and dreams and visions I have into songs. And I tried to squeeze every bit of meaning out of every note and every word I wrote and recorded. It's impossible to separate this album from me. This is who I am."
Incinerator was recorded in a burst of inspiration, with all but overdubs cut in just two days in Water Valley, Mississippi's Dial Back Sound. Surprisingly, Mathus, who has produced dozens of albums, decided to hand the controls to Bronson Tew and Drive-By Truckers bassist Matt Patton, who co-own Dial Back, and opted to play piano instead of his trademark guitar.
"I wanted to get to the soul of these songs, without distractions," says Mathus. "So, I decided to play piano and record my singing live in the studio. It's instinctual for me to plug in an electric guitar and rock. But I was seeking the kind of perfection you find in Romantic poetry. I wanted to hear the lyrics surrounded by space, and then add colors after I considered what was needed."
The results are full of warmth and heart, with Mathus' dusty Magnolia State-breeze of a voice at the fore.
"Alligator Fish" is the tune that revisits the spirit of Mathus' previous two albums of psychedelic Southern-gothic rock, 2015's Blue Healer and 2016's Band of Storms. He chants its channeled lyrics — pure New Orleans street poetry — like a hoodoo man summoning Legba over a fat, funky sweet-potato groove that perfectly frames the song's Crescent City magic. All the while, co-producers Patterson and Tew turn their guitars into a pack of howling canines.
"'Alligator Fish' is a freestyle blues incantation over one cord, channeling dire predictions à la Charley Patton," Mathus told us. "I'm related to Charley through my Delta family. Lyrically, it's nonsense, much like speaking in tongues, but meditative on Gulf Coast root and conjure work. I have a good friend from an old Mobile, Alabama family that works in this field. He helps me through trials and tribulations. It's also about running trot lines."
Mathus will also continue touring this year with the Squirrel Nut Zippers, a band the Oxford, Mississippi, native co-founded in 1993. Despite several hiatuses, the Zippers have continued to play their eclectic blend of gypsy jazz, swing, and Delta blues over the decades, and released their seventh studio album, Beasts of Burgundy, in 2018. 
In addition to producing albums for J.D. Wilkes, Shinyribs, Ironing Board Sam, and many others, Mathus has a discography as a solo artist and bandleader that's more than 20 titles deep — the last seven for Big Legal Mess Records and Fat Possum. He is also a member of the South Memphis String Band, with Luther Dickinson and Alvin Youngblood Hart, and his many session credits include recordings with Buddy Guy, Samantha Fish, and Amy LaVere. These days, when Mathus is at home in Mississippi's hill country and Delta, he also leads a local blues band called Dirty Crooks. 
But enough about the man, let's get to the music. Here is the World Premiere of "Alligator Fish."