Dave Mason must still get asked to this day about Traffic band politics, talks of reuniting with Steve Winwood, and the creative differences which begat his pursuit of a solo career. The answers, still blowing in the wind, only seem to raise more questions. In any case, the founding member has always seemed to demonstrate positive and purposeful ethos. When asked how he approaches endeavors, he tells me, "You better be somewhat flexible. I've played all kinds of places, 300 people to 200,000. Basically, I treat it as another show. And the rest of it, they're just life lessons."
Considering the manifold contributions Mason has made, it's no surprise he cannot determine which musical partnerships were among the most stimulating. Guitar work on George Harrison's All Things Must Pass, singing on "Across the Universe," playing various instruments on Stones sessions, a stint in Derek and the Dominos, in Fleetwood Mac … I'm only scratching the surface. Hell, if only for the shehnai on "Street Fighting Man" — that high-pitched drone on the periphery but no less emblazoned into every Rolling Stoner's brain — the man is an international treasure. "They all are. Some way or another, they all are," he muses.
A friendship with Brian Jones was more or less how he found himself in the studio with the Rolling Stones. "That, and — Stones, Hendrix, Traffic… We all used Olympic Studios and we all used the same engineer. Sessions would overlap, and it was a very small community there. Everybody was in London, and there were a very finite number of studios, unlike in the U.S. which had a number of musical markets. So, it was very easy to run into people."
Dave also happened to meet Gram Parsons at a Stones session when Beggars Banquet was being recorded in 1968. "I met him pretty much around the Rolling Stones, yes." The two were fast friends, and he convinced Dave to leave England and head to Los Angeles where he could introduce him to the music scene there.
He recalls how a chance encounter with Jimi Hendrix eventually led to him recording the 12-string you hear on Jimi's immortal interpretation of "All Along the Watchtower," a cover Dylan himself enjoyed so much that he has been performing the song à la Jimi since the day he died.
"I met Jimi in a club in London, a sort of semi-private club that a lot of us went to. He was sitting there, so I sat down and started talking to him. We were mutual fans; he was a fan of Traffic. Out of that, we stayed in touch and would meet occasionally. We went to his friend's house, because they had an advance copy of John Wesley Harding. We went over there and listened to that, and I guess something piqued his interest on Dylan's 'All Along the Watchtower.' And a few days later, we were in Olympic Studio — myself, he, and Mitch Mitchell laid down the track for his version of 'All Along the Watchtower.'"
You could say Mason was George Harrison's inspiration for the slide guitar.
"When I first moved to America, I played with a group called Delaney & Bonnie, who had a No. 2 record with one of my songs, 'Only You Know and I Know.' They had a record they put out — it was a song called 'Coming Home.' And I played solo on that and a little slide part on the record. At one point, Delaney & Bonnie played Europe; I think it was Fairfield Halls in Croydon. Eric Clapton and George Harrison came. And of course, everybody was like, 'Come on, guys. Get up and play on something.' And Eric sort of knew the stuff anyway, because most of Delaney & Bonnie's band became Derek and the Dominos. And George was like, 'Here, let me show you this part that is on this one song. Maybe you could do this.' So, I showed him the little slide part to come play it on stage with us. And then I read an article — 10, 12, 15 years ago — and Harrison had credited me with taking up the slide guitar. That led him into developing that signature slide that he was doing."
Dave has been known to say there's no such thing as old songs, only good songs. I definitely agree with that, especially given that there seem to be so few good new songs. Before what we now know as radio, before the binary between commercialism and actual talent was so unconscionably blurred, before we were lost in a thousand sub-genres, there was just music. Rock and roll and pop music of the day could exist in the same world, and sometimes the same word. Not pop in the over-processed sense, but the radio song we could "All Join In" on by virtue of a local AM radio station.
I say "the radio song," as it connotes a time when there was the radio song coming from a radio DJ and not an automatic playlist. DJs were lone sentinels of records and not just pushers of buttons. They personally cared about what they were feeding to an audience. And before "jam bands" were calling themselves that as an excuse to noodle around in aimless solos for 15 minutes at a time, Traffic members were trading licks while still keeping refined melody and apt brevity. Dave always seemed to have an intrinsic pop sensibility in his songwriting, as evidenced in "You Can All Join In."
"I do. I do. I have always had that. That's how I got into it in the first place was listening to essentially pop songs. And as I got older, that just led into more things. So, I embraced pretty much all kinds of music. I deal with different styles of music, if you listen to my — over the years — my stuff. It depends on what song it is. And then song wise, I try to mostly deal with timeless themes. Yeah, they're personal. They're personal to me, which is how I write. And in some way, they're going to be personal to other people."
Some songs never lose their buoyancy; some even take on a patina over time that really no words could do justice. "We Just Disagree" is one of those songs. I imagine it is that faithful 12-string, brimful of rich sound, for starters. Dave's voice strikes with emotional clarity – the lowered yet honeyed larynx he wielded when truly left to his own artistry. The feeling is further punctuated by the dulcet tones of a background orchestra and delicate piano. It is Jim Krueger, the song's composer, who strummed the 12-string and sang the harmony vocal on the track.
You know not just a hit but a timeless classic when you hear it. What happened to the harmonic texture of a radio song? I wanted Mason's input on how he made sense of the melodic structure — or lack thereof — of today's music.
"Well, there is no radio. That's the problem. That's why we don't make new music. There is no radio; it's a disaster. We've just become backdrop for selling products. It's awful. There's nobody home. There's no DJs anymore; there's no good DJs. There's nobody playing stuff. There's nobody turning people — you know — classic rock radio. I mean, you'd think that classic rock radio would be, you know, here's 'We Just Disagree' by Dave Mason' or 'Here's a brand new rock song from Dave…' You know, just to keep it somewhat interesting. Otherwise, they're just playing the same shit over and over again. The same stuff you already have at home."
Which leads us to our next topic… "I have my own little studio at home I fool around in. But as far as making albums and producing stuff, it's just a waste of time." And so he tours. Back to where it all started: making a connection with the audience.
What's next for Dave Mason? What's on the horizon? "As long as I can still stand in an upright position and sing and play, I'll still be touring. At the moment, that's pretty much what is on the horizon here."
Last year, Mason joined forces with Steve Cropper (of Booker T. and the MGs) for a Rock & Soul Revue tour. The two Rock and Roll Hall of Famers must be having so much fun playing together, because they continue to add dates to this year's Feelin' Alright tour. "And hopefully there will be more down the road. It's a fun show." The energy of the crowd has been very well received. "It's been great. It's been really good."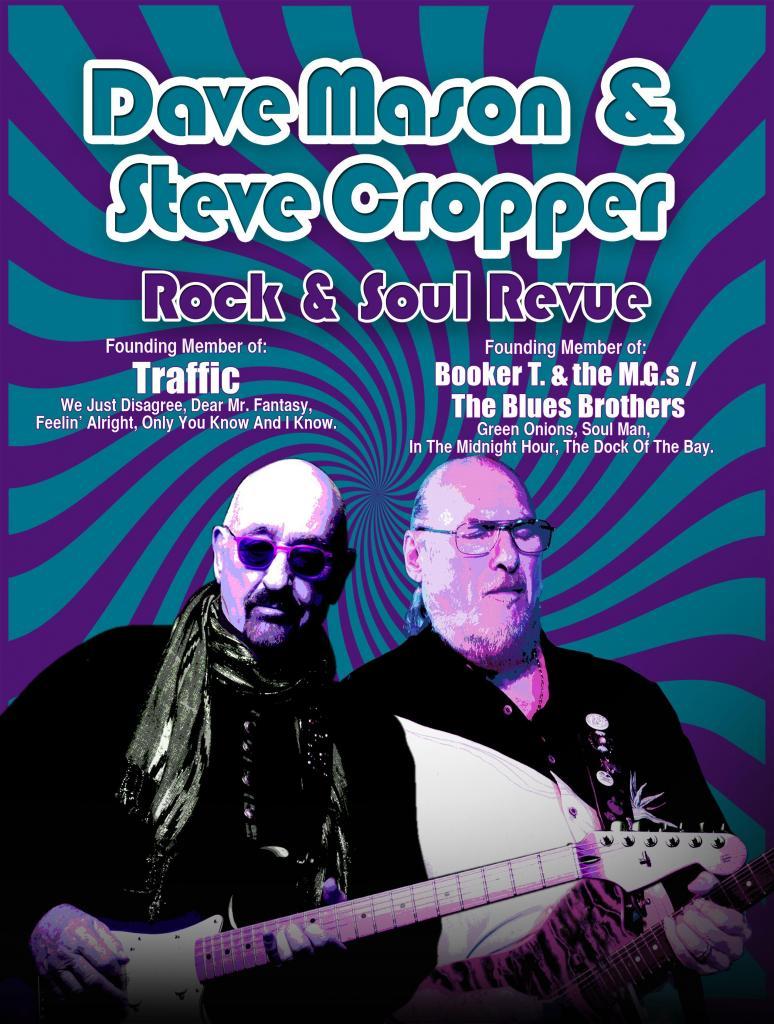 Over the years, Dave has had a variety of roles in philanthropy as a board member of non-profit organizations such as Little Kids Rock and Yoga Blue. He and a friend founded Rock our Vets, an organization that supplies food, clothing, and other basic needs to veterans. Their highest priority is suicide prevention, as roughly 22 veterans die by suicide every day.
"I've been doing Rock our Vets with a friend of mine, Ted Knapp. We are a small charity; we're all volunteers. So, everything we get goes to where it's supposed to go. We support military veterans, law enforcement veterans and fire department veterans. We actually — unfortunately, I was playing, otherwise would have loved to have been there — we got picked to lay a wreath at the Tomb of the Unknown Soldier. It was a real nice honor for us to get. I'm very proud of what we do in our own little way. (And how long have you been involved in this one?) Ted and I were originally part of another charity, but we've been involved in this for 10 or 12 years now."
*Feature image Stu Walls