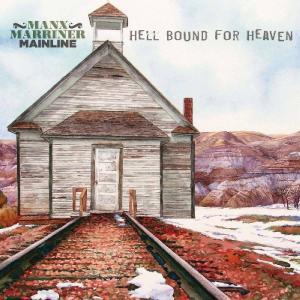 Musical partnerships are funny things. Two great solo artists don't necessarily make for a band that's twice as good as the individuals. Harry Manx and Steve Marriner are two Canadian blues artists, each separately successful. They team up to great effect on Hell Bound for Heaven, an album of their well-written takes on low-key blues, gospel, and folk.
Manx and Marriner have nice chemistry. They share vocals and songwriting, even collaborating on one song. There's lots of blues trappings, from acoustic guitars to harmonica, but many of their originals have a nice rock vibe, with lovely melodies. This isn't raw, down-home Delta blues. Instead Manx Marriner Mainline deliver something more restrained and polished. In fact, while Manx and Marriner draw their inspiration from rural blues and gospel, Hell Bound for Heaven's best moments are when they refine that classic sound.
One of the album's best tracks is their cover of "This Little Light of Mine," the gospel standard. It kicks off with beautiful organ courtesy of the versatile Marriner, who also plays guitar, drums, and harmonica on the album. Both sing together over a bed of banjo and harmonica, along with celestial backing vocals, with Marriner's organ eventually returning to propel the track to its finish line. The cover is upbeat without being aggressive, and there's a spotlessness to the song, that lets you hear every instrument perfectly. It's gospel with precision.
"My Only One" is similarly stripped down, featuring Manx banjo and Marriner harmonica, along with organ, this time courtesy of Clayton Doley. The song is simple and plaintive, somewhere between country and folk. The power of it lies in how spartan it is. Both men trade vocals, Doley's organ providing the drama for the bare bones instrumentation. With so much negative sonic space, the track breathes and you can readily hear the essence of the song.
They hit a similar energy on "Rise and Fall in Love," their one co-write. This features Marriner's electric guitar and Manx's vocals, with grand violin and viola courtesy of Jim Bowskill. The song is more adult contemporary or rock ballad than blues, gospel, or bluegrass, except for its simplicity. One can imagine this might be one of the final songs written for the album, a summation of everything they learned making the other tracks.
Manx Marriner Mainline might have roots in the blues, but some of the album's nicer moments are when they take the blues and gospel in more personal directions. Both artists are wonderful songwriters (and equally wonderful album co-producers) and have a selfless energy. They work well together, bringing out the best in each other's songs, as well as the songs of others. It will be interesting to see how future collaborations sound and if they'll write more together. The two also handle a lot of the instrumentation themselves, wearing many hats. It would be intriguing to hear what they sound like, if the partnership continues, working with a full band for a full album.
Artist: Manx Marriner Mainline
Title: Hell Bound for Heaven
Label: Stony Plain Records
Release Date: April 5th, 2019
*Feature image Shimon courtesy of Mark Pucci Media