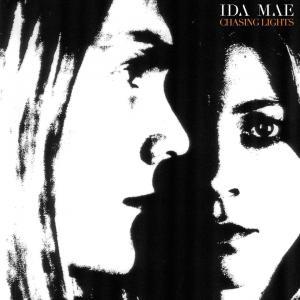 Ida Mae is a British duo that combine blue-eyed soul with acoustic Americana. When reading that line one may cock an eyebrow and state, Spock-like, "fascinating." Brilliant is a better term.
Made up of Chris Turpin and Stehanie Jean, the duo has caused a gritty shock-wave in their UK homeland as well as on this side of the pond. Their debut album, Chasing Lights is set for release via Thirty Tigers on June 7th. They are currently opening for Blackberry Smoke on their "Break it Down" tour, and will be opening for Greta Van Fleet beginning next month. They're also booked for Bonnaroo and the Big Blues Bender later this year.
Why are they traveling in some blues circles? Simple. Let's start with the group's name. "Ida Mae," the classic Sonny Terry and Brownie McGhee tune was the first song the pair ever harmonized on. Chris was playing acoustic Delta Blues a 'la Robert Johnson, Charley Patton, and Mississippi Fred McDowell, while Stephanie was performing jazz in the realms of Ella Fitzgerald, Billie Holiday, and Bessie Smith.
"It was like we were two sides of the same coin," Chris explains. "One day I heard a recording of Blind Willie McTell and his wife performing together, and I realized that Steph would be perfect, so I asked her to sing with me. Our relationship was a working one before it was ever a romantic one, and the bonds we formed on the road as bandmates made for a really deep foundation. People ask what it's like to write and record with your partner, but the truth is that it's the only thing we've ever known. Creatively, artistically, this is the way we've done it for our whole careers—I'm often the main writer and Steph is the editor—and we're incredibly lucky that it works so well."

The duo's natural chemistry proved to be an ideal fit for Ethan Johns' minimalist approach to production. Johns, who also plays drums on the album, pushed the band to record straight to tape with little rehearsal, encouraging them to rely on their instincts in order to capture the songs in the most raw and real manner possible.
While the sessions were recorded with an old school approach, the album is by no means a throwback. Juno synthesizers and Korg drum machines flesh out the arrangements with distinctly modern touches (one track even features a percussion loop created on an iPhone), and Turpin often found himself running his historic 1930's National resonator guitar through pedals and amplifiers to manipulate the sound.
While the pair now calls Nashville home, one of Turpin and Jean's earliest introductions to America was a road trip across the Deep South, which they embarked upon a few years back as something of a musical pilgrimage. Their field recording of the birds above Robert Johnson's grave opens "Rightfully Honestly," a soulful, romantic ode to two lovers whose relationship rescues them from themselves, while a sampling of voices captured in a New Orleans dive bar leads into "Feel Them Getting Closer," a swampy strut about escaping the shackles of normalcy. Perhaps no track sums up the band's journey better, though, than the gently gorgeous title track, which finds Turpin and Jean's voices twisting and turning around each other like beautiful, tangled vines.