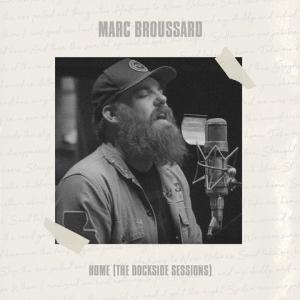 Marc Broussard
's new album
Home (The Dockside Sessions)
is available worldwide on April 5th. Broussard wanted to offer his fans something different prior to the release of his next studio album. Rather than a standard greatest hits package or a perfunctory live album, Broussard had something different in mind. His release
Home (The Dockside Sessions)
accomplishes both, but in a unique way. It provides the audio tracks from the various videos Broussard has compiled over the course of his career, all of them recorded live at Dockside Studios near his Lafayette Louisiana home. The album includes a telling remake of Broussard's signature song — "Home."
Although each of the 15 songs represents Broussard's best known material and fan favorites from throughout his storied career, Home (The Dockside Sessions) is more than simply a reminder of past glories. The material has been retooled and reinterpreted in stripped down aural settings, the result of which provides an intimate opportunity to share the inherent emotion Broussard invested in each of these soulful sessions.
While all the songs resonate as essential additives in Broussard's repertoire — one informed by soul, blues, ballads and Americana – there is one song in particular that is of special significance to the artist himself. "Home," the album's title track, dates back to the dawn of his career. Once an anthem of hope and determination, it's come to represent the tack and trajectory of both his life and career. Now, however, he sees the song in a different way, one that's reflected in his earnest and emotive delivery.
 "This song has given me a career," Broussard remarks. "Without it, I don't think I'd be where I am. However, when I hear the original, I hear a boy trying to sound like a big man. It needed a redo; something swampier and dirtier than before. Something that showed its age a little more honestly."
Likewise, the connection with these videos is clear; these live performance videos have become an eagerly anticipated, ongoing endeavor. Collectively, they have garnered more than 30 million plays. His acoustic version of the classic "Cry to Me" has gained over 12 million views alone on YouTube.
The same can be said of many of the album's other offerings, including his interpretations of timeless classics such as "These Arms Of Mine," "Do Right Woman, Do Right Man" and "I Love You More Than You'll Ever Know." Mostly performed solo on acoustic guitar or piano, the arrangements leave room for Broussard's emotive, expressive vocals to hit all emotional highs. He channels the spirit of the great soul singers Otis Redding, Marvin Gaye, Al Green and others, in ways that find him climbing to the same sanctified plateau.
Broussard is heading back on the road on April 16th with two shows in Chicago and three dates in New Orleans including a performance at the New Orleans Jazz & Heritage Festival on Thursday, May 2nd. Initial tour dates listed below with more to be added soon.
2019 Spring/Summer Tour Dates
April 16 – Chicago, IL @ City Winery
April 17 – Chicago, IL @ City Winery
April 18 – Champaign, IL @ The City Center Fat City
April 19 – Bloomington, IN @ The Bluebird
April 24 – New Orleans, LA @ YLC Wednesday at the Square
April 27 – Huntsville, AL @ Panoply Arts Center
May 2 – New Orleans, LA @ Jazz & Heritage Festival
May 2 – New Orleans, LA @ Howlin' Wolf
May 23 – Irving, TX – @ Texas Lottery
May 24- Oklahoma City, OK – Tower Theatre
June 1 – Lafayette, LA @ Rock N' Bowl
July 13 – Rotterdam, Netherlands @ North Sea Jazz Festival
July 14 – Weert, Netherlands @ Bospop 2019
*Feature image courtesy of Wilspro Management