In 2001, Joe Nosek founded The Cash Box Kings in Madison, Wisconsin. Since 2007, he's co-led the band with Oscar Wilson, the charismatic vocalist. The two form a perfect union; Wilson's authentic South Side Chicago blues vocal delivery mixed with Nosek's dynamic harmonica playing. According to Wilson, "The Cash Box Kings are a throwback to the golden age of blues with some kickin' fresh young blood. Joe is my best friend in the music world. The band is a marriage made in heaven for both of us." "Oscar is godfather to my oldest son," says Nosek. "We have each other's backs. We're family."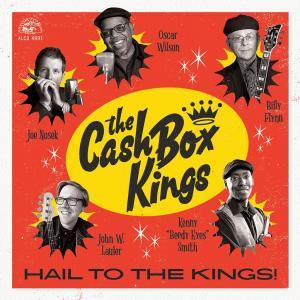 Brant Buckley:
Could you talk about your new record Hail to the Kings!? Where did you record it and what are your favorite songs?
Oscar Wilson:
We recorded it in Chicago at Reliable Recorders. Alex Hall runs the studio. It's hard to pick a favorite song. "Bluesman Next Door", "When the Rabbit Got the Gun", and "The Wine Talking" (a duet I do with Shemekia Copeland) are all great songs. My favorite song is "Sugar Daddy." We have a song about someone getting locked up under false pretenses. The man is from the Southside of Chicago and has been in jail for years. The song is called "John Burge Blues." Joe Nosek and I wrote it. The record didn't take too long to record, but I was sick and had to come back and put vocals in. I had a flu shot that made me sick. I was sick November through February of last year. I want to tell everyone to look for the new album coming to a store near you or you can get it online. It's truly a great album and we have some great players on it: Kenny Smith, Billy Flynn, Little Frank Krakowski, John W Lauler, and Xavier Lynn.
How did you find your way into The Cashbox Kings? Could you talk about your fellow bandmates?
I was living in small town called Janesville, Wisconsin and I was very bored. One day I was reading the paper and I saw that there was a blues jam at the VFW. At the club, the previous guitar player for The Cash Box Kings introduced himself to me. I told him I was a singer/harmonica player. I sat in with the band and we rolled through a set. Within two weeks, we played at Buddy Guy's Legends and received three standing ovations. The band said they have never received such applause. We went through a rough patch as I was the new guy in the band. We have become best of friends.
How did you get signed to Alligator Records? What is it like working with Bruce Iglauer? How does he help the band?
That's Joe Nosek's baby. The Alligator thing. I met Bruce when I signed the contract. In the studio, I learned so much from him. Bruce and I have a great relationship. He's one hell of a producer. He fine tunes everything and has an incredible ear. It's very hard to explain. When he's listening, he can pick anything out. It's like he has radar in his ear. The label does all of the advertising and places our music around the world. Joe Nosek is our gig getter and negotiator. Bruce helps us personally and gets us gigs across the country.
Favorite venues to play?
We played the Knuckle Down Saloon in Madison Wisconsin last Saturday. It is my favorite place to play. The bar owner, Chris Kalmbach, is fantastic. The bar is on the east side of Madison and no one thought it would last. Chris is a great promoter and keeps it going. Our last performance at The Knuckle was packed. People were outside waiting to get in. We were on the bill with another group from Madison called The Jimmys. The Madison audience is very receptive. The whole Madison scene has more black people coming to gigs versus Chicago. In Madison, musicians are really taken care of. There is another bar called The Crystal Corner. The Harmony and High Noon Saloon are also great clubs. Those are the four main clubs for bands.
What's next for The Cashbox Kings? Future Goals?
We want to keep rising to the top. We want to be known as one of the best bands to ever do it. If we were a rock blues band, we would make a lot more money. We stick to the 40's, 50's, and 60's Chess/Sun Records type of blues; the delta blues and the early Chicago Blues. On Sunday June 9th, we are playing The Chicago Blues Fest. We play from 2-3 p.m. on the Front Porch Stage. See you there!
*Feature image © Dragan Tasic