On their self-titled 2017 debut album, the boundary-breaking Memphis combo Southern Avenue sparked a one-band musical revolution, embodying an effortlessly organic soul/blues/R&B fusion that reflects the band members' diverse roots as well as their deep commitment to their chosen style. On their second album, Keep On, set for release on May 10th, 2019 via Concord Records, the dynamic outfit expands its gritty vision to embrace new musical challenges and a more expansive creative vision.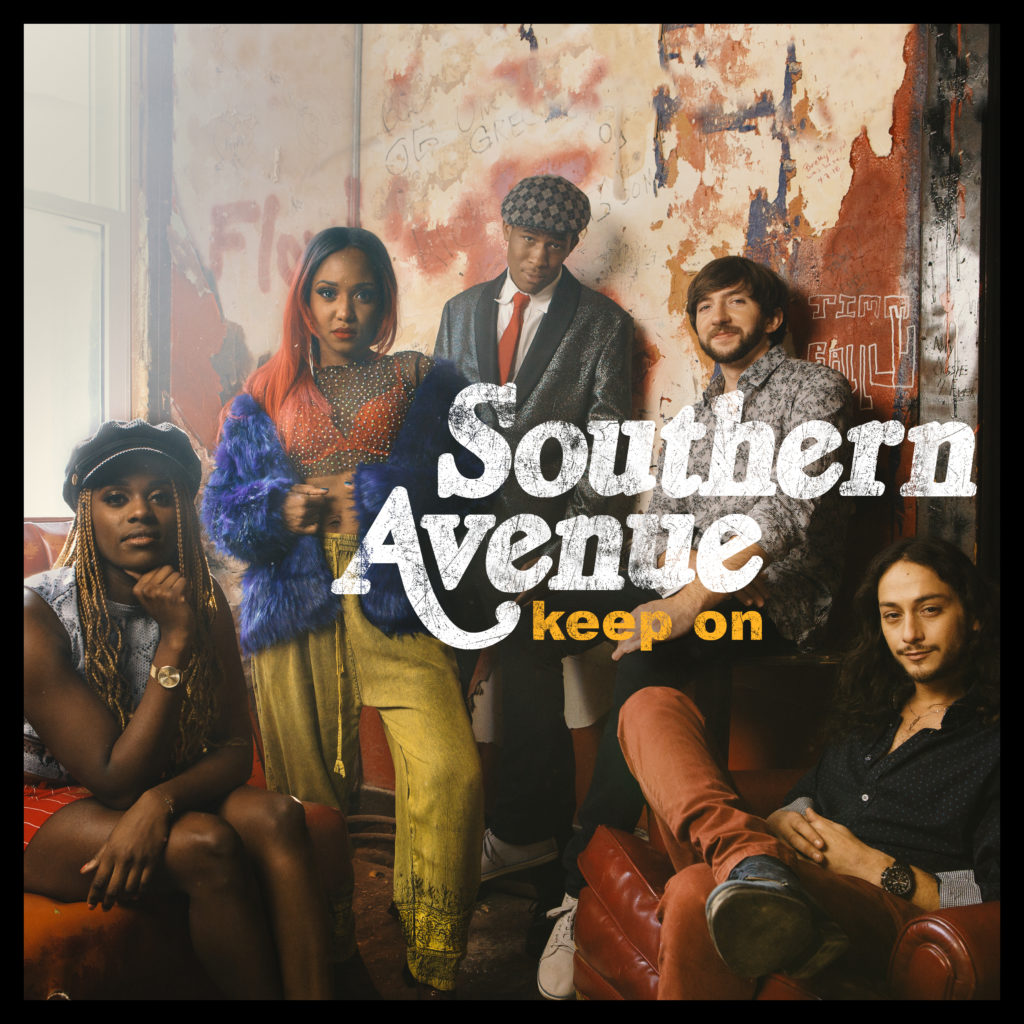 Southern Avenue combines the talents of a prodigiously talented set of young musicians who bring their individual backgrounds and wide-ranging musical interests to the table, carrying the Southern soul legacy into the 21st century while showcasing the powerful chemistry and electrifying live show that they've honed through extensive stage and studio experience. Since their first release, they've played in more than a dozen countries, wowing audiences at such festivals as Bonnaroo, Firefly, Electric Forest and Lockn'.
Guitar phenom Ori Naftaly originally built his reputation in his native Israel before joining forces with deeply expressive Memphis-bred singer Tierinii Jackson and her subtly powerful drummer sister Tikyra Jackson. The band's lineup is rounded out by versatile keyboardist Jeremy Powell, an early alumnus of Stax Records' renowned music academy.
Keep On brilliantly captures Southern Avenue's combustible chemistry, with the emotion-charged energy of such distinctive originals as "Whiskey Love," "Savior," "Too Good for You," and "We Are Not So Different" reflecting the players' evolving talents as well as the influence of the extensive roadwork that they've invested in the band. The album was recorded with producer Johnny Black (Jessie J, Daughtry, Estelle) at Memphis' legendary Sam Phillips Recording, and includes guest appearances by seminal Stax Records artist William Bell, noted Memphis musician Gage Markey (who serves as guest bassist on most of the album) and a horn section comprised of Art Edmaiston (JJ Grey & Mofro, Gregg Allman) and Marc Franklin (The Bo-Keys, Gregg Allman).
Grammy Award-winner Bell, a formative figure in the development of Southern soul, was impressed by the band's talents. "In terms of new artists with the talent to become the stars of the future, you need to look no further than Southern Avenue," he said.
The critics have been similarly impressed. "Southern Avenue's modern sound melds gospel-infused R&B with a rootsy rock feel," noted Mix. Relix praised "a deeply soulful Memphis band that's turning the scene on its head," while Goldmine called their music "a frothy Memphis soul stew fit to twitch your body to in ways you didn't think you could." The Chicago Reader dubbed their first album "a boiling retro-soul primer," adding, "Tierinii has a riveting stage presence. They do the Stax legacy proud." No Depression commented that it's "easy to imagine Southern Avenue as a house band in their native Memphis or Muscle Shoals in the glory days of the '60s, sent back to the future to save us from inauthenticity and our collective hurt."
"Making this album was an interesting journey," Ori says of Keep On. "Our first album was recorded very fast and released very fast. With this one, we spent a long time planning, and we knew how we wanted it sound. For me, it's a big progression from the first album."  "The experience was completely different from making the first one," adds Tierinii. "We learned a lot about each other and a lot about the band."
As producer Johnny Black notes, "The thing that stood out most to me about Southern Avenue is their dedication to making this record 'the hard way.' Even in their selection of studios: by picking Sam Phillips Recording, the band, in essence, forced themselves to record within the same parameters as some of their heroes. And while that process may have taken extra time, it was well worth the effort."
The seeds for Southern Avenue's birth were first planted when Naftaly, who'd grown up in Israel with a deep-rooted passion for American soul, blues and funk, came to Memphis in 2013 to compete in the prestigious International Blues Challenge. Although his talents were embraced by American audiences, he felt constrained in his own band, and wanted to embrace a more expansive musical vision. That opportunity arrived when he met Tierinii Jackson, who'd gotten her start singing in church before performing in a series of cover bands and theatrical projects.
Despite not having a record deal at the time, Southern Avenue quickly found success touring in America and Europe. They won additional attention playing some high-profile festivals and making it to the finals in the Blues Foundation's International Blues Challenge.
The group's 2017 Stax debut hit #6 on Billboard's Top Blues Albums Chart, reaching #1 on the iTunes Blues Chart, and prominently sitting in the Americana radio Top 30 for nearly six months. The success of the album created demand for Southern Avenue in both the U.S. and throughout the world performing in high-profile festivals around the globe. Since that time the band has seemingly lived on the road, with more than 300 shows under their belts. Building their audience one show at a time, they have headlined countless rooms from coast to coast and have toured with Buddy Guy, JJ Grey & Mofro, Umphrey's McGee, Los Lobos, North Mississippi Allstars, and Karl Denson, to name a few. "We love playing live," says Naftaly. "It's that connection with our fans that makes the time away from home worth it. Fans become our family out on the road and we love experiencing music together with them each and every night."
Their efforts were further acknowledged by fans and peers in 2018, when their debut was honored with a Blues Music Award for "Best Emerging Artist Album."
"What makes it Southern Avenue," Tierinii states, "is that when we come together, the music we make together is music we could never come up with individually. It's really rewarding to have so many influences in the band, and that we can find the balance between them."
"I'm proud that we don't sound like anyone else," Ori asserts. "We've been all over the world, from Australia to Poland to Norway to Spain to Canada to Mexico. Those experiences, and all the highs and lows, it's all reflected in the music. I've waited all my life to be in a band like this, and it's amazing to me that I get to play with these people every night."
TOUR DATES:
Sat., April 13  CHICAGO, IL  Bourbon on Division
Fri., April 19    ASHEVILLE, NC  The Grey Eagle
Sat., April 20   SALISBURY, NC  Earth Day Jam
Wed., May 1  NEW ORLEANS, LA  House of Blues New Orleans (with Trombone Shorty)
Sat., May 2   NEW ORLEANS, LA The Howlin' Wolf (with Samantha Fish plus Marc Broussard)
Sat., May 4   MEMPHIS, TN  Beale Street Music Festival
Wed., May 8  BROOKLYN, NY  Brooklyn Bowl
Thurs., May 9   BALTIMORE, MD  The 8×10
Sat., May 11  NATCHEZ, MS  Bishop Gunn Crawfish Boil
Sat., May 18  SPRINGFIELD, MO Stomp the Blues Out of Homelessness
Sun., May 19  DANA POINT, CA  Doheny Blues Festival
Fri.-Sun., May 24-26  CHILLICOTHE, IL Summer Camp Music Festival
Wed., May 29  LONDON, ENGLAND  Camden Dingwalls
Thurs., June 6  CHORZÓW, POLAND Sztygarka
Fri., June 7  BERLIN, GERMANY Quasimodo
Sat. – Sun, June 8 -9, June 8 SCHÖPPINGEN, GERMANY  Grolsch Blues Festival
Mon., June 10 RAALTE, NETHERLANDS  Ribs & Blues
Thurs. June 13  SIERRE BLUES FESTIVAL  Sierre Blues Festival
Sat. June 22  PINE BLUFF, AR  Pine Bluff Regional Park Amphitheatre
Thurs. June 27  ST. LOUIS, MO  Old Rock House
Fri.-Sat., June 28-29  ROTHBURY, MI Electric Forest
Sun., June 30  ST PAUL, MN  Turf Club
Sat., July 6  PORTLAND, OR  Waterfront Blues Festival
Wed., July 10   PITTSBURGH, PA  Club Café
Fri., July 12  NESCOPECK, PA Briggs Farm Blues Festival
Sat.-Sun., July 13-14  OTTAWA, CANADA Ottawa Bluesfest
Thurs – Sat., July 25-27  SCRANTON, PA  The Peach Music Festival
Sun., July 28  EDMONTON, CANADA  Interstellar Rodeo
Thurs., Aug 1  LANDER, WY   Lander Live
Sun., Aug. 4  MAMMOTH LAKES, CA  Mammoth Festival of Beers & Bluesaplooza
Sat., Aug. 10  BURNABY, CANADA  Burnaby Blues and Roots Festival
Sat., Aug. 24  TUSCALOOSA, AL Druid City Music Festival
Thurs. – Fri., Sept. 12-13 TELLURIDE, CO  Telluride Blues and Brews Festival
Fri., Sept 20  LOUISVILLE, KY   Kentucky Expo Center
Sun., Sept. 22  LOUISVILLE, KY Bourbon & Beyond
Sat., Oct. 26-Sat., Nov. 2  SAN DIEGO, CA Legendary Rhythm & Blues Cruise
*Feature image David McClister