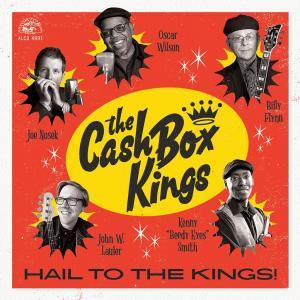 Alligator Records has set a May 17 release date for Hail To The Kings!, the dynamic new album from traditional blues innovators The Cash Box Kings. Co-led by real-deal Chicago blues vocalist and songwriter Oscar Wilson and Madison, Wisconsin-based songwriter, harmonica master and singer Joe Nosek, the band plays brilliantly raw and unvarnished houserocking blues. Wilson's huge, gritty vocals and Nosek's powerhouse harmonica fuel their razor-sharp original songs.
Mixing tough Chicago and Delta blues, jumping proto-rock 'n' roll, and steamrolling "bluesabilly" (their original mix of Chicago blues and Memphis rockabilly), they attack every song they play with contemporary authority and old school authenticity. The extraordinary ensemble playing between Nosek, Wilson, guitarist Billy Flynn, bassist John W. Lauler, drummer Kenny "Beedy Eyes" Smith and their friend, pianist Queen Lee Kenehira, is a true force of nature.
Hail To The Kings! follows their critically acclaimed 2017 Alligator debut, Royal Mint. The new album, recorded in Chicago and produced by Nosek, features 13 songs, including 11 originals written or co-written by Nosek and Wilson. According to Nosek, one of the secret weapons of Hail To The Kings! is Wilson's growth as a songwriter. "He's always brought great originality to the material," says Nosek, "but now he's bursting with songs and ideas."
Their hard Chicago sound and street-smart lyrics keep the album burning hot from start to finish. Special guest Shemekia Copeland turns the heat up as she joins her friend Oscar Wilson for the mischievous duet, "The Wine Talkin'." On "Bluesman Next Door" and "Jon Burge Blues," Nosek and Wilson bring socially conscious truth to power, shining a light into some of society's darkest corners. "Blues music is used to transform and to find relief," notes Nosek. "Our songs are all about real life topics that matter—good times, tough times and some bad situations. We'll raise our voices when we have to, and we'll have a good time doing it."
Joe Nosek founded The Cash Box Kings in Madison, Wisconsin in 2001 and, since 2007, has co-led the band with the charismatic, larger-than-life vocalist Oscar Wilson. Over 20 years apart in age and coming from vastly different backgrounds, the two form an unlikely pair, combining Wilson's indisputably authentic South Side Chicago blues vocals and original songs with Nosek's dynamic harmonica, songwriting and singing talents.
With nine previous releases to their credit and hundreds of live performances under their belts, The Cash Box Kings have won widespread acclaim throughout the blues world. Their 2013 release Black Toppin' won the Blues Blast Music Award for Traditional Blues Album of the Year. In 2017, their Alligator debut Royal Mint was named among the Top Ten Blues Albums of the Year by MOJO magazine. In 2018 they were nominated for a Blues Music Award as Blues Band of the Year. They have four previous Blues Music Award nominations.
With Hail To The Kings! and tour dates scheduled throughout the USA and Europe, The Cash Box Kings are prepared to deliver their crowd-pleasing blues to audiences around the world. They bring an up-to-the-minute urgency to their traditional, tough, fun and gritty blues that brings crowds to their feet night after night. According to No Depression, "The Cash Box Kings are a royal hive of raucous houserockers. Whether resurrecting the past or living in the moment, they satisfy your craving for hardcore Chicago blues, served up hot and tasty."