Believe the hype. 20 year-old Christone "Kingfish" Ingram is everything he's been touted to be and then some. His debut album, Kingfish on Alligator Records proves it.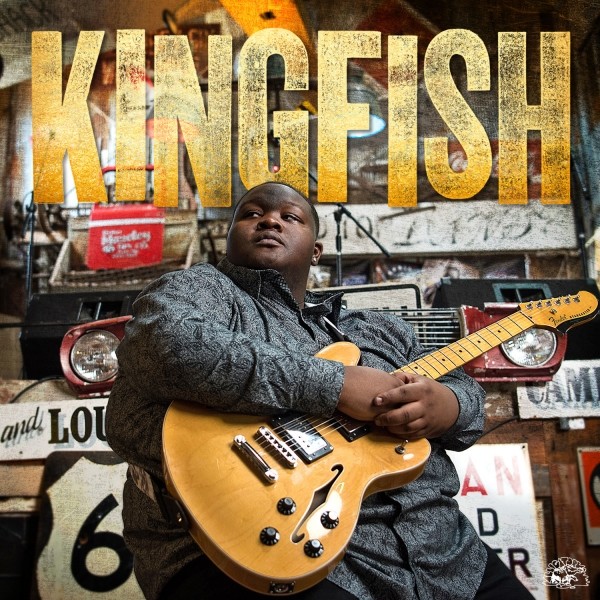 We've been keeping a sharp eye on the young Clarksdale, Mississippi native for some time now. First exposed to Gospel music in church mixed with the blues of his Delta neighborhood, Ingram began playing drums at age six. Three years later he picked up bass guitar, and just two years after that began playing six-string lead. Christone first stepped on stage at the age of 11 at Clarksdale's famous Ground Zero Club, playing behind one of his mentors, Mississippi blues icon Bill "Howl-N-Madd" Perry. He further honed his craft playing at the Delta Blues Museum, local jukes and festivals all over. Before his 18th birthday, he'd already toured the US and six other countries, including a performance at the White House for former First Lady, Michelle Obama.
His influences run the gamut from Robert Johnson to Prince, and he's made friends with some of the top guns of blues music world. "In my town, every kid wants to be a rapper," Ingram says. "I wanted to do something no one else was doing." He is doing just that. Kingfish never fails to wow his audiences and contemporaries alike. When he signed with Alligator Records, and secured 2X GRAMMY winner Tom Hambridge as the producer, we just knew this was going to be something special.
The first song on the album, "Outside of This Town," talks of leaving Clarksdale with nothing but taillights visible as he crosses the tracks. Written by Ingram and Hambridge, the song kicks off Kingfish with a Lightnin' Hopkins, Texas-style growl. About a minute-and-a-half into the song, Ingram breaks into a an impressive guitar solo. Many guitarists can make their instrument talk. Kinfish makes his sing.
Speaking of singing, Ingram's voice belies his youth. Powerful vocals that belong to a much older veteran artist emanate from the young man's throat. He's been referred to as an "old soul" on many occasions, and perhaps it's true. He's channeling the very soul of the Mississippi Delta in both his singing and playing, but make no mistake, he owns this music.
"Fresh Out," featuring another of Ingram's mentors Buddy Guy, was the first single released from Kingfish, and comes in as track number two. We can hear the West Chicago influence all over this slow-burning, blues tune, but some chicken-picking, and soaring bends add serious spice. When Christone and Buddy trade solos licks, gooseflesh appears.
The funky shuffle of "It Ain't Right," drops in the 3rd spot. If you can stay off the dance floor while this one is playing you either have no soul, or no feet. The mixture of highly precise individual notes and string bends that defy physics are one of the trademarks of Kingfish, and both are on full display.
Another upbeat dance floor packer comes when "If You Love Me," plays. But Ingram has all types of music in the trick bag that is Kingfish. His Delta influences come to the forefront on "Been Here Before," when he chooses an acoustic guitar to tell the story of him realizing his existence as an old soul. Again on "Hard Times," it's the acoustic guitar and Ingram's vocals that bring out this truly old-school sounding original written by Hambridge and Richard Fleming.
While "Love Ain't My Favorite Word," brings more slow burning blues with Ingram's powerful vocal instrument laid back and casual, "Before I'm Old," tells more of Christone's story, and the stories of his ancestors from the Delta. "Believe These Blues," has haunting reverb guitar licks behind modern day urban lyrics.
A couple of songs took us by surprise on Kingfish. "Listen," featuring Keb' Mo' is an upbeat, country flavored, feel good song which proves the blues doesn't have to be dark and foreboding to be legitimate. "Trouble," has a afro-spanish beat backing more amazing guitar work from the young master.
Kingfish finishes up with "That's Fine by Me." We've always said Ingram has grasped the the intricacies of B.B. King's vibrato, and on this song he plays like the late, great monarch himself. From one King to another, this is the perfect closer. It's not just the notes he plays but the ones he doesn't that prove the moniker given him by Rolling Stone as a "blues savior," isn't far from the mark.
Whether he's the salvation of the genre, or merely its next great fulmination remains to be heard. But we'll tell you that not having the album Kingfish by Christone Ingram in your collection is a crime against music.
Artist: Christone "Kingfish" Ingram
Title: Kingfish
Label: Alligator Records
Release Date: May 17th, 2019
Running Time: 51:17
*Feature image Rory Doyle