Jazz, blues and Tin Pan Alley artist Leon Redbone has died. The death was confirmed by his family and the following announcement on his website:
It is with heavy hearts we announce that early this morning, May 30th 2019, Leon Redbone crossed the delta for that beautiful shore at the age of 127. He departed our world with his guitar, his trusty companion Rover, and a simple tip of his hat. He's interested to see what Blind Blake, Emmett, and Jelly Roll have been up to in his absence, and has plans for a rousing sing along number with Sári Barabás. An eternity of pouring through texts in the Library of Ashurbanipal will be a welcome repose, perhaps followed by a shot or two of whiskey with Lee Morse, and some long overdue discussions with his favorite Uncle, Suppiluliuma I of the Hittites. To his fans, friends, and loving family who have already been missing him so in this realm he says, "Oh behave yourselves. Thank you…. and good evening everybody."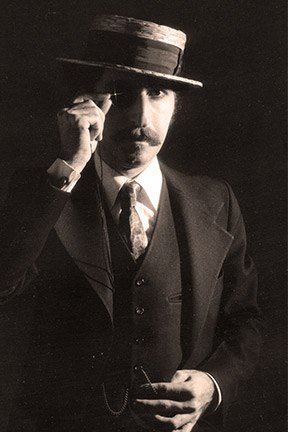 A true musical enigma, little is known about his true identify or origins. Rebone was allegedly born in Cyprus on August 26th, 1949. According to a report in the Toronto Star he moved to Canada in the mid-1960s and changed his name via the Ontario Change of Name Act.
His first public performances were in the Toronto area, which is where Bob Dylan found him in the early 1970s. Dylan was so impressed by Redbone's performance that he mentioned it in a Rolling Stone interview, leading that magazine to do a feature article on Redbone a year before he had a recording contract. The article described his performances as "so authentic you can hear the surface noise [of an old 78 rpm record]."
Redbone was known for his style of dress as well as his style of music. He performed in suits straight out of the vaudeville era, complete with Panama hat and dark shades. Due to his exclusiveness, it was often thought that Redbone was the alter-ego of another famous artist. Most had bets on either Andy Kaufman, or Frank Zappa, but Leon outlived them both.
His first album, On the Track, was released in 1975, and covered songs from artists including Fats Waller, Jimmie Rodgers, Hoagy Carmichael, and Lonnie Johnson. While most of his television and live performances were solo, in the studio he employed scads of musicians to make his magic. Dr. John appeared first appeared on record with Redbone on the 1981 release From Branch to Branch. In 1987 he performed "Frosty the Snowman" with the good doctor on the album Christmas Island.
In all, Leon released 16 albums, and a compilation of his earliest recordings, Long Way from Home, was released by Third Man Records in 2016.
Redbone was a semi-regular musical guest on Saturday Night Live in its early years, and appeared several times on The Tonight Show Starring Johnny Carson during the 80s and 90s.
He performed in several commercials, was a regular guest on the PBS children's show Between the Lions, and narrated the 2011 Emmy-winning documentary Remembering the Scranton Sirens. Redbone also performed the theme songs for the television shows Mr. Belvedere, and Harry and the Hendersons.
Arguably his most remembered tune was the duet of "Baby It's Cold Outside," which he performed with Zooey Deschanel over the closing credits of the 2003 film Elf.
Leon Redbone retired from music in 2015 due to health reasons, but his baritone voice and vintage style will remain with us forever.