After two acclaimed studio records, West of Flushing, South of Frisco (2016), and Californisoul (2017) Supersonic Blues Machine has announced the release of their first live album. Road Chronicles: Live! follows the band on their first European headline tour.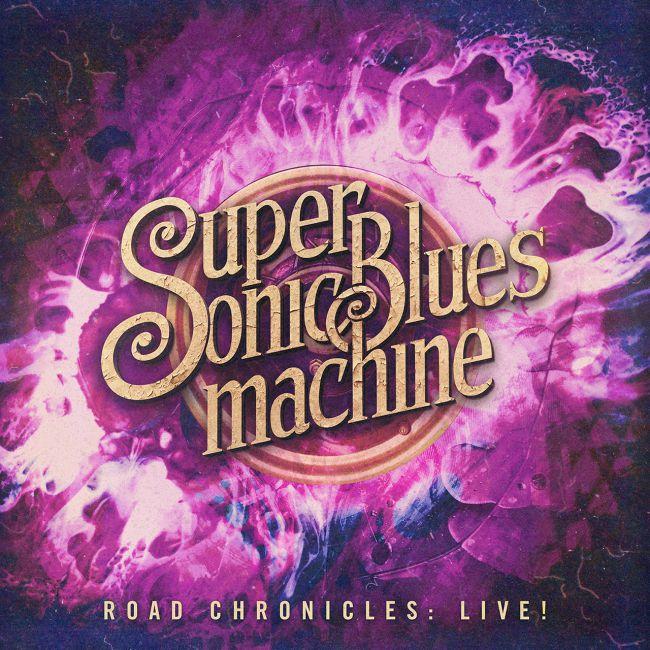 The new album drops on July 12th via Provogue/Mascot Label Group. It was recorded during their show in Brugnera, Italy on July 20th, 2018, capturing the band in a triumphant and joyous mood.
The show was the final one of a 10 date tour that started at the O2 Shepherd's Bush Empire, London and took them through Switzerland, Poland, The Netherlands, Belgium, Germany, Spain and finally bassist Fabrizio Grossi's native Italy. The legendary Billy F Gibbons joined the band throughout the tour, putting in the stunning performances that you would expect from such an icon and it was the first tour to feature fast-rising UK blues-rocker Kris Barras on lead vocals and guitar.
Gibbons, who just won a Blues Music Award in the category of Rock Blues Album of the Year for his latest, The Big Bad Blues, was the spark that ignited Supersonic Blues Machine in the first place.
Bassist/writer/producer Fabrizio Grossi (Steve Vai, Steve Lukather, George Clinton & P-Funk, Alice Cooper, Joe Bonamassa, Glenn Hughes, Eric Gales etc.) and iconic drummer Kenny Aronoff (John Mellencamp, John Fogerty, BB King, Paul McCartney, Dr. John, Smashing Pumpkins etc.) had already been touring in the rhythm section of the band Goodfellas. Gibbons approaced Grossi to collaborate on the writing/production of a song for an up-coming commercial.
Long story short, the commercial never came to fruition, but the Good Reverend's suggestion to write "9 more songs" and start a band, with whom he could jam whenever ZZ Top's schedule would allow it, begat Supersonic Blues Machine. Aronoff immediately tracked drums to the original track, and the song "Running Whiskey" ended up becoming the first single of the new band.
Supersonic Blues Machine Road Chronicles: Live! Track Listing
1. I Am Done Missing You
2. I Ain't Fallin' Again
3. Remedy
4. Can't Take It No More
5. Watchagonnado
6. Elevate
7. Bad Boys
8. Let It Be
9. La Grange
10. Broken Heart
11. Dust My Broom
12. Running Whiskey
13. Got My Mojo Working
14. Going Down
15. L.O.V.E.
16. Hard Times
*Feature image © Imre Barta