B.B. King, James Brown, and yes, Snoop Dogg all knew one had to pay the cost to be the boss. For every success in life, there is a toll to be levied. A force generated by one's actions ripples back as a consequence, good or bad. So it is with the new offering from Ray Fuller and The Bluesrockers, Pay the Price, scheduled for release May 28th on Azuretone Records.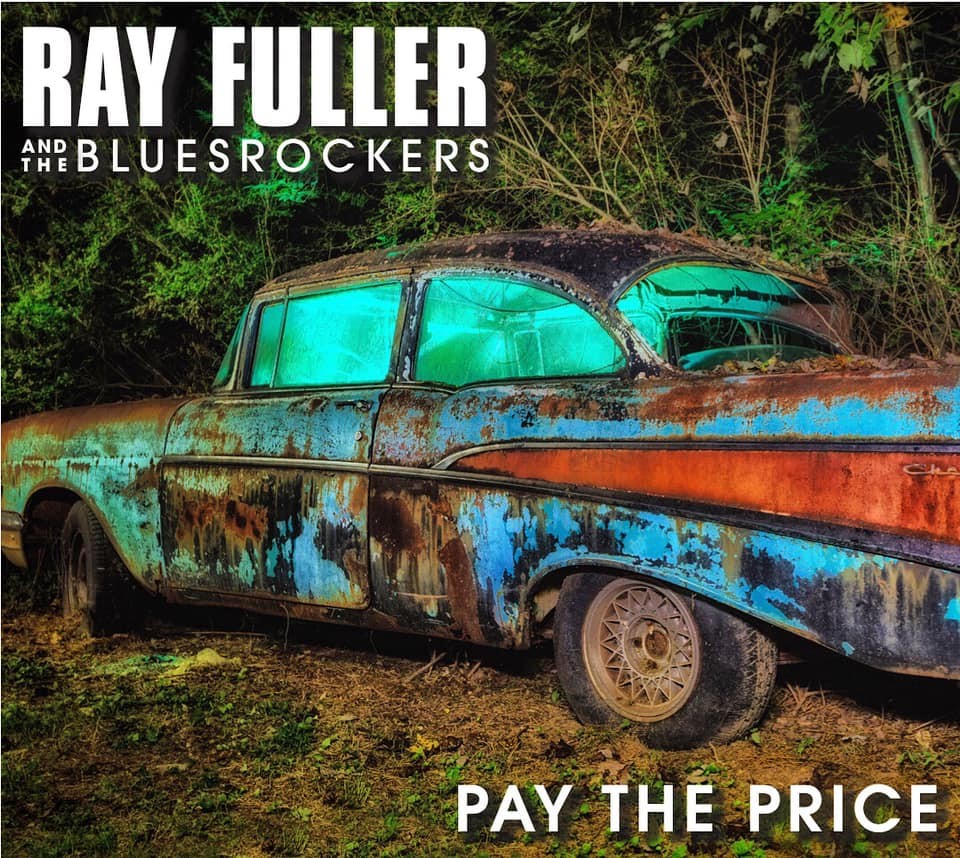 Almost from the time Fuller got his first guitar, he's been causing ripples in the blues/rock genre. Those ripples have turned to waves over the years and now the tsunami that is Pay the Price crashes on the shores of the listening public.
In the early to mid-80s they became the "go-to" guys to open shows for blues giants as they made their way through the Ohio area. John Lee Hooker, Stevie Ray Vaughan, Buddy Guy and Muddy Waters were just a few of the titans that hand picked young Fuller and company to open their shows and share their stages. Since that time, the Bluesrockers have built a much larger fan base, expanded their tours throughout North America and beyond playing festivals and shows wherever they could, put out 10 albums (Pay the Price is Fuller's 11th release), and spread the gospel of the blues to all with ears.
From the time we hit play on the opening track, "Hoodoo Train," we knew exactly why. The title itself gives us a clue to what was coming. The song begins with a 10 second intro reminiscent of the opening of the Beatles' "Get Back." That anticipatory tingle was enough to get our short hairs to stand up in expectancy. Fuller's abounding baritone voice blasted out of our speakers on top of a rhythm section made up of Doc Malone (harmonica), Glen "Manny" Manuel (bass), and Darrell Jumper (drums), that are tighter than a miser's purse strings.
It's always great when an artist opens with an original song, and this tale of the teller's travels from Memphis to Louisiana touches all the blues bases, from diddley bows to Cajun squeeze boxes and all things in between. It's a lesson in swamp music, and all that entails, told to a rockin' slide guitar rhythm, and remember that's just the first of 14 tracks.
The title cut comes in the second spot, with Fuller's raspy, overdriven guitar leading the way. Imagine if you will Earl Hooker meets Sonny Landreth. We're reminded in a little more than 3 minutes that there's a price to be paid for everything. Fuller's voice is solid and unassuming throughout the recording. We can understand every word, and every nuance without having to second guess a lyric.
"Pearlene," is a house-rocker right to the floorboards, and the Chuck Berry influence didn't escape us. We can see in our mind's eye Fuller duck walking across the stage with Jumper's snare cracking down like a 9 pound hammer on a two pound stone. As we kept listening, we realize that St. Louis' favorite son is one of Ray's favorites too.
"Mojo Hand," is the first of 6 cover songs on Pay the Price. The Lightnin' Hopkins classic is given new life in the form of a crunchy guitar driven funk/blues piece with Malone's lickin' stick almost stealing the show. Almost. But it was damn sure enough to make our teeth sweat. Woo-wee!
Fuller next delivers a smoldering version of Louisiana Red's "Alabama Train." Now we're starting to see a pattern emerge. That's a couple of Louisiana songs, and couple of train songs. A damned sweet homage to the deep south via a blues rocker from Ohio. The thing about it though is that he doesn't phone these songs in. We're not reading them in a second hand storybook. We're hearing them from a group we just know experienced these things for themselves. See what being on the road on will do for you?
Next to grace our earholes was Muddy Waters' "Rollin' and Tumblin'." This is a much covered ditty that artists as varied as Cream, Johnny Winter, Canned Heat, and Cyndi Lauper have all committed to vinyl. Not only does Fuller's upbeat, stomp your feet and slap your mama, slide rock version stand up to them, but surpasses many previous releases. Could be our personal favorite, but we'll hear out the record before making that decision.
"Mean and Evil Woman," begins with Fuller making the train talk via guitar on this original (there's that pattern again). About 20 seconds in, the song presents its true colors. A Chicago variety slow burner, it's destined to leave blood, sweat and shoes on plenty of 3 am dancefloors. Just as every metal band has a ballad or two that show another side of their personality, so it is that we feel the after-hours, smoke filled, baby making music of the Bluesrockers in all their glory on this track.
We made mention of Chuck Berry's influence on "Pearlene." On track 8 Ray delivers a spot on rendition of Chuck's "I Will Not Let You Go." The addition of harmonica and Fuller's vocals taking things down an octave, makes it original enough that it not only pays respect to Berry's version, but it also becomes Fuller's own.
Four Ray Fuller originals follow, starting with another slide rocker, "Bad Luck and Trouble." Two things any true blues artists can expound on in depth. Ray manages to do it in under 3 minutes, putting him in the company of some of rock and roll's pioneers.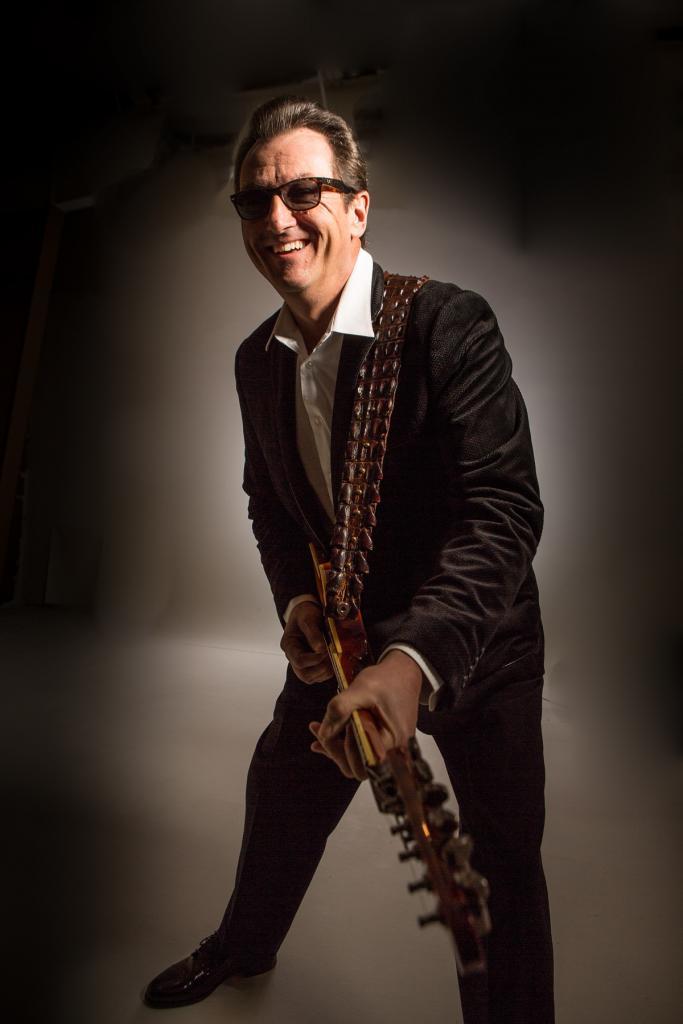 There are hundreds, if not thousands of blues songs that talk of the devil and of women. "Devil Woman," covers them both in another genuine, crunchy song. As we mentioned before Fuller's rhythm section is tighter than an otter's pocket, but Manny's bass on this track hit so hard we could not just hear, but feel it.
"Keep On Keepin' On," is another blues rocker that bears similarities to both Berry and one of the kings of rockabilly, Carl Perkins. There is no argument that the blues begat rock and roll, and this cut is 2019 proof that the begetting ain't done yet.
"Don't Leave the Man You Love," is near straight up club blues, from the 4 count beginning to the jazzy backbeat. Fuller takes out nearly all the crispy fuzz leaving a smooth, clean, reverb guitar sound that truly cleanses the musical palate.
The final two cuts on Pay the Price are cover songs. And believe me when I say, we don't have a problem with that. Especially when they come in the form of John Lee Hooker's "My Father Was a Jockey," and Hank Ballard's "Tore Up."
Hooker was so impressed with Fuller when they met decades ago, that he took the whole band out to dinner, and then invited them on the road. "My Father Was a Jockey," is a nod to the late, great boogie man himself, in the form of one of Hooker's lesser known songs. The crunchy guitar is back for this one, along with pounding bass and drums, and blues harp so sweet it sounds like angels.
We couldn't think of a more fitting song to end the album than "Tore Up." Fuller makes up for Ballard's near-falsetto vocals, by throwing this song into overdrive. It's a double shuffle on steroids that has a trick ending, leaving us both breathless and thirsty for more.
We predict that Pay the Price will be in contention for some heavy duty awards when it drops. Blues/rock has come into its own in a big way over the last few years, with some of the top artists in the industry making it their staple. Few do it any prouder than Ray Fuller and The Bluesrockers. They're "paying the price" night after night and collecting dividends in the form of devoted fans. With just 4 members, they produce a sound that is much bigger than the sum of their parts.
A little bird told us that two well-known labels are already battling for what the band will put out next. We won't spill the beans on that info though. We'll wait, like everyone else, for the smoke to clear.
Ray Fuller and The Bluesrockers are on tour now, with several dates scheduled at clubs and festivals across Canada, the east coast, midwest, southwest, and back throughout 2019.. Don't miss your chance to see them live.
Artist: Ray Fuller and The Bluesrockers
Title: Pay the Price
Label: Azuretone Records
Release Date: May 28th, 2019
Running Time: 47:23
*Feature image courtesy of the artist