As a child, blues singer/guitarist Diana Rein played a minor character in Home Alone and Home Alone 2, portraying one of Kevin (Macaulay Culkin's) cousins in the Chris Columbus-directed film. While that might not sound super bluesy, consider that Albert Collins appeared in Adventures in Babysitting, also directed by Columbus. On Queen of My Castle, Rein, now an adult, shows off her fantastic blues guitar chops. It's safe to say if Kevin had played as well as Rein, his family never would have left him behind.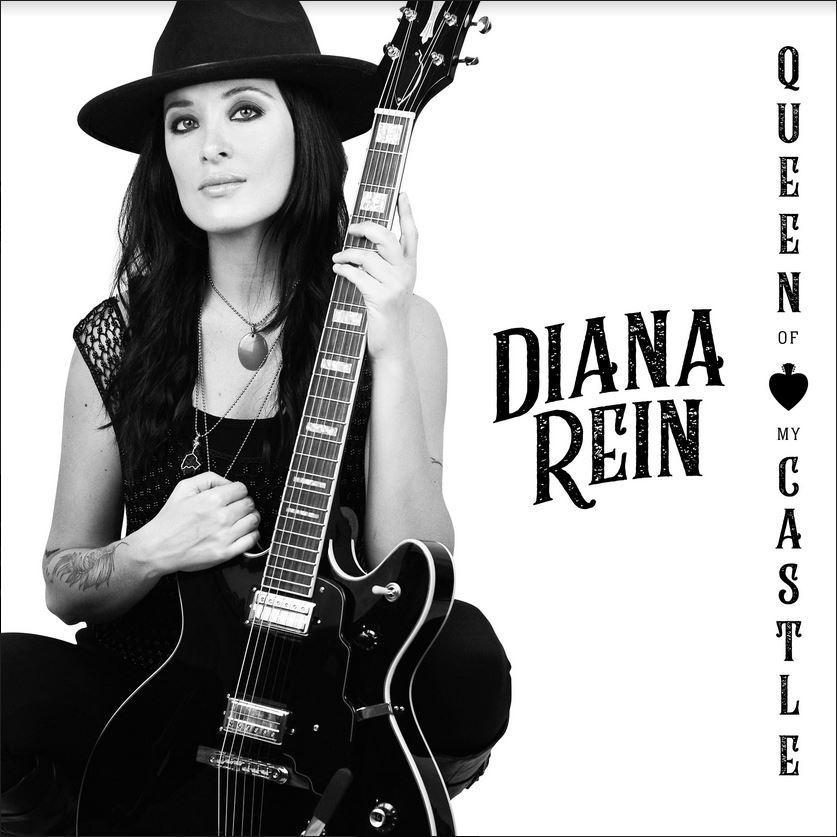 As you might have already gathered, Rein's road to the blues is interesting. In addition to her brief sojourn into early 1990s John Hughes' movies, she came to Chicago, with her parents, as an emigree from Romania. None of those detours turn up in her playing, though. Instead, it sounds like Rein was born on a blues club stage with a guitar in her hands and a rocking band behind her.
Queen of My Castle, on Mike Zito's Gulf Coast Records label is fast-paced. Rein and her band dig in and never really let up on the gas. Each song features an urgency, with stinging guitar solos and solid riffs. Interestingly, while Rein was heavily influenced by Stevie Ray Vaughan, she's doesn't mindlessly mimic his style. Her solos have lots of big bends, like Vaughan's, but there's also a simplicity and directness that's all Rein's own.
Rein's guitar work is always bluesy, and while she doesn't stray much beyond it, she does explore some different sounds. For example, "Walking Along" has a familiar blues groove, not unlike a sped-up version of Lynyrd Skynyrd's "What's Your Name," but the solo contains some Middle Eastern melodic flourishes. The result doesn't necessarily sound like 80s Eurometal, but instead, is just enough of a pivot to keep the song interesting.
Rein also handles lead vocals. She has a light, pretty voice, but one that isn't a typical blues or rock one. The incongruity is a bit jarring given her powerful guitar playing. It's not what you might expect. The clash of styles works best on the less blues-heavy songs. As a result, "It's You" might be the album's strongest track, with its catchy guitar riff and 60s pop melody. Rein even provides her own harmony vocals. And lest the reader be concerned, it also features her typically fiery guitar work.
Queen of My Castle is a quick-paced release. All 15 songs move along, which gives the album an energy, but also a sameness. When Rein slows things down, which she does just a bit on "I Can't Quit You," we get to hear another dimension of her playing. Similarly, while "I Can't Quit You" isn't a slow blues, it's a slower one, allowing us to hear Rein stretch out and really get her string bends on.
Rein has come a long way since Home Alone. She's an impressive blues guitarist with a great sense of feel. Her voice lacks the smokey quality more commonly heard in the blues, which is why her rock/pop-oriented tracks work a bit better. It would be great to hear Rein find a way to weld her ridiculously good blues guitar to less blues-oriented songs. Having said that, it would also be interesting for Rein to tackle more slow blues tracks. While it might not be the best way to showcase her voice, it would be a fantastic way to spotlight her playing, which is more fun than smacking inept burglars in the face with a can of paint.
Artist: Diana Rein
TItle: Queen of my Castle
Label: Gulf Coast Records
Release Date: June 21st, 2019
Running Time: 59:21