Growing up in an affluent Jewish family in Plymouth, Massachusetts, Dick Waterman (born 1935) was a shy and stuttering boy living a world away from the Mississippi Delta. Although he never heard blues music at home, he became one of the most influential figures in Blues during the twentieth century.
Close proximity to Greenwich Village in the 1960s fueled Waterman's growing interest in Folk music and led to an unlikely trip that resulted in the rediscovery of Delta blues artist Son House in 1964. Waterman revived House's music career and became his manager.
He founded Avalon Productions, the first management agency focused on representing Black Blues musicians. He worked tirelessly to protect his clients from exploitation, demanded competitive compensation, and fought for royalties due to them.
During his career Waterman befriended and worked with the following musicians: B. B. King, Buddy Guy, Bonnie Raitt, Taj Mahal, and Eric Clapton. At the beginning of his career, he documented scores of musicians through his photography and gained fame as a Blues photographer.
Brant Buckley:
How do you like your new biography: "Dick Waterman A Life in Blues" by Tammy L. Turner? Could you talk about the process?
Dick Waterman:
She told me she wanted to do it four or five years ago. I didn't have any confidence there was a biography in me. She had her mind made up and did a lot of recording. She made up a list of people she wanted to interview and interviewed over forty people. I've had people say, even my sister, there is so much in the book they didn't know. I find it kind of interesting that people who have known me for a long time found new things they did not know about me.
In your book, it sounds like Mississippi John Hurt was one of the most important Blues artists of all time in that he was able to crossover and make Blues very accessible. Please explain.
John didn't really play Blues. He played in a Piedmont style that was more like Elizabeth Cotton, Mike Seeger, and John Jackson. In other words it wasn't Hill Country or Delta Blues. He was one of the first and most important entry level Blues person. If you liked John, you could move into Folk, Blues, or a Piedmont finger picking style like Blind Boy Fuller. You could come into the Blues through John whereas you couldn't really start with Charley Patton or somebody like that because they were so intense.
How did old Blues artists really feel about being rediscovered? The book does some explaining on this but I am wondering if you can elaborate?
Son House really didn't care. If I went and found him work to do, he would do it. If there wasn't work to do, he really didn't care one way or the other. Bukka White and Fred McDowell wanted to make a whole career out of it.
Your father was a revered doctor who helped many people and you put all of your energy into helping Blues artists. Do you ever think about the correlations?
No I never do but I suppose it's true. My father was one of the most respected people in Plymouth, MA. When people came to him they would often ask him personal things. He was a really wise man and people had great respect for him. He was one of the pillars of the community.
You gifted Eric Clapton a tape of complete outtakes from Robert Johnson and helped John Belushi and Dan Aykroyd put their band together. Any other unique stories the book may have missed?
Well yes. After the book came out I said, "We forgot this story or that story would have been great or something like that." There were no lists for a year or so. We made it up as we went along. The stories come to my memory and then I forget them again. I don't have any on my mind right now that were not in the book.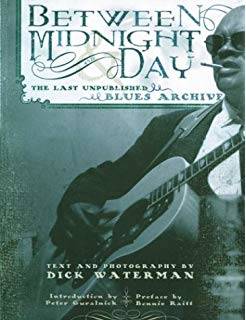 In your other book, "Between Midnight and Day" you mention that Buddy Guy's level of technical expertise is underappreciated because he makes it look so simple. Can you elaborate on this?
His mind is so fast and his dexterity is so pronounced. The people who play fast may be as fast as Buddy but are not really doing significant runs or things that are intellectually challenging. Buddy is a brilliant guitarist both from speed and the complexity of what he's playing. One thing I didn't mention in the book is a player named Magic Sam who died at the age of thirty two. I think Sam was brilliant. He died in 1969. If he had done an album every other year from 1969, I think he would have been one of the all-time great Chicago Bluesmen.
What are your greatest moments in the following categories: Promotion/Management, Photography, and Writing?
For management it's Son House. I knew very little about Country Blues when I started. Out of the three of us who were out to find Son, I knew the least about Blues. I was a freelance writer hanging around in the Folk community. The idea of going to look for a lost Bluesman did appeal to me. At the time I was not well versed in Blues. I picked it up as I went along. The fact that I am now regarded as a person who knows a lot about it is only because I was in it for such a long time.

As far as photography is concerned I did a lot of work with the great Bluesmen of the 60's: John, Son, Skip, Bukka, Fred, and people like that. What people don't know is that I had a doctor room tray which was 2 feet by a foot filled with developed negatives. The negatives had been shot and developed. I left it behind at my parent's house when I moved to California and it was under a roof that had a leak in it. It filled with water and froze every winter and then it turned to dust every summer and then refroze again the following winter. I had about 150 rolls of film close to about 5,000 negatives. If you take my body of work and add about 5,000 negatives from the 60's to it; it's like a great sense of loss, stupidity, and carelessness on my part.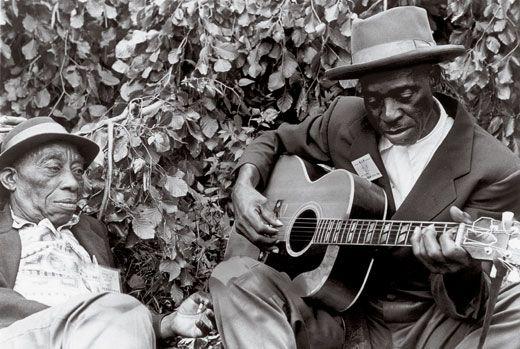 After reading this book, it seems to me that you have done more for The Blues than any other man. What are your thoughts on this?
No I think its Chris Strachwitz. You have to realize that Chris Strachwitz was a couple of years older than me. He has a curiosity that is always looking for things to do and the next hill to climb. Chris has always surprised me and I have great admiration for him. I think what I did do is this: I brought a sense of order and organization when there was only confusion and chaos. Each of the record companies booked their own Bluesmen back in the 60's. I brought an organization to that. I started the first Blues booking agency. I think that is a major accomplishment. It was all scattered before I came on to the scene.
What else do you want to accomplish?
I am not really sure. My negatives are at the University of North Carolina. I hope someday people will go in and organize it to make a fruitful accomplishment out of it. Over the years Ole Miss never had any interest. In all my years living near The University of Mississippi, I was never invited to speak or lecture. People assume that I have some kind of affiliation with the University when I never have. I do photo exhibits when I am asked and I now have them computerized so I can take a disc with 100 or 150 images on it. I can tailor it to be more Jazz or more Folk too. I like doing photo exhibits. People erroneously feel that I am unapproachable, but I think I am very approachable. I have always been in the phone book and anybody can visit or call me. I am a totally accessible person. I don't feel that I live off of my past accomplishments from decades ago. I try to live in the moment and if anybody wants me or needs me, I'm available.
*Feature image Dick Waterman and Son House 1969