In all of American music, Dr. John was one of the most suave, most outrageous, and downright funkiest artists to ever grace a stage. Today he's gone. The family of the "Good Doctor" released a statement via his publicist, that he died of a heart attack Thursday morning.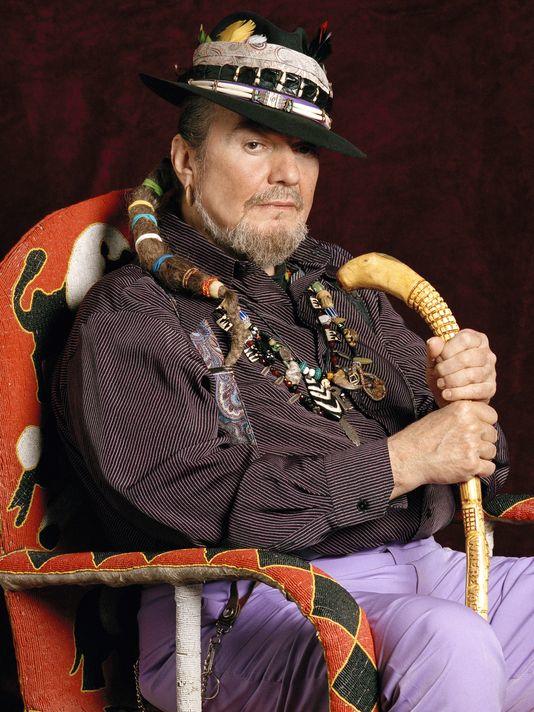 Towards the break of day June 6, iconic music legend Malcolm John Rebennack, Jr., known as Dr. John, passed away of a heart attack. As a Rock N Roll Hall of Famer, 6X Grammy winner, songwriter, composer, producer, and performer he created a unique blend of music which carried his home town, New Orleans, at its heart, as it was always in his heart. The family thanks all whom shared his unique musical journey & requests privacy at this time. Memorial arrangements will be announced in due course.
Malcolm John Rebennack, Jr., was born in New Orleans, Louisiana on November 21st, 1940. His grandfather was a minstrel singer, and several aunts, uncles, cousins and a sister all played piano. It was his father's local influence as an appliance and record store owner that opened the doors of local recording rooms to young "Mac."
Around the age of 13, Rebennack was first exposed to the man who would become his idol, Henry Roeland Byrd. Better known to the music world as Professor Longhair, Byrd's piano mastery, mixed with his eclectic sense of style, burned an everlasting impression in the young teen.
Rebbenack was taught piano by his Aunt Andre, and guitar by Earl King, and several other local musicians. He wrote his first song at age 14, and two years later was hired by Johnny Vincent as an A&R man for Ace Records. His record still stands as the youngest record executive in history.
All them guys all kept me in different ways. Just like Professor Longhair did in New Orleans, Huey Smith helped me in New Orleans, Earl King helped me on the guitar. There was so many guys around. – Dr. John
An accidental shooting nearly removed his left ring finger, and Rebennack switched from guitar to piano, almost exclusively. Honing his chops in the strip clubs and bucket of blood joints in the Big Easy, his talents grew exponentially. When he moved to Los Angeles, he was a member of the Phil Spector Wall of Sound Orchestra. The group that would later be known as the "Wrecking Crew."
Rebennack's creation of his own alter ego, Dr. John Creaux the Night Tripper, launched his solo career. His debut album, Gris-Gris, failed to chart when it was released in 1968, but has since been heralded a modern masterpiece. The combination of New Orleans R&B with psychedelic rock may have taken some time to catch on with the public, but his live performances both shocked and enthralled the nation.
Since that first solo outing, Dr. John has won six GRAMMY® awards in the genres of blues, jazz, rock and pop. His guitar stylings on the Professor Longhair album Crawfish Fiesta, helped that release win the first ever W.C. Handy Award (Blues Music Award) for Blues Album of the Year. Dr. John was inducted into the Blues Hall of Fame in 2007, and the Rock and Roll Hall of Fame in 2011.
I ain't tryin' to be mister predictable. I ain't tryin' to be anything-able. I just wanna make music. And I want to make music to the best of my abilities. – Dr. John
Dr. John tirelessly advocated for the rebuilding of his beloved Crescent City in the aftermath of Hurricane Katrina. He performed at benefit concerts, and released the four-song EP, Sippiana Hericane, to benefit the New Orleans Musicians Clinic, Salvation Army, and the Jazz Foundation of America.
Always quick to give credit where it was due, Dr. John always built up the musicians around him. He would perform with nearly everyone who asked. A few of these included Gregg Allman, Canned Heat, Leon Redbone, Fats Domino, and BB King. Although one of the highest points during The Band's final concert was Dr. John's performance of "Such a Night," he gave huge props to Muddy Waters.
I seen Muddy Waters playing The Last Waltz. He played 'Nine Below Zero' the night before they filmed it. I saw every so-called badass guitar player with his jaw droopin' and saggin'… I wish they'd filmed that. That's the kind of things I been blessed to see. – Dr. John
He was the consummate authority on all things New Orleans. Via his Big Easy upbringing, the good doctor brought a spicy taste of NOLA to wherever he performed. His style of music, use of local street language, and ever-present apparel decorations made him a one of a kind soul.
Dancing is a very big part of all of what we do. If you don't make people dance… what the fuck you doin' playin' music? – Dr. John
He was a colorful man, who used colorful lingo to get his point across. The untrained ear may not have understood his words, but there was no denying his meaning was perfectly clear. He carved the English language like a surgeon, combining words with Cajun French and Crescent City slang to create his own style of speech. Jaw-jerking, scientifical, padner, and funknology, were part of his personal lexicon.
The street language in New Orleans that inspired me was not on just any streets in New Orleans; it was the lower Ninth Ward. New Orleans has got twenty different languages floating through it, but the lower Ninth Ward is the root. I used to hear all kinds of sayings down there. Like, if you want to get a chick, or a chick wants to give a guy head, they would say, 'I gotta get some brain salad surgery.' I used that line in my song 'Right Place, Wrong Time'. – Dr. John
Dr. John, the King of the Krewes is gone, and the world is a bit more dim and colorless because of it. The music he wrote and played, combined with his style and voodoo charm however, will live forever.