Josh Newcom is an anomaly. As a musician and entertainer, he is continually in a whirlwind of creation. His mind never hits pause, and inspiration comes from all facets of life, family, his travels, alongside any subject that enters the bandwidth of his mind. Over the course of the last year and a half, he self-produced ten albums, each genre specific. As opposed to confining his talent to a sole genre, his love of all music has been the inspiration to pool these individual creations in to collected bodies of work, each loosely defined as Country, Bluegrass, Blues, Rock and others. First up on June 28th is the release of The Blues Gonna Getcha via Warpaint Entertainment.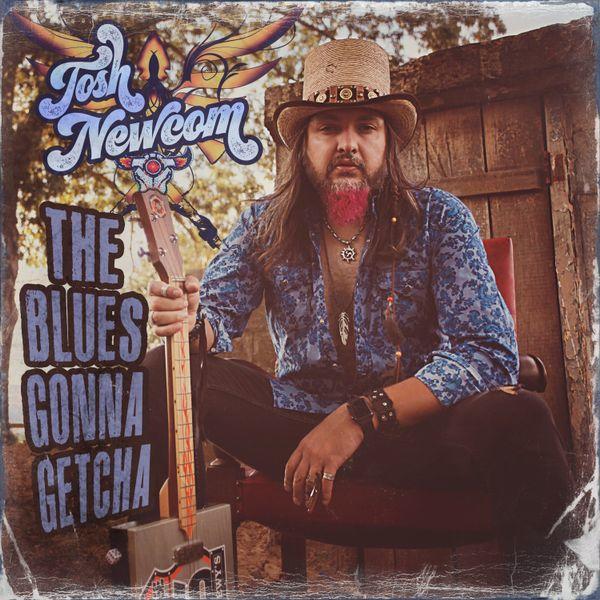 "My love for the Blues was first and foremost inspired by Muddy Waters and Stevie Ray Vaughan," Newcom shares. "When I first heard Muddy Waters sing and play his songs in that raw and sweaty sound, I knew that was going to be a huge stimulant for my creativity. And hearing Stevie Ray Vaughan play the Blues changed everything I thought about guitar. It literally made me drop everything and focus only on the Blues for many months. Now B.B. King, Howlin' Wolf, Etta James, Mavis Staples, Buddy Guy, Rosetta Tharpe and many more are who I turn to for inspiration ensuring my soul flows out freely through my voice and fingers."
Listening to The Blues Gonna Getcha, there is no question the pure powerful, natural intonation is there as Newcom delivers his lyrics in song. And as a player, he is real, taking inspiration from the forefathers of the genre. When asked about which specific songs carry the most significant meaning to him personally, he offers, "I'm not the type of songwriter who writes just to have another song. I love every song I put out equally or I wouldn't put them out. That being said, some are written to carry the torch for how I want an album to flow, and the overall feeling I'm looking for.
"I wrote 'Girl Got The Mojo' with full intentions of it starting the album off, and revealing exactly what the album was. The same goes for the ending with 'When She's Shakin'. The title track 'The Blues Gonna Getcha' is exactly what I wanted a song to be to exhibit the inspiration I got from my blues heroes."
As an artist, Newcom has been a work in progress, growing through self-discovery and a work ethic second to none. He began his career a decade ago, finding peaks of success, and some heartache along the way. In his past, he has been a sought-after music video director based out of Nashville which led to a relationship with Merle Haggard, and a hired gun engineer who also performed all of the instruments on demos for a number of entertainers who are major artists today. Newcom is driven by belief in himself, performing over two hundred shows a year across The United States with his wife and family in tow. Some of those journeys are captured on the long-form episodic series "Renegades, Outlaws & Gypsies."
Newcom will be appearing across the country in support of this release, and albums forthcoming throughout 2019 and 2020. On June 28th, he'll appear in Indianola, Mississippi at B.B. King's Club Ebony with all box office proceeds earmarked for donation to the B.B. King Museum. Confirmed performances include:
6/21 Tupelo, MS The Thirsty Devil (Band)
6/22 Decatur, AL Hard Docks (Band)
6/28 Indianola, MS B.B. King's Club Ebony
6/29 Little Rock, AR South On Main (Band)
7/06 Mobile, AL Veets (Band)
7/07 Navarre, FL Juana's Pagodas
7/08 Navarre, FL Juana's Pagodas
7/09 Navarre, FL Juana's Pagodas
7/10 Perdido Key, FL Flora Bama (Band)
7/13 Jackson, MS Martin's Downtown (Band)
7/19 Memphis, TN Hi Tone (Big Room)
8/03 Oklahoma City, OK Margarita Island (Band)
8/17 Mountain Home, AR Royal 66
9/06 Houston, TX Firehouse Saloon (Band)
9/07 Sargent, TX Sargent Fest (Band)
About Club Ebony
Club Ebony opened for business around 1948, built over a period of years by John Jones, who purchased this property in November of 1945 with his wife Josepine. In a 1948 memoir, Jones wrote: "It is said to be the South's largest and finest night club." The name Ebony was already a fashionable one for African American nightclubs; the first Club Ebony opened in Harlem in 1927. Jones had operated other clubs in Indianola, notably Jones Nite Spot on Church Street, where a young B. B. King peered through the slats to witness performances by Louis Jordan, Jay McShann, Pete Johnson, and Sonny Boy Williamson No. 2 (Rice Miller).
Jones wrote that when he opened his first business, "there were no other clubs for Negroes in Indianola at that time." In a 1967 interview King recalled that Jones "was really the guy that kept the Negro neighborhood alive, by bringing people in, like Louis Jordan… Johnny Jones was a very nice fellow, and he knew the guys on the plantations didn't have any money during the week, but he would often let us in and we would pay him off when we came in Saturday."
Perhaps as a result of his generosity and the hefty fees he paid to present some of the biggest names in blues and jazz, Jones ran into financial difficulties with Club Ebony. After he died in May 1950, Jones's widow, his son, John E. Jones, Jr., and others operated the club under the ownership of James B. "Jimmy" Lee, a white bootlegger from Leland who had loaned money to Jones. Ruby Edwards, who also ran the popular Ruby's Nite Spot in Leland, took over the business in the mid-1950s, and purchased it in 1958. By then B. B. King had moved to Memphis and had become a big name in the blues world; on a return to his home town to play at Club Ebony in 1955, he met Ruby's daughter Sue Carol Hall. They married in 1958.
Club Ebony was rented in 1974 and then purchased in 1975 by Willie and Mary Shepard. The club's policy of booking top acts from the "Chitlin Circuit" continued throughout the decades: its talent roster included James Brown, Ike Turner, Syl Johnson, Clarence Cater, Denise LaSalle, Bobby Rush, Howlin' Wolf, Tyrone Davis, and many more. Mary Shepard also presented local blues by David Lee Durham, the Ladies Choice Band, and others. After B. B. King began returning for an annual homecoming festival in his honor in 1980, it became a tradition for him to cap off the festivities with a nighttime performance at Club Ebony. When Shepard retired in 2008, King stepped in to buy Club Ebony, preserving not only a major cultural landmark but also the special place where, fifty years earlier, as he wrote in his autobiography, "I found love back down in the Delta."
In 2012, Mr. King donated Club Ebony to the Museum. He came to own the Club in 2008, saving it from closing. The B.B. King Museum is pleased to pick up the torch and carry on the tradition of this club, so important to the African American community as part of the "Chitlin Circuit" and a Delta landmark continuously operating since the 1940's.