George Thorogood is an American musician, singer, and songwriter. His "high-energy boogie-blues" sound became a staple of 1980's rock radio. His original songs include "Bad to the Bone," and "I Drink Alone." He has popularized "Move It on Over," "Who Do You Love," and "One Bourbon One Scotch One Beer."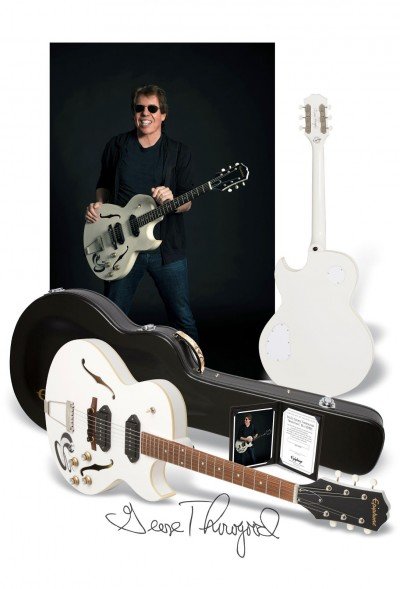 Brant Buckley:
Could you talk about your new Epiphone White Fang ES125 guitar? What made you want to have your own signature model?
George Thorogood:
It really wasn't my idea. It came to us out of necessity. The Epiphone Company and people in our organization had been urging me to get new instruments. The ones I was using were completely worn out. It was costing us a fortune to repair them. Maintenance on the old instruments is expensive and they don't make them anymore. They are very frail guitars and I have a pretty heavy attack on the guitar. They tend to wear out. It's not like banging on a Les Paul or a Stratocaster.

The original new models didn't work out. Epiphone ended up taking stock guitars from the line and altering them to my style. It made sense to me. It's like a pair of pants but the cuffs are too long so you make alterations. Playing my Gibson is the equivalent to swinging the bat and the ball bounces into the stands for a ground rule double. When I play the Epiphone, I hit the ball into the upper deck for a grand slam home run. I went back to the Gibson for one night and I could tell from the response from the audience. It was good but not as good as the Epiphone model. I now use the Epiphone at all times.
What do you look for when choosing cover material? What tests do songs go through?
We cover material and we call it obscure material. It's material that no one is aware of and it hasn't been exposed. We need to be able to play it, it needs to sound good, and our fans need to like it. We are kind of like a restaurant because we want to keep our customers. It's more involved than just picking up the guitar, learning a song, and going into it. I will pick up a song and someone will say The Grateful Dead did it on their live album. Well forget that because the song is out. Nothing against the Dead. It has already been internationally exposed and there's no need to do it. I take a lot of pride in the fact that material we have dug up ninety percent of people have never heard the song. Our mission is to turn people onto obscure tunes. Some of them are still in the set today. I was doing "One Bourbon One Scotch One Beer" before I even put a band together. I was playing that solo. It's stood the test of time.
I hear so much Hound Dog Taylor, John Lee Hooker, and Chuck Berry in your music. If you had to pick one Blues artist who shines through the most, who would it be and why?
Probably John Lee Hooker and Hound Dog. John Lee Hooker was the main reason I picked up the guitar. I could get behind what he did and what he did was very simple, basic, and driving. Through John Lee Hooker I found my strength. He could do so much with one chord. I am not a sophisticated player on the level of B.B. King, Elvin Bishop, Jeff Beck, or Clapton. This was what I could do and I practiced Hooker over and over again. I really dug him. I was knocked out by this cat.

Later when I saw Hound Dog Taylor, I bought an electric guitar. I realized it was time to get an electric guitar, bass player, and drummer. Hound Dog's style was very driving. He had high energy and was very happy. At the same time he was simple and primitive. I became friends with John Lee Hooker and Hound Dog. Without saying anything, they knew exactly what I was getting on top of without directly copying them. This style was natural for me. It felt natural to play John Lee Hooker and Hound Dog. I didn't have to work at it. It just fell into place and I didn't fight it.

When I hooked up with John Lee Hooker and Bo Diddley I found my home. I told myself I didn't need to go any farther. This is what I am about: Pick it up, plug it in, turn it on, and see how far you can take. It got me to Ravinia in Chicago playing with superstar Melissa Etheridge. For a guy who only knows one chord, it's not bad.
You initially wrote "Bad to The Bone" for Muddy Waters. How long did it take to write?
The guitar riff was one that we had been doing for a while. It's a backdoor version of "I'm A Man," and "Hoochie Coochie Man." It took me a while to put the lyrics together. I listened to lyrics of: Bo Diddley, Mick Jagger, John Lee Hooker, and Howlin Wolf. I was fascinated with Bo Diddley and some of the things he did. I knew I had something if I could get a Muddy Waters type riff going with Bo Diddley type lyrics; that tongue in check macho thing that Bo does. I thought if I put those two things together, I might have something. Muddy Waters didn't want to do it. I took it to his management and they were offended by the idea. I said that's bullshit. If Keith Richards or Eric Clapton wrote this song Muddy would have recorded it in a second. It's because I'm a nobody from Delaware. I took it to Bo Diddley and he liked the song. He dug it. He didn't have a record deal at the time. We did the next best thing and put him in the music video.
Is there an artist you would like to record with that you have yet to?
Sure. Paul McCartney, Bob Dylan, Keith Richards, and Mick Jagger. They don't answer my calls as they are a little busy. I am still waiting for the phone to ring for the return call. If I were in a movie I would love to work with Martin Scorsese. I wanted to be in a movie with Marlon Brando. You have to shoot for the stars. If Paul McCartney wanted me to play tambourine on his next record, I would fly to the moon and do it. I have recorded with John Lee Hooker, Bo Diddley, and people like that. A lot of people aren't alive anymore. I've done recordings with Elvin Bishop and Ian Stewart. I don't think there is ever going to be a shot at getting into the studio with Jeff Beck. He's the one guy who absolutely never needs another guitar player. I am half kidding and half not kidding. These are the greatest names in music period. If the phone rings and Steve Cropper calls me, I am returning the call.
What else do you want to accomplish?
My goals are very simple and meager. I don't like to be greedy. I want to be able to play the guitar like Jimi Hendrix, write songs like Bob Dylan, and perform like Elvis Presley. There ya go. Those are the things that I would like to do within my lifetime. I am little ways from doing that but I am still trying.
*Feature image Ravinia Festival/Russell Jenkins