Brian T. Atkinson's forthcoming The Messenger: The Songwriting Legacy of Ray Wylie Hubbard will be released on August 16 through Texas A&M University Press. "You know, I've never thought about my songwriting legacy," Hubbard admits. "I guess I've written some pretty cool songs that nobody else seems to be writing. As guess as far as legacy, I hope it's that I wrote some cool, badass songs. Some sold and some didn't. Most didn't." The Messenger features forewords by Jerry Jeff Walker and Hayes Carll and marks Atkinson's third book for TAMU Press following I'll Be Here in the Morning: The Songwriting Legacy of Townes Van Zandt (2012) and Kent Finlay, Dreamer: The Musical Legacy Behind Cheatham Street Warehouse (2016), co-written with noted author and Americana music producer and promoter Jenni Finlay.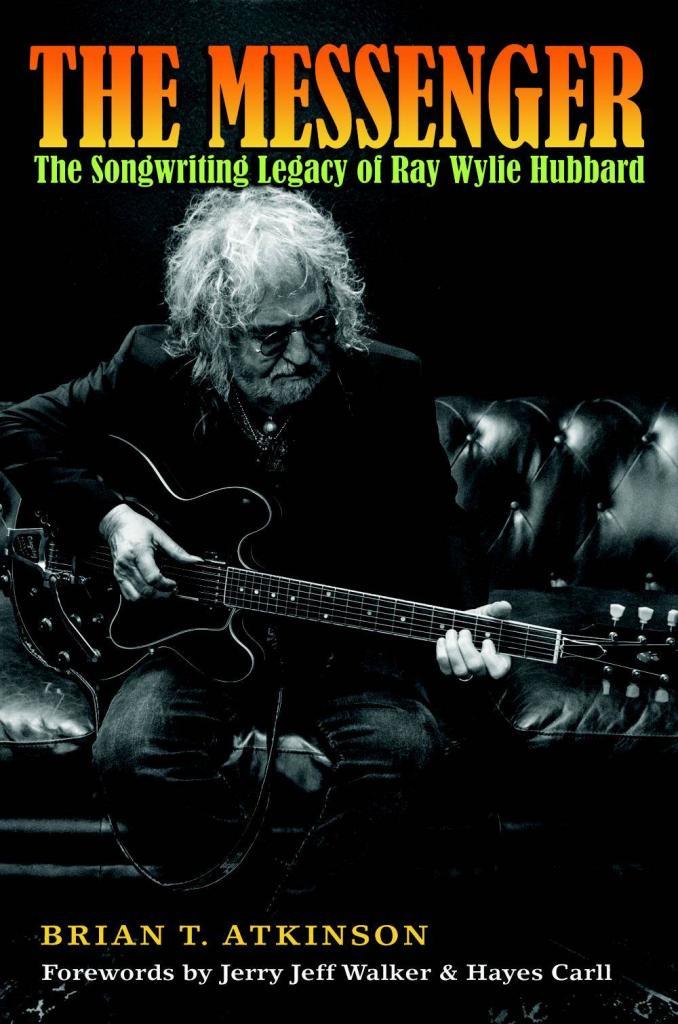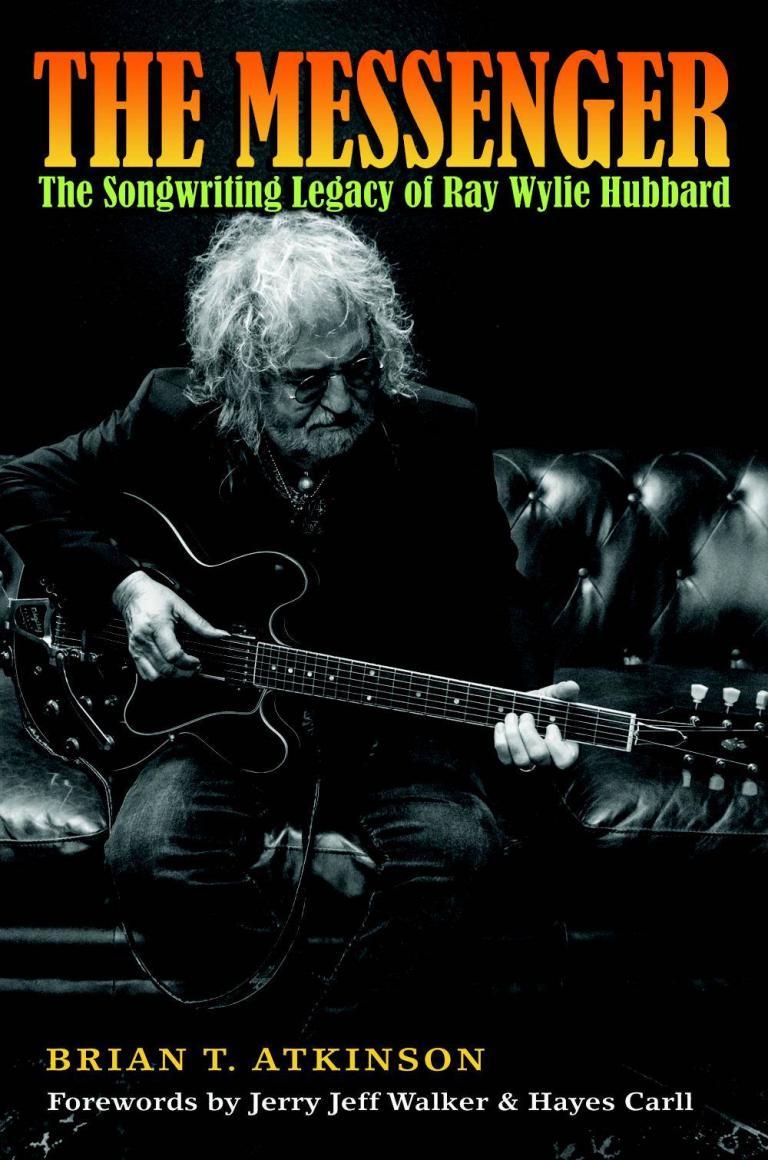 The Messenger spotlights one of the leading voices in the 1970s Cosmic Country movement and his seamless transformation from youthful jester into one of today's most sage and spiritual musical mentors. "Ray Wylie Hubbard has been overlooked in the conversation about great Texas songwriters for far too long," Atkinson says. "He shouldn't be passed by. As several dozen songwriters within these pages proclaim, Hubbard has created a catalog over the past four decades deserving mention among monumental tunesmiths such as Guy Clark, Steve Earle, Lightnin' Hopkins, Kris Kristofferson, Mickey Newbury, Billy Joe Shaver and Townes Van Zandt." More than 70 songwriters — including legends like Rodney Crowell, Kinky Friedman, Michael Martin Murphey and Jerry Jeff Walker as well as younger stars Hayes Carll, Ben Kweller, Aaron Lee Tasjan and Paul Thorn — back the claim.
"Brian T. Atkinson's informative oral biography of progressive country pioneer Ray Wylie Hubbard rocks and succeeds in narrating Ray's brave and important journey," iconic folksinger Tom Russell says. "The book serves as an oral testament to a vastly important time and place in American music — Texas music in the last 50 years. Ray is a hero."
"This jam-packed, anecdotal tome was written about those who love songwriting by a man who loves the twisted, mystical and not so easily explained lives of songwriters," echoes East Nashville favorite son Tim Easton. "The harrowing life of an addict never sounded so pretty or funny at the same time. Recovery and self-reconciliation in The Messenger simply make for beautiful music. This isn't your grandfather's cautionary tale – or even the devil's."
The following is a chapter excerpt from The Messenger, from Blues Hall of Famer Charlie Musselwhite:
Bill Bowker, [a deejay on KRSH 95.9 FM in Santa Rosa, California], turned me on to Ray Wylie Hubbard. "Snake Farm" is a classic American folk song. Hundreds of years from now folks will be singing that song and "Screw You, We're from Texas." Anybody can take that song and make it their own. I could say, "Screw You, I'm from Mississippi." If you go to Europe, you can say, "Screw You, I'm From America." It's useful. I like his groove and humor. He paints pictures. You go to the movies when he's singing and see it all as he describes it. Ray has a Beatnik cowboy attitude. I know he's a loner, a seeker, a lifelong learner, and I like to think we have these things in common. Blues makes sense. Blues tells a story and you go, "Yep. That nails it." Ray Wylie Hubbard has real talent and nails it with great stories in his songs.

I just liked blues in the beginning. I didn't have any dreams about being onstage or getting famous or having a recording. I liked all kinds of music from hillbilly and gospel to jazz and world music, but blues sounded like I felt. It made me feel better and was my comforter. I really gravitated toward blues, and then I got to thinking that if it makes me feel good, I bet playing it would make me feel even better. I had harmonicas and thought, I have harmonicas, and I like how it sounds on those records. I went out in the woods and started teaching myself how to play. Before I went to Chicago, I made it a point to meet a lot of the old-time blues singers who were in Memphis.

I hung out with them and had fun, but I was going to school and didn't even know it. I would've paid much more attention if I knew I was preparing for a career. I went to all these blues clubs in Chicago, and I wasn't asking even telling anybody that I play. John Lee Hooker lived in Detroit, but he would play in Chicago regularly. We were instant friends the first time we met. It was like we'd always known each other, and we stayed friends until he died. He was the best man at my wedding. So, I'd be at the show and would request songs and guys like Muddy Waters would say, "How do you know that tune?" "Well, I got the record." This waitress told Muddy one night, "You ought to get Charlie to play harmonica." That changed everything. He insisted I sit in, and other musicians who were hanging out there that night started offering me gigs. That was real good and turned the corner for me right there. It was my ticket out of the factory.

I remember discussing harmonica technique with Little Walter, but that's as close as he came to showing me anything. Talking about technique is about all you can do anyhow. The harmonica is the only instrument that you can't watch somebody play. You can't even see what you're doing yourself. I soaked it up by osmosis when I listened to the music. Things just emerged when I started playing. Something would get my attention, and I'd try to play it. I guess anybody can learn to play the harmonica. It's tuned to an open chord, so anyone can pick one up, blow on it, and get a nice sound. I just felt so strongly attracted to the blues. It felt like the blues picked me as much as I picked it. I had to have it. I had to play it. I just had to. The music made me feel more alive and still does.

The harmonica sure was my ticket to a better life. I've gone all the way around the world with the harmonica, and I have a better life and endless adventures because of it. What an honor for Ray Wylie Hubbard to write a song about me ["Mr. Musselwhite's Blues" on The Ruffian's Misfortune] and mention me in another song ["Dead Thumb King" on Tell the Devil…]. I'm so flattered that he would do that. I can't tell you how much that knocks me out. I'm real proud. I think it's one of the best songs ever written in history. I really think the world of Ray Wylie Hubbard and consider him a friend and kindred soul. I look forward to seeing him soon. I hope we can sit down to write a tune.
Finlay and Atkinson own Austin-based Eight 30 Records and have produced the forthcoming album The Messenger: A Tribute to Ray Wylie Hubbard (due fall 2019), featuring performances by Charlie Musselwhite ("Resurrection"), Rodney Crowell ("In Times of Cold"), Bobby Bare ("Snake Farm"), James McMurtry (the title track), Tom Russell ("Dust of the Chase"), The Band of Heathens ("Drunken Poet's Dream") and more than a dozen other Americana all-stars.