Ronnie Earl is a four-time Blues Music Award winner as "Guitar Player of the Year," and was the hit of the most-recent Blues Music Awards show in Memphis with his show-stopping live performance of the Junior Wells classic, "In the Wee Hours."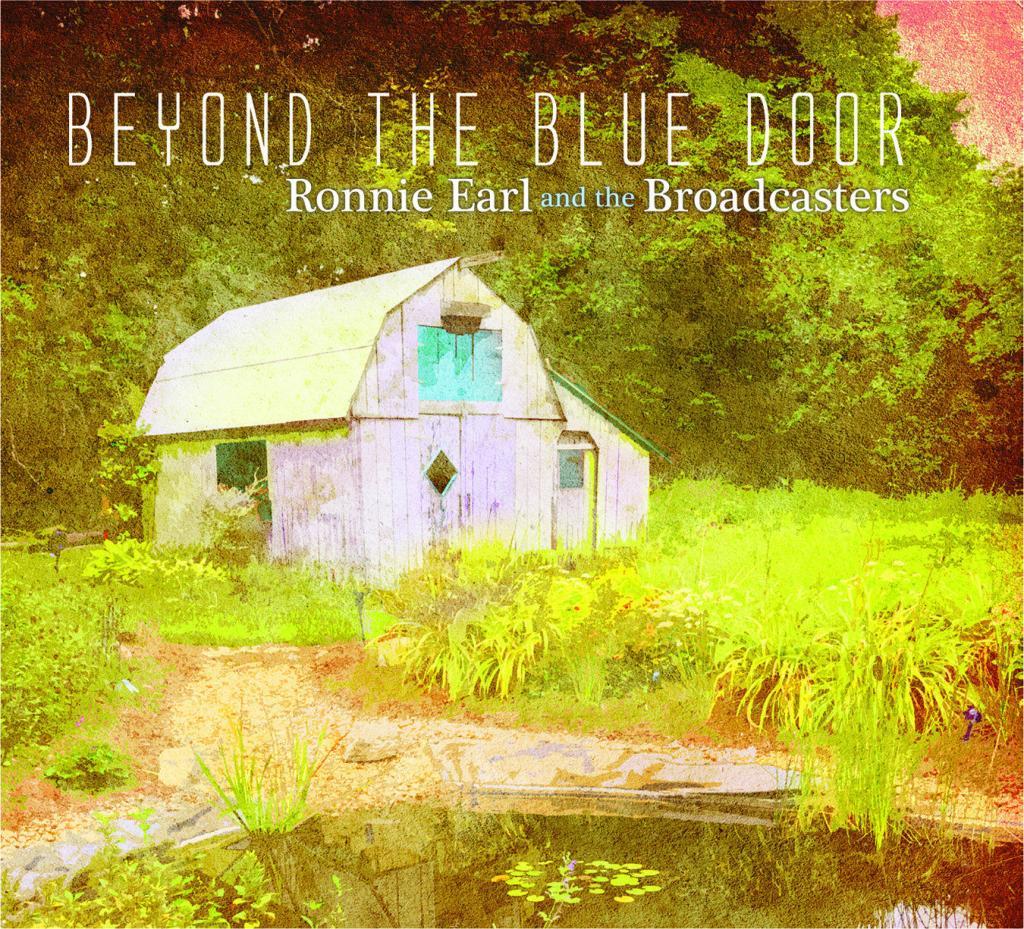 Earl follows that up with the August 30 release of the latest Stony Plain Records album (on CD and vinyl formats) from the blues guitar master and his band, the Broadcasters, Beyond the Blue Door. Earl believes in the power of music to heal the mind and spirit, and that's quickly evident in the 15 tracks on his new disc. Special guests on the album include David Bromberg, acoustic guitar and vocals; Kim Wilson, harmonica and vocals; and Greg Piccolo, tenor sax.
The core group of Broadcasters – Ronnie Earl, guitar; Dave Limina, Hammond B3 and piano; Diane Blue, vocals; Paul Kochanski, bass and Forrest Padgett, drums – return to present a solid follow-up to their critically acclaimed and beloved release, The Luckiest Man. They are also joined by Anthony Geraci, piano; Peter Ward, guitar; Mario Perrett, tenor sax; Scott Shetler, Baritone Sax, Larry Luisgnan, guitar; Michael Rush, bass and Scott MacDougal, guitar.
"This is a band album – a community of souls with some guests, new directions and some good old down home blues with Kim Wilson, David Bromberg and Greg Piccolo," Earl says about the new disc.
Beyond the Blue Door confirms Earl's status as one of the most soulful blues/soul/jazz guitarists working today. He's also a DownBeat magazine winner for "Blues Album of the Year," an Associate Professor of Guitar at Berklee College of Music and has taught at the National Guitar summer workshop in Connecticut.
Perhaps David Bromberg, himself a master guitar craftsman, said it best about him: "Ronnie Earl is an incredible musician. He plays with more emotion than anyone else who plays blues, or really anything, today, and he gets me every time I hear him. The Broadcasters are the quality of musicians you would expect Ronnie to be playing with: solid, tasteful, and moving. You can't be better than that."
Beyond the Blue Door Track Listing and Credits:
The Broadcasters play on all the songs except #4 and #6
1 Brand New Me (Theresa Bell, Jerry Butler, Kenny Gamble) with Scott Shetler, Mario Perrett
2 Baby How Long (Chester Burnett) with Kim Wilson, Anthony Geraci, Peter Ward
3 Drown In My Own Tears (Henry Glover) with Greg Piccolo
4 Alexis' Song (Ronnie Earl & Greg Piccolo) with Greg Piccolo
5 The Sweetest Man (Ronnie Earl, Diane Blue, Dave Limina) with Peter Ward
6 It Takes a Lot to Laugh, It Takes a Train to Cry (Bob Dylan) – David Bromberg and Ronnie Earl
7 A Soul That's Been Abused (Ronnie Earl) with Mario Perrett, Scott Shetler and Greg Piccolo
8 Why Can't We Live Together (Timmy Thomas)
9 Blues with a Feeling (Little Walter) with Kim Wilson, Peter Ward and Scott MacDougal
10 T-Bone Stomp (Ronnie Earl) with Larry Luisgnan and Michael Rush
11 Wolf Song (Ronnie Earl) with Kim Wilson, Anthony Geraci and Peter Ward
12 Peace of Mind (Ronnie Earl & Steve Gomes)
13 Drowning In a Sea of Love (Kenny Gamble & Leon Huff) with Mario Perrett, Scott Shetler and Greg Piccolo
14 Bringing Light (to a Dark Time) (Paul Kochanski & Diane Blue) with Mario Perrett and Scott Shetler
15 Blues for Charlottesville (Ronnie Earl, Forrest Padgett, Dave Limina, Paul Kochanski)
*Feature image Tom Hazeltine