Adam Gussow is a Blues harmonica player, teacher, and writer. A professor of English and Southern Studies at the University of Mississippi, Gussow was one of the first amplified Blues harp players to make overblows a key element in his stylistic approach. According to a reviewer for American Harmonica Newsletter, Gussow's playing is characterized by "technical mastery and innovative brilliance that comes along once in a generation."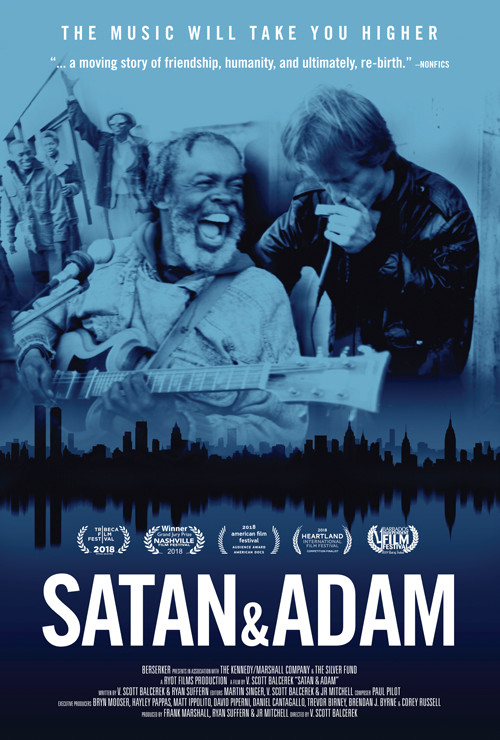 Gussow is best known for his long partnership with Mississippi born guitarist Sterling "Mr. Satan" Magee as the duo Satan and Adam. After working the streets of Harlem from 1986 to 1991, Gussow and Magee toured internationally from 1991 to 1998. Their performing credits include The Chicago Blues Festival, The Newport Jazz Festival, The New Orleans Jazz & Heritage Festival, The King Biscuit Blues Festival, The Kansas City Jazz & Blues Festival, and The Philadelphia Folk Festival. They toured with Bo Diddley and opened for Buddy Guy, David "Honeyboy" Edwards, Otis Clay, Johnny Winter, and Jimmy Thackery.
Brant Buckley:
Your new Netflix documentary Satan and Adam is incredible: Why do you think Sterling Magee aka Mister Satan let you sit in play and stay? Looking back what do you think he saw in you?
Adam Gussow:
There is something that is not touched on at all in the documentary. When he was living in St. Petersburg in the early 60's, he was known as 5 Fingers Magee and he wore a white glove. I suspect it was on the picking hand. He was in a trio with two white guys. When I met one of the original guys, he said Sterling used to bring him to black clubs. It was unusual back then because St. Petersburg was still Jim Crowed. He had a pre-history before I ever wandered along.

Back in the 90's people asked Sterling what he would have done if Mr. Adam couldn't play. He said GHAP (Go Home and Practice). That's what he said to people. It suggests that he let me stay because I was good or good enough. There are other reasons. The U2 folks came along in the summer of '87. That ended up in 'Rattle and Hum'. I disappeared that fall playing with Big River which was a Broadway show. Sterling told me my spot would be saved and the testing of the relationship was important. There was a 3rd member in the group named Bobby Bennett who was a washed up bass player. I wrote about him in Mr. Satan's Apprentice. We were a trio but Sterling ended up fighting with him and fired him. I had a car and Sterling liked it and we called it our car.

We came together at a time when New York was a rough place. Michael Griffith, a 23 year old black man, was chased out of Howard Beach and killed on a highway in New York. He was killed by racist Italians. It was called a racial lynching. I was a young white guy playing harmonica a month after this happened. It was in the papers every day and not a single person told me to leave. The film leaves a mistaken impression. There was only one time in five years when I was hassled. It was the one day that I described in the film. Other than that, no one hassled me. The guys who hassled me were from Brooklyn and not Harlem. We felt we were race rebels offering a living image of inner racial harmony in a city that was against that. Sterling saw people enjoy my presence with him. He saw that the people around us got it and felt it. Sterling never pulled the race card.
It sounds like your greatest blessing was being on the receiving end of The Blues. Could you talk about translating soul deep pain into music?
The beginning of the film makes it seem that I went from a brokenhearted guy straight to playing the streets of Harlem. What I want to stress is that playing this music well is a journey. I'd taken a lot of the early stages of the journey by the time I entered Harlem.

When I was a junior in college I fell in love with a woman who was beautiful, smart, wise, and compassionate. We fell in love. It was love, sex, and what I wanted. I wanted that ancient heavenly connection. It was very intense. She went away for a year to Europe and had several affairs. There was an element of loss and heartbreak that was already in the relationship. We lived together and went out to California. We came to back to New York and we were together from 1980-1984 until she left. I suffered through a couple other affairs. Eventually, she left me for a guy I was in a seminar with. That loss shook me in the most profound way. It cut me to the core and disillusioned me. I went from a female centered world to a male centered world. I drank a lot of beer and was in a lot of pain. The harmonica which I had put away began to speak to me. If you have a badly broken heart, Blues music speaks to it.

In 1984 it was all Madonna and pop was in. None of it spoke to my condition. I didn't comfort me. When I was at Berklee, I wanted to be George Benson and Pat Martino. There's a song by Albert Collins and the lyrics are: "My baby's left me and now my mind's begun to leave me too." In other words it wasn't just the heartache. There were moments that felt like nervous breakdowns. Like the kind of fear that makes you cower in the corner of a room when your world's falling apart. I found that Blues comforted me. I began to discover there was place that I could go to, have a jam session, and a few beers.

The club was called Dan Lynch Blues Bar. It was an absorbing other world. Playing the music, listening to the music, and hanging out in Blues bars helped me get to sleep. It's very primal when there's a community that is going to help you get your pain out. It made me think about what deep Blues was. There's a mojo in it that can heal you. Learning how to heal yourself through the music is learning how to play the music well. I think anybody who adds anything significant to the music has spent some time in the Blues condition that I am talking about where you are worried about your psychic and mental health. I am very fortunate that I came all the way back from it.
Could you describe the sound difference between Harlem/New York Blues versus Chicago and Mississippi Blues?
In a book of mine called 'Journeyman's Road,' in the introduction I talk about the New York Blues sound. The Holmes Brothers, Popa Chubby, Shemekia Copeland, and Satan and Adam were 4 acts that came out of New York in the 90's. New York had many musicians coming in from many different places including Broadway. There was a lot of rock, funk, and jazz. New York Blues was more postmodern. It was a mash up of different idioms. Another key were the organ trios.

The style of Blues that I used to listen to was from Baltimore, Philly, and the New England area taking place in black communities. There is an organ, drum, and one other instrument. The other instrument was usually a guitar or horn. That is very different from the Chicago model of bass, drums, and guitar. When Blues shows up in New York it's the Jimmy Smith type thing.

There was a guy named Victor Davis who I used to play with. The film leaves out that 6 months before I played with Sterling, I played in Harlem Jazz clubs. The film makes it sound like I lost my girlfriend and started playing clubs. Nothing could be further from the truth. I also did a lot of busking. The sound I absorbed from records and jamming in clubs had a certain kind of groove. Sterling is from Mississippi and what we did had a Baptist Pentecostal energy. We would play songs for a long time and let the energy rise and rise. Sterling was not a typical Blues guitarist and definitely not a Chicago Blues guitarist. He used a wound 3rd string. He played a guitar wound with jazz strings. The Blues he played was less about squeezing the note which is reminiscent of the Chicago and Mississippi style. It was about taking chord forms and letting them drone. I have never met anybody who could copy what he did.

Many years ago we played a Blues Festival in Greenwood Mississippi and we went through Clarksdale. We played with Johnnie Billington who founded a Delta Blues school. The three of us tried to jam on the street and Johnny was dragging tempo wise and was a quarter step flat. It was an interesting mini train wreck. Johnny was a little bit behind the beat and that taught me that there is a New York Blues sound.
What's the best book you have written and why?
Every writer feels his latest book is his best. I have written a total of 5 books. 'Mr. Satan's Apprentice' was my first. I managed to get Mr. Satan during a period that really brought him to life. I'm really proud of that. My second book was my dissertation 'Seems Like Murder Here.' It gave me an academic life and reputation. It's pretty academic. 'Journeyman's Road' was my 3rd. In some ways I am proudest of 'Beyond The Crossroads.' It may be the most important book in the long run because I took a central theme of The Blues and the devil. I researched the Robert Johnson crossroads cliché and the Blues devil music cliché. I basically went behind them to try and tell the fullest possible story. I took what I'd call an enduring theme of The Blues and it put myself on the map as a scholar for anybody who comes along later and wants to treat the theme. It took 7 years.

Every book has a different velocity. 'Beyond The Crossroads' was very hard. I hoped to get out of it alive. I offered a new interpretation of Johnson. I'm happy because the book is written in a very accessible language. I wanted to learn everything I possibly could about The Crossroads. I wanted to know if there was any truth. If you are really lucky you dig to the bottom of the barrel and the floorboards breakthrough and there is a sub-basement. That's what I found. I found the original blueprints for the crossroads; what the highway department used. I proved that they didn't exist during the time Robert Johnson was getting good on the guitar. He couldn't have gone there because it was an unimportant dead end. I interviewed the guy who came up with the design and built it. The area was called The Crossroads as early as the 1940's and it had nothing to do with Robert Johnson. When Johnson composed the song he theoretically could have written it there, he just didn't get good there. After the film 'Crossroads' came out, tourists would stop at a record shop in town and ask where The Crossroads were. The general public started attributing Robert Johnson to that spot.
What's your favorite course to teach at The University of Mississippi?
That's a tricky question. I teach a Blues literature course. I introduce people to the Blues literary tradition of plays, poems, autobiographies, and philosophies. I brought in Mississippi Blues musicians: Bill Perry, Josh "Razorblade" Stewart, and Mark "Muleman" Massey. They all have monikers. I taught a course on Freedom Summer which is what happened in Mississippi in the summer of 1964. One black and two white civil rights workers were assassinated in Philadelphia, Mississippi. 'Mississippi Burning' is based off that. I taught it to a classroom of 13 young white Mississippi freshman. They were all smart young people who had never been exposed to it. We are at very different place now than we were then. They were shocked. Many of them went to entirely white academies. They began to understand the way in which they received their education and how it had been structured by white supremacy. It's not a term I throw around a lot. This is a case when it really applied. I was proud of how deeply engaged they were.
What else do you want to accomplish?
In the film I say when you have given The Blues a good run, you are allowed to let go of them. It's true. I've ended up in a great location, have a wife and child, and live in a suburban home in a college town in Mississippi. I am very lucky. When I came to Mississippi I thought all of my musical dreams had been realized. Satan and Adam was done, I'd written 'Mr. Satan's' Apprentice,' and I had an academic job. The Mississippi Blues didn't grab me as I am more of an urban Blues guy. I wanted a little more Jazz and Funk. I hung out my shoes and put the music away.

In 2009, a young African American player named Brandon Bailey responded to one of my You Tube videos. We became friends and I mentored him. He gave me a stomp block and I bought a foot drum. It changed everything and suddenly I reinvented myself as a one man band. I never wanted to be a one man band even though I played with a guy who was a one man band. Sterling's ultimate two high hat cymbal arrangement was something that evolved while I was with him. After recording 'Kick and Stomp,' they began to play it on Bluesville. That changed my life and I sold a lot of copies of that. I did that in my early 50's at exactly the same age Sterling Magee was becoming a full throated one man band. Both of us were in our early 50's when we had an explosion of creativity.

My song "Crossroad Blues" on YouTube has close to 3 million views. People are going for it. I am not a great singer and I had only been playing foot drums for a year. Both of those things drove me as a harp player to do things I had never done before. It was my declaration of independence. It is what it is but it's original. I am really happy that it's out there. At some point you need to put your own mark on the music and say this is my sound and my contribution.