Authenticity and originality don't always make for the most compatible bedfellows. Indeed, paying reverence to one's roots sometimes moots the possibility of finding contemporary credence. Happily though, in the case of the Texas born and bred singer/songwriter Seth James, all those elements find equal footing.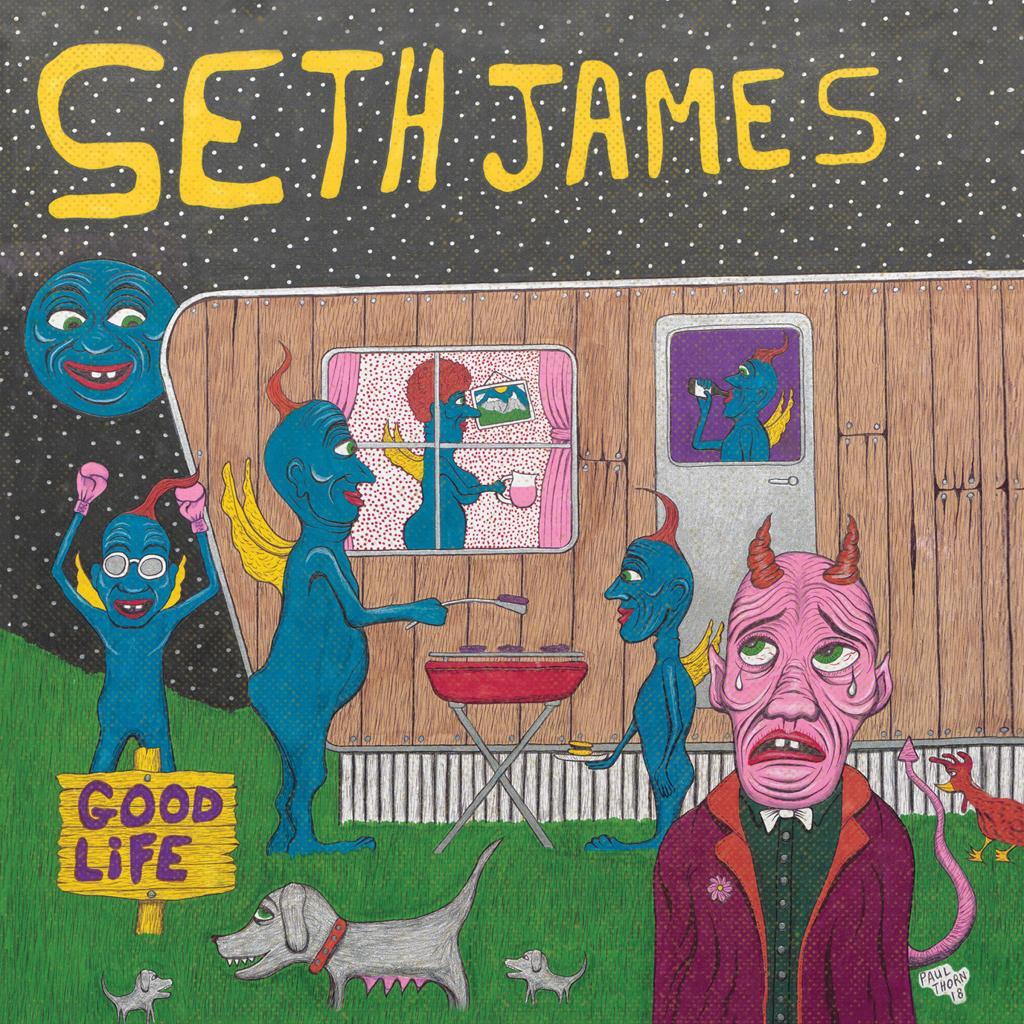 That's especially evident with the release of Good Life, James' new album, a rugged and unabashedly assertive blend of blues, country, roots, rock, and Americana. From the sassy strut of opening track "Brother" and the loping rhythms of the catchy and danceable "That's How You Do It," to the soulful sentiment of "Little Angel" and the assertive strains of "The Time I Love the Most," the twelve song set runs a gamut of heartfelt emotion filtered through unfaltering conviction and homespun appeal.
Produced and mixed by Kevin McKendree (Little Richard, Etta James, Sean Chambers), and recorded at The Rock House in Franklin, Tennessee, Good Life resonates with an honesty and integrity that could have only been spawned by someone who's known the toils and triumphs spawned in America's heartland.
James sums up those sentiments in the title track itself. Written with Kevin McKendree and Bob Britt, the song represents the emotion imbued in the album overall. "It was important to me that this album had an overall positive feel," James explains. "I always found it easy to be dark and brooding, but using happiness is a trick. Of course, it's pretty easy to write happy when you're writing with two of your heroes like Kevin and Bob are to me. This song is a good representation of where I'm at now and where I wanna stay."
On the other hand, the song "I'm Coming Home" is the album's oldest entry. It was also written with McKendree. "We wrote it almost 10 years ago," James recalls. "From that day forward, we both knew we wanted to make an album together. It just took a while for the pieces to fall in place. However, I suspect that anyone who has to travel for living will find a home with this song."
Likewise, James cites the track "Third Generation" as the most personal song of the set. He notes that it was written during an intense period of anger and frustration, and that it was important for him to express those emotions and bring them to the fore.
"In the place that I grew up, it's very common to find that the later generations who inherit the family ranches typically do not share the same work ethic and values of their forefathers," James says. "Very often, they squabble and argue and ultimately sell off what it took generations to build. This song allowed me to put my finger in those people's faces. It's not about the land as much as it is about the kind of person which that lifestyle produces. I don't believe this world can afford to lose people who share that kind of dedication."
In fact, James knows those values all too well. Born in Fort Worth and raised in the ranch country of West Texas, he comes from a family who knew the rewards that come from drive, determination and hard work. His grandfather was a honky tonk piano player who performed as Tooter Boatman and the Chaparrals in any number of clubs, juke joints and roadhouses in the 40's and 50's. His other grandfather was a Texas Ranger. His father, Tom Moorhouse, founded the Moorhouse Ranch and imbued in his son the values spawned from western tradition.
"Growing up, I spent the majority of my life on a horse," James recalls. "It was the kind of ranch where we would do things the old-fashioned way, whether it was herding the cattle, bringing out the chuckwagon to feed the cowboys, or camping on the trail under the stars. To this day I still prefer to sleep on the ground."
Not surprisingly then, the romantic road stories shared by his forebears had an important influence of James's decision to pursue his passion. Early on, he taught himself to play guitar, mostly by learning the songs of Lightning Hopkins, Freddie King, and Creedence Clearwater Revival.
"Years later in college, I had a regular gig at a juke joint called the Big Wheel in Navasota, Texas where Lightning and Mance Lipscomb spent many years," he remembers. "It was fun to play for their family members and to hear stories from their relatives' first-hand accounts."
In 1996 Seth got his first Fender Stratocaster and quickly discovered the sheer power and expression that's possible by playing an electric guitar. "As a young man, I was drawn to the music that was coming out of Lubbock and Fort Worth," he recalls. "The early influences of Joe Ely, Delbert McClinton, Stephen Bruton, and Doyle Bramhall Sr. ultimately led me too many of the musicians that impacted me later on, such as Frankie Miller and Freddie King."
Over the course of his career, James has had the opportunity to share the stage with many of his heroes, among them, Percy Sledge, Little Feat, Delbert McClinton, Buddy Guy, Tab Benoit, ZZ Top, Lee Roy Parnell, Leon Russell, and Billy Joe Shaver. He's released three solo albums, most notably 2009's critically acclaimed effort That Kind of Man. In 2010, he joined forces with Cody Canada and formed The Departed, with whom he spent three years and recorded two albums. Ultimately, he opted to return to his roots and his primary passion, which was to fashion a sound infused with the blues.
With Good Life, he's sums up his satisfaction succinctly.
"I never made the decision to be a musician," James insists. "I just started doing what I loved and it got out of hand. I've been doing it ever since."
The results speak for themselves.
*Feature image courtesy of Devious Planet