On the heels of winning the 2019 Blues Music Award for Best Acoustic Album this past May at
The Annual Blues Foundation Awards in Memphis, Bruce Katz releases his solo acoustic piano album, Solo Ride today, August 16, 2019 through American Showplace Music. This marks his tenth album to date.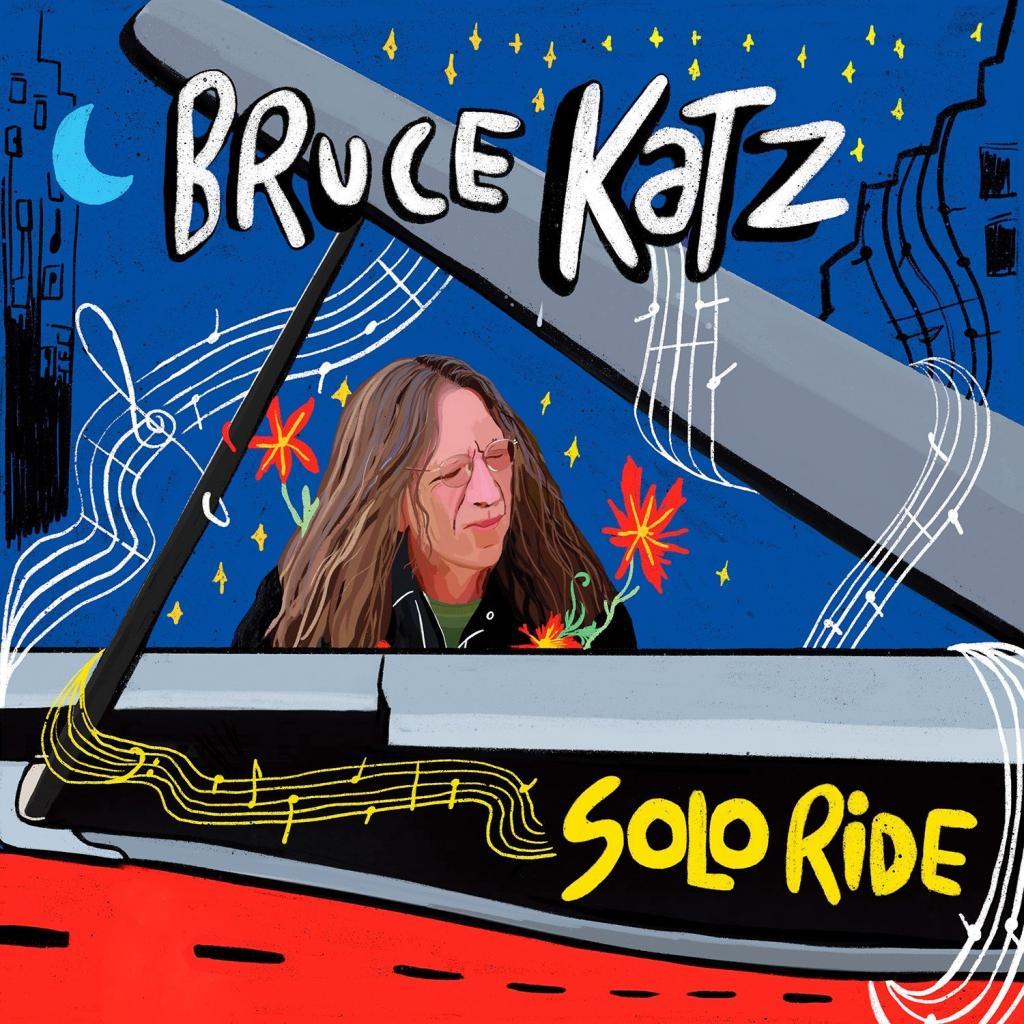 The album was produced by Katz with label owner Ben Elliott. Bruce's manager and agent Legare Robertson co-produced it. Solo Ride is Katz' only solo release after thirty years of composing, touring and playing, and captures the emotion and intensity of his music. The music is simply him and his piano. It contains all instrumentals from top to bottom, drawing from his vast background of stylings from jazz to blues to classical, gospel and country.
After years of hearing Bruce's piano and B3 wizardry on music by Ronnie Earl , Delbert McClinton, Duke Robillard, Joe Louis Walker, Gregg Allman, Butch Trucks, and a myriad of other artists, Solo Ride was a unique listening experience for me. Stripped bare of bass, guitar, drums, vocals and all other manner of accoutrements, it was not what I expected to hear. At first listen, I was reminded of a lounge performer, albeit that lounge being a New Orleans barrelhouse, but still. Having played it a few times however, the acoustic beauty of the album began to reach those places in my hardened heart reserved for such things.
"Playing a solo piano is definitely a little bit different," Katz says. "There's nobody else there to support what I'm doing. When there's no drummer and no bass player, I sort of have to be perfect. There's nobody to help keep the groove going so that made me much more conscious. I wasn't thinking that much about hot solos. I was thinking more about tunes and grooves, playing a lot of things I like to play like 'Red Sneakers' and 'Easy Living' that are like 1930s or 40s stride jazz piano.
"That tune 'Red Sneakers' where I'm playing this old fashioned Errol Garner, Teddy Wilson, or Fats Waller kind of piano. I've got to keep that going and keep it feeling good, where usually the drummer would keep it feeling good."
Known predominantly, at least in my little world, as a blues artist, Katz covers a myriad of genres on this release. "There's some real blues on there," he continued. "But I guess I was looking at setting a bunch of moods, and having these tunes be played where there's not a big high energy solo in the middle. Just not disturbing the grooves, but letting the tunes speak for themselves."
Indeed there are some real blues on Solo Ride. "Down at the Barrelhouse," "Watermelon Thump," and the only cover song, Katz' rendition of Tampa Red's "It Hurts Me Too," are among them.
"I also sort of stretched into a little New Orleans stuff with 'Crescent Crawl,'" Bruce said. "There's also the song 'Praise House' which I recorded with my band a long, long time ago. It's sort of a combination of Gospel and Jazz. Like a Charles Mingus Gospel tune.
"I guess this was an opportunity to put some tunes and moods out there. There's another tune called 'Dreams of Yesterday,' which is a country waltz. I really love country music, even though I never get to play it. So I thought I'd write something like that. There are a lot of emotional moods. I hear these pieces and I'm going to improvise on them some, but I was more concerned with the tempos and the moods."
I started thinking that this must be much more taxing on Katz as an artist to record an entire album of just solo piano instrumentals. "What is complex and challenging about these songs to me, is not as obvious to the listener," Katz confided. "Just maintaining a perfect rhythmic groove and flow is way harder than you'd think it is. I was under the microscope man. A tiny imperfection on a solo piano being mic'd directly into the studio becomes a minor train wreck."
Is this the type of album Bruce Katz has always dreamed of making? Perhaps, but then again, he is such a chameleon of an artist, who's to say?
"I'm really happy with the way it came out," he told me. "I think it feels good to me. Again, I'm thinking about the moods and the tunes themselves. I guess stylistically it bounces around. I think I touch down normally on all these styles, with the exception of the country waltz, on my regular albums, but they also have organ and drums and guitars so it's not so obvious I guess.
"I like to write instrumental music where you get the story and the mood purely from the music. You don't have to have somebody say to you, 'My woman left me,' or 'I'm feeling nostalgic for my old home.' 'Dreams of Yesterday' says exactly that through the music itself. There's a tune called 'Midnight Plans' that has the total mood. You can see it, feel it, and make up your own story.
"'The Way to Your Heart,' is a hymn that I wrote. On most of these songs you can get the emotion without any words, and it will be a little different every time you hear it. The feeling is always there. It's like the radio and TV. On radio you just hear it and you can see it in your mind. On TV it's right in front of you so it's very literal."
Katz recently played with Giles Robson on his upcoming American Showplace Music album, Don't Give Up on the Blues, scheduled for release on September 20th, and will be sitting in with Hurricane Ruth on the recording of her new album.
5X Pinetop Perkins Award nominee, Bruce Katz will be performing with the Bennett Brothers, opening for the Marshal Tucker Band on August 23rd at Sony Hall in New York before beginning a tour of the Eastern seaboard with his own band in September.
Solo Ride is available today via the American Showplace Music label.
*Feature image Marty Katz