Editor's Note: It was 50 years ago today, August 17th, 1969, at 8:15 PM that Ten Years After took the stage at Woodstock. Their rendition of "I'm Going Home" was featured in both the subsequent film and soundtrack album and catapulted them to star status.
The former Ten Years After co-founder and bassist has been a professional musician for 60 years. He found fame and fortune after a show stopping performance at the legendary Woodstock Festival in 1969. Leo Lyons lived in Nashville for 15 years working as a staff songwriter for a music company and now resides in Wales. He is currently touring Europe with his latest band Hundred Seventy Split but took time out to talk about his early influences, Woodstock, his career, his music and Alvin Lee.
My current European tour with Hundred Seventy Split is going well. We're playing festivals this summer — lots of fields — mostly in Germany, Belgium and Holland. Some are large events and others less than a few thousand people. In October/November we do an extended club/theatre tour all over Europe. Normally we'd have a support band but because of the Woodstock golden anniversary year we are on our own and do two sets of one hour each. The first set is all our own material and the second set is the 1969 45 minutes Woodstock set plus three more Ten Years After songs from that period to make up the hour.
ON CHILDHOOD AND EARLY CAREER:
My aunt and uncle had a wind up gramophone and from the age or around eight I was listening to whatever records they had. The first guitar record I recall ever hearing was the Jimmie Rodgers song, "He's In The Jailhouse Now." They also had a copy of the Lead Belly version of "Goodnight Irene." That got me interested in playing a stringed instrument. I started out on an old banjo that used to belong to my grandfather. When the skiffle boom hit the UK in the mid 50s, a mixture of roots, blues, bluegrass and folk, I desperately wanted a guitar. I first tried making one out of an old cigar box but by eleven years old I'd saved up the money to buy an old acoustic. I took guitar lessons with local teacher Frank Woolley. He introduced me to some of his other students and we formed a group; we called ourselves 'Paul Dennis And The Phantoms and we rehearsed twice a week, performing once or twice a year mostly at weddings. We played the popular songs of the day. Initially I played the bass parts on my 6-string guitar but eventually bought a bass guitar. When 'The Phantoms' entered a local talent contest held in between the A and B movies at the Granada cinema in my home town Mansfield I was spotted by the manager of top local band The Atomites. He told me the band intended to turn professional and asked me to join them, which I did.

My first influence on bass was Bill Black, the American musician who was the bassist in Elvis Presley's early trio. I tried to emulate that rockabilly style of playing on bass guitar, which was not easy if not impossible. Later I discovered jazz listening to Scott LaFaro who played with The Bill Evans Trio. A big influence was also the legendary bass player Ray Brown who worked extensively with Oscar Peterson and Ella Fitzgerald. I tried playing upright bass on some songs with Ten Years After but my bass was always getting damaged. I wasn't very proficient on it anyway so I concentrated on bass guitar. Nowadays I do occasionally play upright with Hundred Seventy Split. American blues is also a great influence and of course is the basis of everything I do. I paid tribute to Muddy Waters on the last HSS studio album.

The 1960s were good days for music and it was a lively scene in the UK. I grew up with Alvin of course, we were like brothers, and his dad, Sam Barnes, had an extensive collection of blues. I couldn't afford a record player but Sam would play a lot of stuff. Alvin and I had similar tastes, Alvin liked Scotty Moore and I was into the style of Bill Black so it was a perfect match.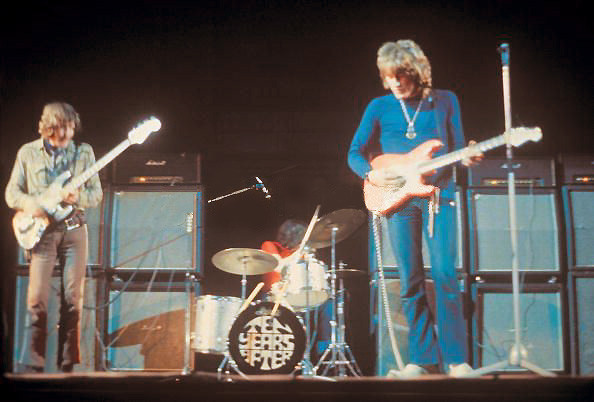 WOODSTOCK AND BEYOND:
At Woodstock, because of the rainstorm and subsequent humidity, we had tuning problems. We stopped "Good Morning, Little Schoolgirl" three times to tune up. In 1969 there were no guitar tuners only a tuning fork or a piano to use as a reference. That is why we included the drum solo "The Hobbit" in the set to give us more time to get in tune. At one point Alvin broke a string and I'm left talking to the audience to give him time to fit a replacement. Overall, playing Woodstock in 1969 was a great experience and had a massive impact on Ten Years After.

We had struggled for years to realise the dream of being famous but when the reality came about it was something that we had not expected. I enjoyed it because it was a new experience but musically it could be very frustrating. In the mega stadia where we performed to tens of thousands you couldn't hear yourself play and the fans were just reacting to your movements on stage, as they couldn't hear much either. For a time we were the biggest grossing touring band in America, bigger than even the Stones. After around 30 US tours, Alvin didn't like it at all and asked our manager to de-escalate us so we took a year off. Looking back I can appreciate why he couldn't handle it, It was just too much pressure on him. Probably the happiest times were when we played to around 3000 people but suddenly we couldn't do that any more as you would have to turn fans away which would lead to trouble or increase significantly the admission prices and it becomes unaffordable.

I moved to Nashville in the late nineties to work as a staff songwriter for Hayes Street Music. It was an inspirational city to live in. All the best writers and players at some time in their careers live or pass through Nashville. I'd had some commercial success in the mid-seventies as a record producer notably with the band UFO and that was when I first learnt to engineer. So whilst living in Nashville, aside from songwriting, I supplemented my income by engineering a few projects. During my fifteen years there I believe I learned to be a better songwriter and musician.

When Ten Years After re-formed at the start of the millennium, Alvin did not want to be part of it. He and I were like brothers from the age of 15 and 16 and collectively went through more than anyone else ever has, spending more time together than with wives and girlfriends. Being in Ten Years After was like a marriage to three people at the same time. Alvin and I fought and we argued but we had similar ideas so we always worked it out.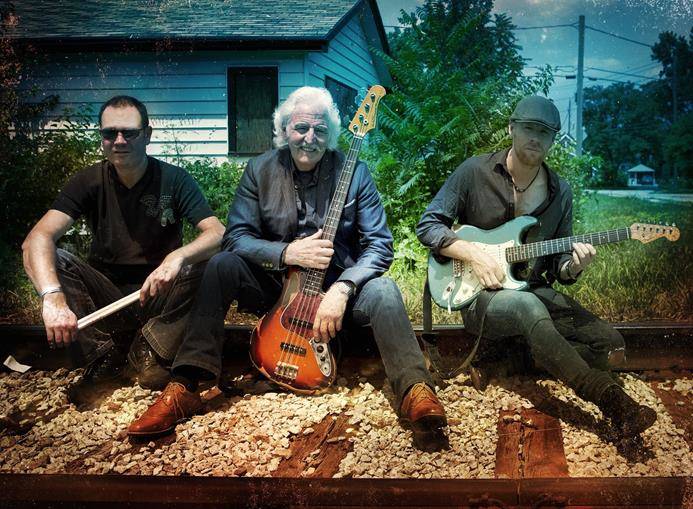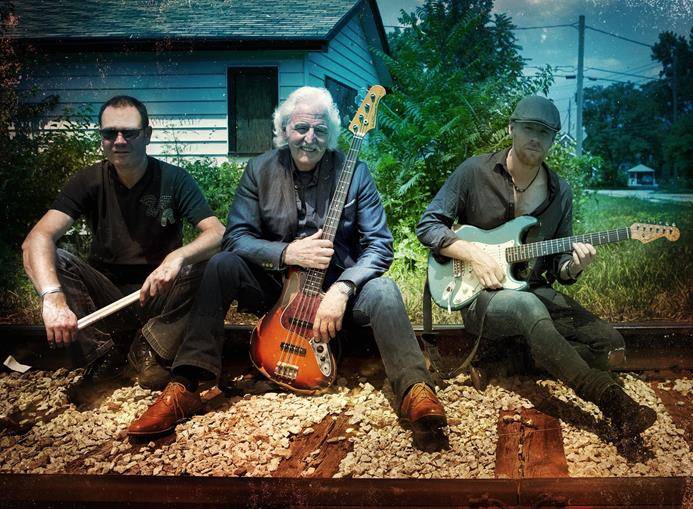 HUNDRED SEVENTY SPLIT:
I am lucky to have both Joe Gooch and Damon Sawyer in my band. I have known Joe since he was about two years old because he is a friend of my son Tom. Joe moved to Wales around the time I moved to America and when Ten Years After were looking to replace Alvin, Tom suggested him. I thought he needed more experience but Tom said that if no one gave him a chance he wouldn't get any experience. Joe sent a tape to Ric Lee the drummer and he was offered the job. Joe is a brilliant player, one of the best guitarists around though he won't admit it and, above all, one hell of a nice guy. He has blossomed into a great singer and guitarist in his own right now rather than being regarded as Alvin's replacement which is what we wanted to happen.

We include a few Ten Years After songs in our set because a lot of Hundred Seventy Split fans want to hear them but we play most of our own material. Even with Alvin's songs I only wanted Joe to capture the original fire as I didn't want him to play like Alvin as he is from a different generation. As Joe explains: "I like playing the TYA classics from a generation of music which really inspired me. I had a Betamax recording of the Woodstock film and used to watch it over and over. I do play things differently and genuinely jam and make stuff up so it is different every night and these variations bring freshness to the music." Damon has taught percussion, worked in theatres, orchestras, he is a recording engineer, an aspiring record producer and he has a recording studio and he is a hell of a nice guy as well. That is so important because as they say in Nashville, what a great player but what is he like on the bus? I only want to play with people I get on great with and can spend six weeks on the road with. We have written seven songs towards the next studio album and I said to Joe the other day we can do anything we like, we don't need to be stuck in any particular genre If we want to do a ballad or a country song, if we like it we can do it. We still play some rock but the sound is progressing, it's different, without restrictions and includes a broad gamut of music.

Currently, my band plays around 60 gigs a year mainly in Europe which with traveling amounts to around 180 days away from home. Last week we traveled for 15 hours to the venue and a further 15 hours to the next place. In France and Italy the audiences are quite young. Life on the road is pretty much the same as it was when I started out as a musician. I have spent nearly 60 years of my life in a van. I've gone from vans to limousines to planes, tour buses and back to vans again. With Hundred Seventy Split it is like starting again but this van has luxury seats, two televisions, air conditioning so it is more like a comfortable bus. Whichever way you look at it, traveling is not much fun, it's what happens when you get there. Being on stage is what keeps me going.

When I write a song it hopefully comes out of the air or from an idea, a book or a film or personal experience or a line from a song or some other context. I have kept a book of ideas for years and then usually get together every so often to share them with Joe and a friend in Nashville who I have collaborated with previously. I might come up with something I wrote years ago and thought was average but Joe listens to it and maybe thinks it's good so we develop it further and put a song together which Joe feels comfortable about singing. I have had singing lessons so can get my point over too. As far as the future is concerned, if your health holds out you have to hope that your audiences are likely to hold out too. I hope that I'm improving in what I do rather than sitting back riding on past glories which is very sad.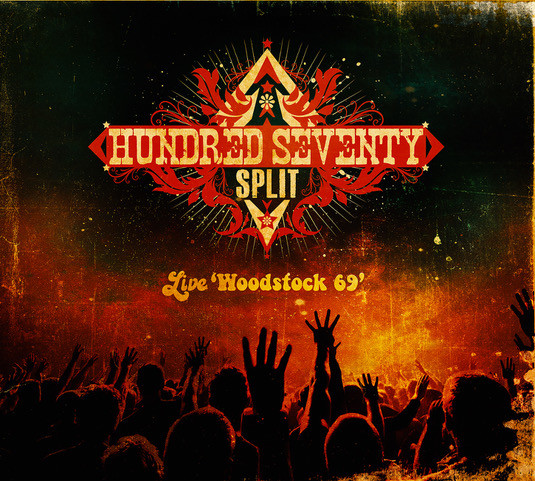 GUITARIST JOE GOOCH GIVES THIS ASSESSMENT OF HIS BANDLEADER:
I have played with Leo for about 15 years and he is an amazing character, very positive and passionate about what he does and an unstoppable force. He has the same relentless energy and enthusiasm he had 50 years ago but off stage the way he pushes in a business sense and a writing sense, Leo is a very good motivator. I feel very privileged to be playing in his band as it is on an upward trajectory.
DISCOGRAPHY:
Live 'Woodstock 69' 2019
Tracks 2016
The Road (Live 2xCD) 2015
Hundred Seventy Split 2014
The World Won't Stop 2010