The band was nearing the end of its encore "I'm Going Home," the vintage blues and American rock 'n' roll medley finale, when the festival crowd surged towards the front to get a better glimpse of the provincial musicians who had upstaged their better-known contemporaries. Many of the thousands gathered here represented the hippie counterculture by wearing colorful outfits adorned with beads and carrying flowers. By now the sun was setting and their silhouettes contrasted starkly with the red flames on the skyline, a chiaroscuro of glorious proportions. Bass player Leo Lyons waved to the fans as the show ended, acknowledging the vociferous ovation as he was followed off stage by the charismatic lead singer and guitarist.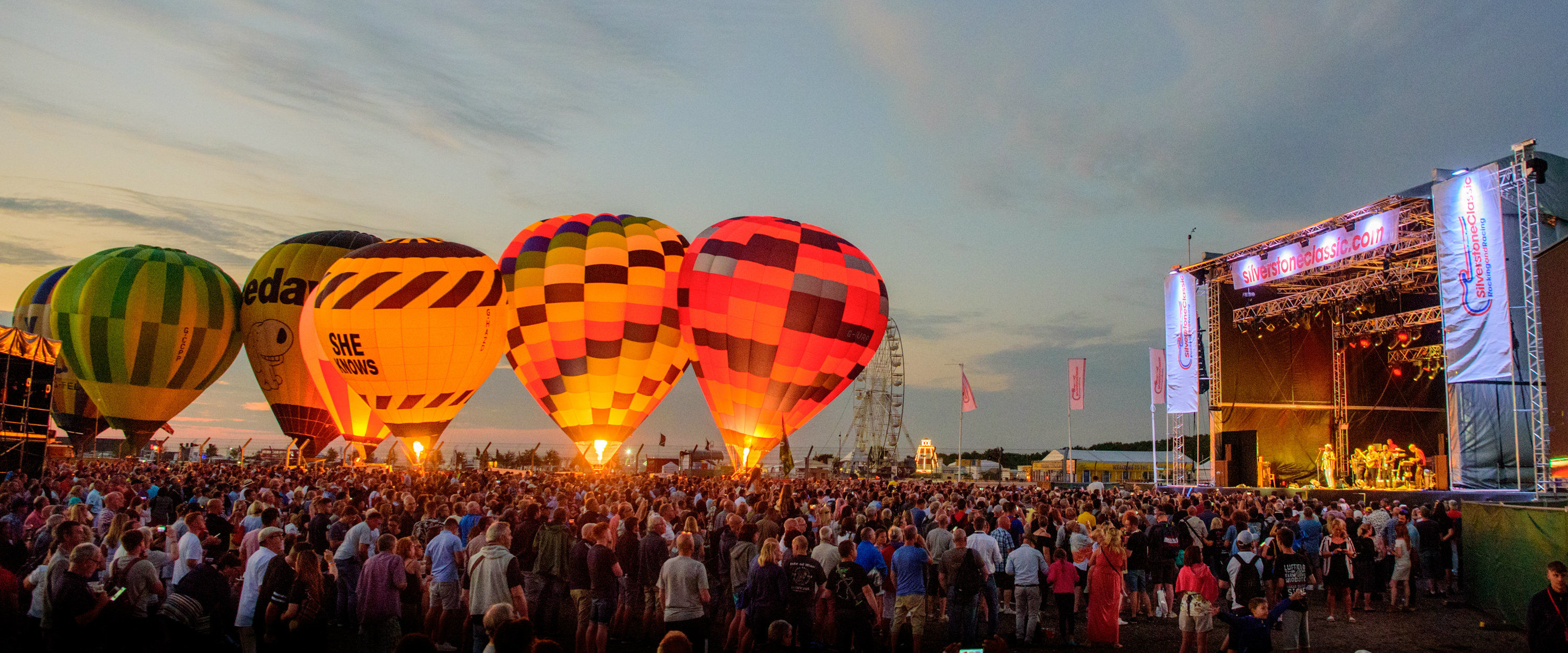 Looking and sounding like a rerun of the famous New York Woodstock festival which propelled Ten Years After to global stardom was the Fifty Years After Party at the record-breaking Silverstone Classic. This rocking and racing event attracted 109,000 people to the legendary Formula 1 Circuit in the UK on June 26-28. Fancy dress had been encouraged, and hot air balloons lit up the festival arena for the appearance of Ten Years After legend Leo Lyons who had graced the Woodstock stage 50 years ago. This time he was with his latest band Hundred Seventy Split, a power trio with front man Joe Gooch and drummer Damon Sawyer. Several top international tribute bands also participated in this golden anniversary extravaganza including Creedence Clearwater Revived, Are You Experienced? and Viva Santana, making it the most spectacular and popular festival outside of North America.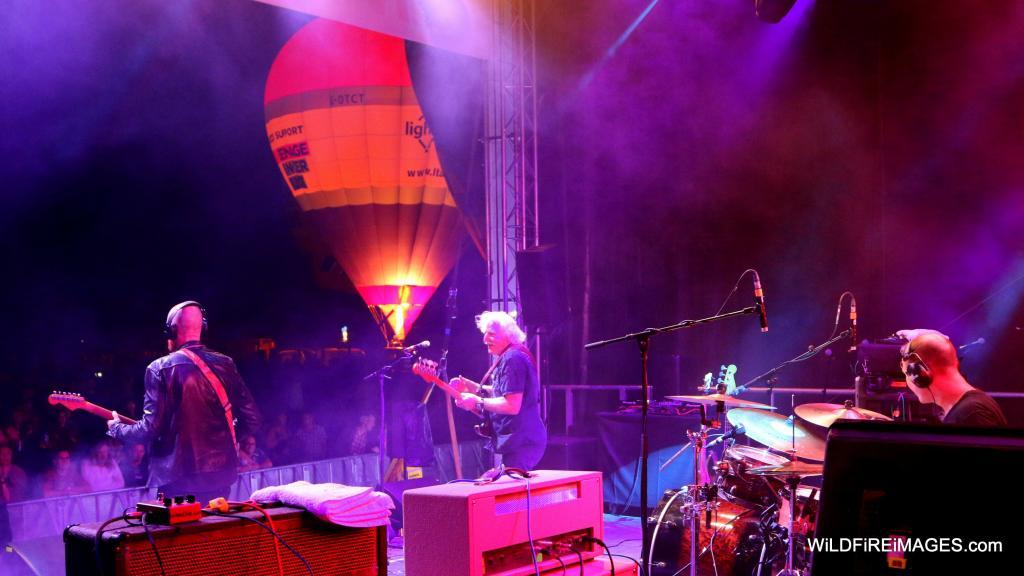 Rapturous applause greeted the opening song, "Love Like A Man," perhaps because it has the most distinctive, mesmeric riff in rock history courtesy of Alvin Lee, the focus of this tribute. Alvin sadly passed away in 2013, but his music lives on through the dedication of his family. While Alvin is irreplaceable, Joe Gooch respectfully fulfils the role, albeit with his unique style. And he has the skills and empathy to do this having replaced Lee in Ten Years After for nearly a decade.
All five songs from the 1969 festival were in the set, starting with Willie Dixon's "Spoonful" — the deepest of the blues, sung with power and passion by Gooch. Interspersed with these were other Ten Years After classics all written by Alvin, notably the psychedelic "50 Thousand Miles Beneath My Brain," followed by his greatest hit, "I'd Love To Change The World." The former showcased the energy and dexterity of the sprightliest septuagenarian on the planet as speed-fingers Leo dueled with Joe, frenzied fingers blurring across the frets. Sonny Boy Wiliamson's "Good Morning Little Schoolgirl" was always a fan favorite, and how the audience loved Leo's breathtaking bass solo of a velocity and variety rarely seen on that instrument. Leo responded to the ovation by modestly declaring, "You're very kind, thank you" to which a wag in the crowd replied, "And you're bloody awesome, thank you!"
"I Can't Keep From Crying Sometimes" was a master class in blues/jazz guitar improvisation from Gooch backed up with Damon's expressive and technically superb drumming as the tempo rose and slowed down in waves, all carefully controlled and choreographed by Lyons. Unlike the original festival, the temperature soared towards the 30s and was set to rise even further with the epic "I'm Going Home," the national anthem of Ten Years After.
This supreme spectacle was the ultimate tribute to Alvin, Ten Years After, and the peace, love and music ethos of a festival which both changed the world and the role of youth in society.
Those music lovers standing in the arena and sitting on the grass banks of the famous racing track were fortunate enough to witness this inimitable occasion, their spirits invigorated and
inspired by a very special commemoration. Credit for this event must be given to the foresight, ingenuity and organisational skills of Nick Wigley CEO, Goose Live Events and Suzanne and Jasmin Lee Barnes of Dean Street Studios & Wheeler End Studios.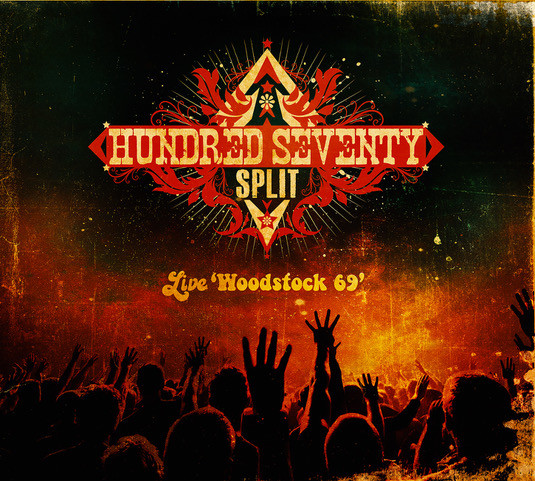 HUNDRED SEVENTY SPLIT LIVE 'WOODSTOCK 69′ – Corner House Records
All five songs from the Woodstock set are included with authenticity and impassioned delivery that will appeal to hard-core blues enthusiasts. Willie Dixon's "Spoonful" confirms from the outset the suitability of Joe Gooch to carry the heavy mantle of Alvin Lee. Joe replaced Lee in Ten Years After at the start of the millennium and stayed for over a decade before teaming up with Leo again. Gooch's greatest quality has been to bring his own skills and interpretations both vocally and instrumentally to Alvin's songs whilst retaining their integrity. "Good Morning Little School Girl" features Lyons at his best, defying age with his high energy, dexterous bass solo and fast and furious dueling with Gooch. This track alone epitomises what TYA was about with Lee, Lyons at its epicenter, and which only Hundred Seventy Split can emulate. Sonny Boy Williamson's "Help Me" is one of the bluest blues on record with Gooch's climactic, wailing guitar underpinned by the brilliant dynamics of drummer Damon Sawyer. "I Can't Keep From Crying" initially stays faithful to Al Kooper's version before developing into a jazz-infused, experimental yet controlled tour de force with its complex fretwork and changing rhythms prior to returning to the main theme. The sheer genius and inventiveness of Damon's drumming make it superior to any other version. "I'm Going Home" is where it all started for TYA and, like Alvin, Joe's credibility as a rocker is impeccable as he storms through this compilation of rock and roll classics at an unprecedented velocity, held together brilliantly by Leo and Damon. The three extra TYA classics are: "Love Like A Man" with its piercing solos; the psychedelic, percussive and haunting "Fifty Thousand Miles Beneath My Brain"; and their biggest hit, the poignant "I'd Love To Change The World," all written by Lee.
The two bonus tracks showcase the distinctive, creative and exceptional talents within Hundred Seventy Split, which will hopefully encourage readers to explore the band's back catalogue and discover a cornucopia of inspirational music. "The Smoke" is a catchy, heavy rocking number which reminisces about moving to London from the Midlands. "Do You Wish You Were At Woodstock" does what the title suggests, but in a unique style, completing the metamorphosis from TYA to HSS.
Video of Hundred Seventy Split playing 50th Anniversary Woodstock show at the Open Air Festival in Greven, Germany – 8/10/2019
*Feature image Alicia Orta