Jamey Arent is a Los Angeles based guitarist, singer, and songwriter. Guitar Player Magazine has described him as "a stunning player straddling Blues, Jazz, and Rock." Born in Denver, Jamey picked up the guitar at the age of 12. He moved to Los Angeles to get a Master's Degree in Jazz Guitar at USC and began his career as a gigging musician. As a sideman, Jamey has performed and recorded with Frankie Valli and The Four Seasons, Mathew Morrison, B. Slade, Spencer Day, Nigel Hall, and Raquel Rodriguez. Jamey's guitar playing can be heard on soundtracks for Netflix, TBS, and Comedy Central.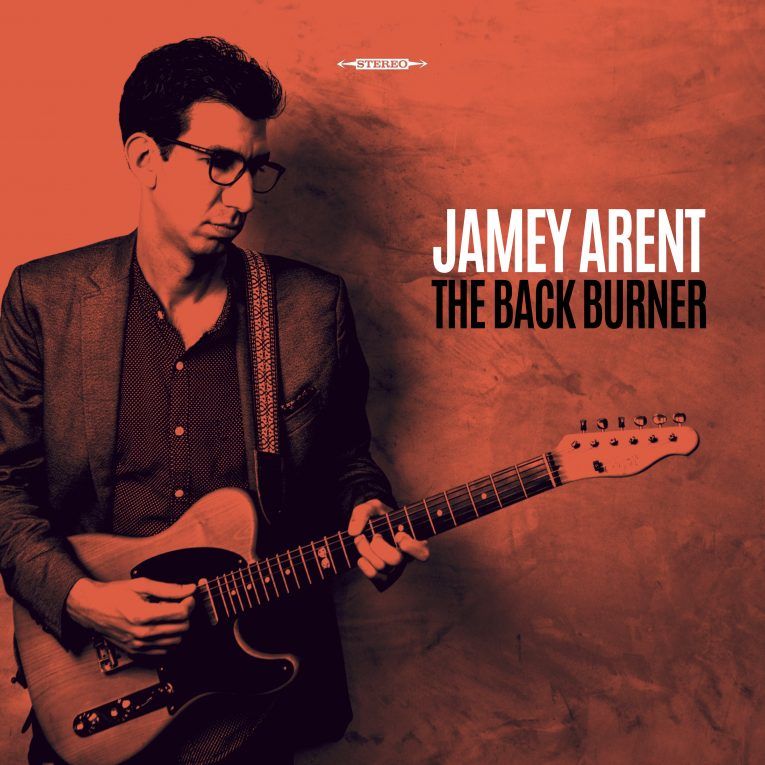 Brant Buckley:
Who are your biggest Blues influences?
Jamey Arent:
Stevie Ray Vaughan pushed me in the Blues direction and The Beatles inspired me to pick up the guitar. I am into Clapton and Hendrix. I like B.B. King, Albert King, Freddie King, and Albert Collins. I started to dig deeper and get into Otis Rush, Magic Sam, and all those cats.
Could you talk about your new E.P. called The Back Burner?
It's my first E.P. When I started playing guitar, I thought I was going to be a Blues solo artist. I took a different track. I went to school and ended up getting a Bachelors and Master's Degree in Jazz Guitar. I received my masters at USC. When I finished, I moved to L.A. and was dead set on making a living playing music. I took every gig I could get and that led to side work, session work, and playing gigs around town with many different artists. I played with a lot of local people and did gigs around L.A. I toured with Frankie Valli and the Four Seasons and Matthew Morrison from Glee. I kept putting my ambitions on the side. The real impetus for starting this was Josh Smith. He is really well known in the Blues world and is a good friend of mine. He produced the album. I had some tunes that were finished and I used that as an opportunity to work with him.

It's called 'The Back burner' because my thing kept getting put on the back burner for other endeavors. I recorded it in a few different studios around L.A. and some of it was recorded at Josh's studio. His place is guitar heaven. The Blues is my first love and I consider myself to be a Blues musician above everything. I play a lot of Jazz, R&B, and Funk. I encompass all of the elements without each track trying to sound like a different genre. In addition to Josh producing, I was lucky to have a lot of musicians play on it. Nigel Hall is well known from the band Lettuce and he played some keyboard. He produces Raquel Rodriguez who is an amazing Soul singer in L.A. that I work with. She sings on one of the tracks. That was a highlight. It was done over the course of 6 months.
You've been a sideman for many artists: Who did you like working with the most and why?
I don't know if I have a favorite person. I have been playing with Raquel Rodriguez for eight years. I've been part of her process: recording, writing songs, and going on tours. I'm a sideman but have been part of her whole growth process. I have worked with B. Slade who is an unbelievable vocalist and another guy named Spencer Day who co-wrote one of the songs with me on my E.P. He's an unbelievable entertainer and singer. I like working with people who are incredibly talented, inspiring, and operate at a very high level. I loved touring with Frankie Valli. That was amazing. He's a legend in the industry and has a catalogue of songs that people still love and sing.
You like playing the Mixolydian mode over The Blues. Can you talk about this?
I do play a lot of Jazz as well. It's not a conscious thing, it's just something that is part of my vocabulary. I have always enjoyed the sound. For me the link between Blues and Jazz starts with The Allman Brothers, Derek Trucks, and Jimmy Herring. Pretty much everybody associated with that camp. They take from The Blues and link it with long improvisations. That led me down a path and let me know I could do both. Robben Ford is another huge inspiration. It is a mode and a scale that comes through in my Blues.
What's your greatest musical moment?
When I was doing The Frankie Valli tour, we played the PBS 'A Capital Fourth T.V. Special.' That was the year the movie 'Jersey Boys' came out so he was riding the wave. We were headliners and played for 100,000 people on the left line of the capital. That was very exciting. I did a tour with Raquel Rodriguez. It was a grueling van tour and we had a bunch of shows under our belt. Everything was clicking and we were on a musical high. Those are performing highlights.
What else do you want to accomplish?
Hopefully my new E.P. is the beginning of me continuing doing my own thing. I still love playing behind other people and playing in different situations. I enjoy shifting the focus into doing my own thing. I hope to do more shows, gigs, writing, and all things relating to my music. I want to keep following my path and make it a part of my musical routine. I want to have my own working band, do some touring, and play more shows. I would love to do another solo record in a year or two. It's a great feeling to have an escape from other musical works that I do. I want to keep doing my Blues stuff that incorporates the guitar and isn't based around someone else's creative idea.
*Feature image Dario Griffin