It's been 10 years since Arkansas native J.P. Soars burst onto the national scene by winning 1st place at the 2009 International Blues Challenge with his band the Red Hots. Since then he's been touring the US, Canada, South America, and Europe, releasing an impressive catalog of powerful music along the way. Today he graces fans with Let Go Of The Reins on the Whiskey Bayou label.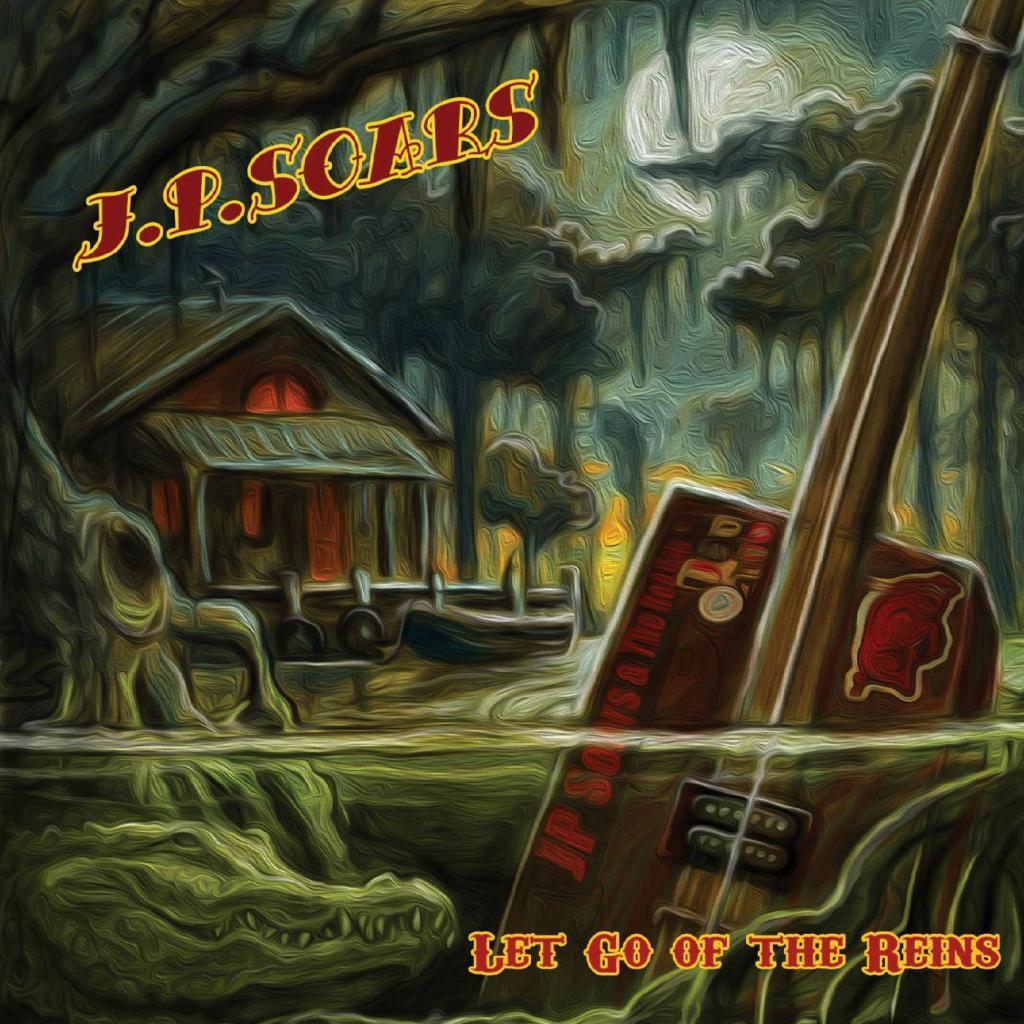 The late night jam sessions that accompanied that touring, particularly those with Tab Benoit during the Legendary Rhythm and Blues Cruise and the Big Blues Bender are what inspired Let Go Of The Reins in the first place. In a whirlwind week-long session at Benoit's Whiskey Bayou Studios in Houma, Louisiana, they recorded eleven songs in five days, including seven originals they wrote on the spot.
Benoit also produced the album and plays drums on all the tracks. Red Hots' drummer, Chris Peet plays bass on this record, Tillis Verdin lays down some killer Hammond B3 on a half dozen tracks, and Soars provides the lead vocals, also playing electric guitar, acoustic guitar, Dobro, Merlin Dulcimer, and those amazing two string cigar box guitars that he creates himself.
The seven original songs and four covers span a wide range of styles. The album kicks off with a funky rockin' blues version of J.B. Lenoir's "Been Down So Long," then follows with a Stones-y rock groove cover of the Ozark Mountain Daredevils' "If You Wanna Get To Heaven," the uptempo blues of "Freddie King Thing," and the hypnotic, slide-powered stomp of the title track.
The funky blues instrumental "Crow's Nest" gives everyone some room to stretch out, while the ultra-smooth "Lonely Fire" provides a perfect setting for J.P.'s beautiful Latin-flavored acoustic guitar. The rocking "Have Mercy On My Soul" leads into the uptempo country of "Let It Ride," Django Reinhardt's jazzy "Minor Blues," and the bluesy R&B of "Time To Be Done." The album closes with the relaxed, folky, front porch feel of "Old Silver Bridge," which brings in Benoit on acoustic guitar, plus dobro and dulcimer via Soars.
This incredibly diverse set of songs is unified by J.P. Soars' soulful, bluesy vocals and razor-sharp guitar work. Let Go Of The Reins has a swampy, funky flavor sprinkled all over it, making it just as tasty as a crawfish boil, but not nearly as messy.
Let Go Of The Reins is out today (8/23), so make sure you pick up your copy via your favorite outlet.
*Feature image Marilyn Stringer