Ghalia Vauthier, aka Ghalia Volt, or in this case just Ghalia is a natural-born rockstar complete with leather jacket and wicked grin. While busking the streets of Brussels, Belgium, she heard the siren song of the American South, which led her first to Chicago, Nashville, Memphis, and New Orleans. Her debut release Let The Demons Out (2017), made quite a splash, but deep down she wanted to make music in Mississippi. She's performed in the Delta many times, mostly at the Juke Joint Festival in Clarksdale, but wanted that true Hill Country feel on a record. Hence, her new album, Mississippi Blend was born.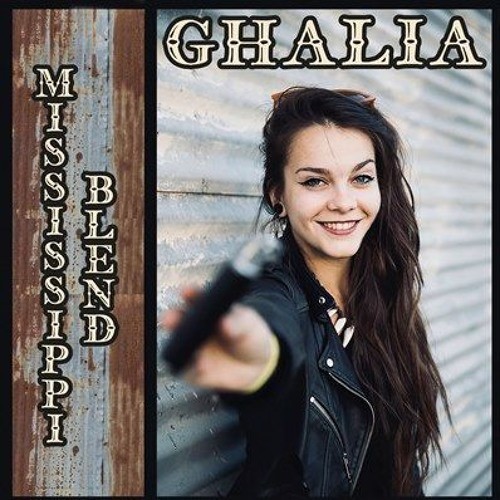 Mississippi Blend kicks off with the funky, grungy shuffle "Gypsy Lady." Ghalia's voice is sultry and smoky, but has an occasional squeal that lights it off to the next level. This is an A number 1 ass-kicker straight out of the gate.
Ghalia, however, is not a one woman show. For this record she brought along a pair of Mama's Boys from her Let the Demons Out album. Bassist Dean Zucchero and guitarist Smokehouse Brown traveled to Jim Dickinson's famed Zebra Ranch in Coldwater, MS and play throughout the album. But it doesn't stop there. Recording the Hill Country meant bringing in some of the region's favorite sons. On drums, you'll find Jim's brother Cody Dickinson of the feted North Mississippi Allstars, alternating with with third-generation Hill Country artist Cedric Burnside . The veteran harp-blower Watermelon Slim duets with Ghalia on the dusty-road groove of "Wade in the Water," while Lightnin' Malcolm – a guitarist credited with keeping the Hill Country scene so healthy – plays searing leads.
Speaking of "Wade in the Water," Ghalia and Slim breathe new life into the old Southern spiritual whose lyrics contain instructions for escaping slaves along the Underground Railroad. Ghalia's version has that same grungy guitar sound that is found throughout this record, but with some slowed down lyrics, killer harmonica, and some well placed breaks.
Lyrically, this is Ghalia's most powerful collection to date. "Meet You Down the Road" is a song about the tragic loss of a loved one, driven home with her Hill Country Blues meets Punk Rock style. "Squeeze" kicks up the fun a notch, but there's a little something hidden there too. Ghalia describes it as, "an erotic love song disguised in a cute, playful story." Then she flips the script again with "First Time I Died," a smoldering, rocking tune that puts Ghalia's vocals in the forefront without overpowering her backing musicians.
Other killer, upbeat, double-shuffle tunes on Mississippi Blend include "Lucky Number," "Shake & Repeat," and "I Thought I Told You Not To Tell Them," which closes the album out with us wanting more…much more.
But it's not all fun and games. "Drag Me Down" offers the advice of never giving up on your dreams. "Why Don't You Sell Your Children" is a song about greed. Greed that has become so commonplace in today's society that it ponders the question, what's next? Are we to sell off our offspring to pay for our lavish lifestyles? Ghalia's unique, attention-grabbing vocals lead into it as the song builds to a full scale rocking break, then slows back into the Hill Country rhythm from whence it began.
Mississippi Blend is just that. A blend of Mississippi Hill Country blues, European born rock n roll, a stable full of uber-talented musicians, all led by a powerhouse woman who clearly gets what she wants, and gives us what we love. It might even be what's in her hip flask. She's offering it up, and our advice is take a good, long pull.
Artist: Ghalia
Title: Mississippi Blend
Label: Ruf Records
Release Date: September 20, 2019
Running Time: 42:16