There's a weight attached to instrumental music. Too many artists seem to feel like the lack of a vocal focal point means the listener needs to be dazzled by instrumental prowess. But it wasn't always that way. Back in the 1950s and 60s, bands recorded instrumentals that were simply solid songs that were designed to entertain and not to prove how many notes can be crammed into a measure of music. Small Blues and Grooves by 11 Guys Quartet captures the simple pleasure of a great blues instrumental.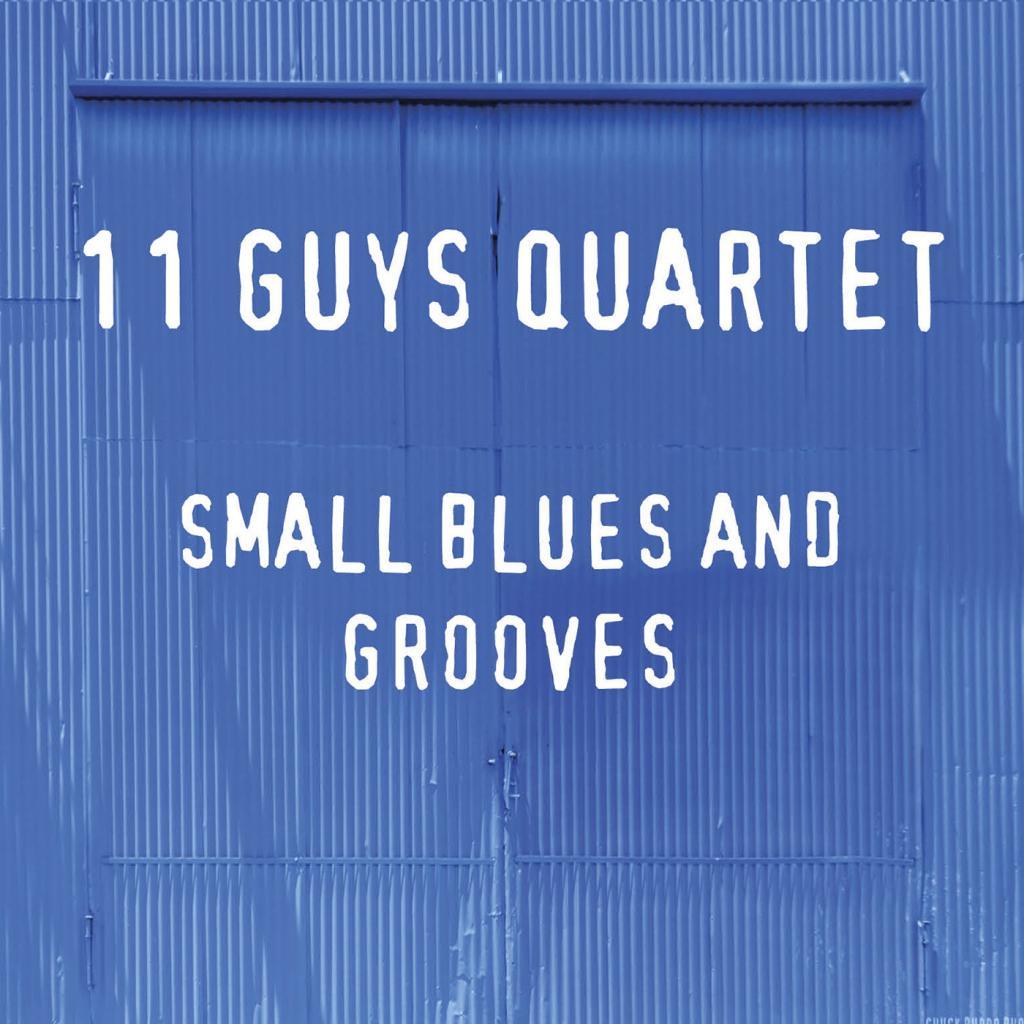 The band features Richard Rosenblatt on harmonica, which is significant because he's also president of VizzTone records, a beloved blues label that specializes in delightfully and slightly off-kilter bands; 11 Guys Quartet lives in that wheelhouse.
Without a singer, Rosenblatt's harmonica handles the vocal melodies. His style is reminiscent of the great Paul Butterfield, with a similarly powerful style that feels like gusts of winds being directed through a harp. But Rosenblatt is supported by a tight band that's just as musical. Paul Lenart's guitar pairs well with Rosenblatt's harmonica, as they share a song-first sensibility, choosing their moments to flex their instrumental muscle. Chuck Purro's drums and Bill "Coach" Mather's bass, anchor the songs, providing a jolt of energy but also keeping the songs on track.
The album clocks in at a generous 14 tracks, which takes place over 45 minutes. That can feel like a lot for instrumental music. The band mitigates that length with lots of different blues styles. The result is something engaging and fun without being too distracting. "Doggin' It" is a slow groove with flashes of wild harmonica that slowly, thanks to Lenart's guitar, mutates into blues funk. It's not progressive rock, not by a long shot, but there's something progressive-esque about the grand scope of the track. Even more impressively, though, the band is able to accomplish everything in just over two and a half minutes.
Lenart also shines on "Sleepless," a slow blues. His guitar modestly shimmers through the song, avoiding standard blues riffs while still feeling incredibly bluesy. Rosenblatt's harmonica sways throughout the track like a person who had just one sip short of too much to drink. "Hey Daddy" is the iconic Bo Diddley beat, but with Rosenblatt injecting his harp lines with wild energy while Lenart sticks to classic Diddley riffs. The two play off each other like the world's hippest squirrels involved in an epic game of tag.
I'm usually a fan of VizzTone releases so it makes sense the president's band would have the same kind of sound that's respectful and deferential toward the blues, but that also keeps things fun. The underlying concept of the album is talented musicians working their way through songs that, while all original compositions, are derived from tunes we all know and love. The band is having a good time and it comes through the album straight into the listener.
Artist: 11 Guys Quartet
Title: Small Blues and Grooves
Label: VizzTone
Release Date: 1/10/2020
Running Time: 45:34